China
Economic outlook
Reflecting the impact of the COVID-19 outbreak, the IMF estimates China's GDP growth dropped to 1.9% in 2020 from 6.1% in 2019. That said, China is likely to be one of the very few economies to avoid outright economic contraction in 2020.
The authorities' strong containment of the virus and swift fiscal and monetary stimulus early on to mitigate the crisis are supporting a strong recovery. The IMF expects real GDP to grow 8.2% in 2021. The supply side of the economy has now mostly returned to normal as indicated by strengthening in industrial production, electricity usage, freight miles and other movement indicators. Stronger infrastructure investment and a sustained recovery in industrial production should continue to support resources demand and offer opportunities for Australian exporters. The recent signing of the Regional Comprehensive Economic Partnership is likely to help streamline and strengthen intra-Asian trade moving forward.
Despite easing mobility restrictions, retail spending has been slower to recover than manufacturing production and exports amid large job losses and persistent health worries. Sluggish household income growth and high unemployment will continue to weigh on consumption, which now plays a greater role in driving growth than a decade ago.
The near-term outlook faces downside risks stemming from rising financial vulnerabilities, particularly among highly leveraged state-owned enterprises and corporates, and the increasingly challenging external environment.
Amid an uncertain and complex external backdrop, China's 14th five-year plan (covering 2021-25) aims to lift domestic demand and support domestic innovation. Policy plans include an increased focus on climate change and a more open trade environment. China aims to become a "high income nation" (defined by the World Bank as per capita GDP above US$12,535) by 2025 and a "moderately developed nation" (per capita GDP above US$20,000) by 2035. This assumes ongoing solid GDP growth in the next 15 years, a positive for the global economy.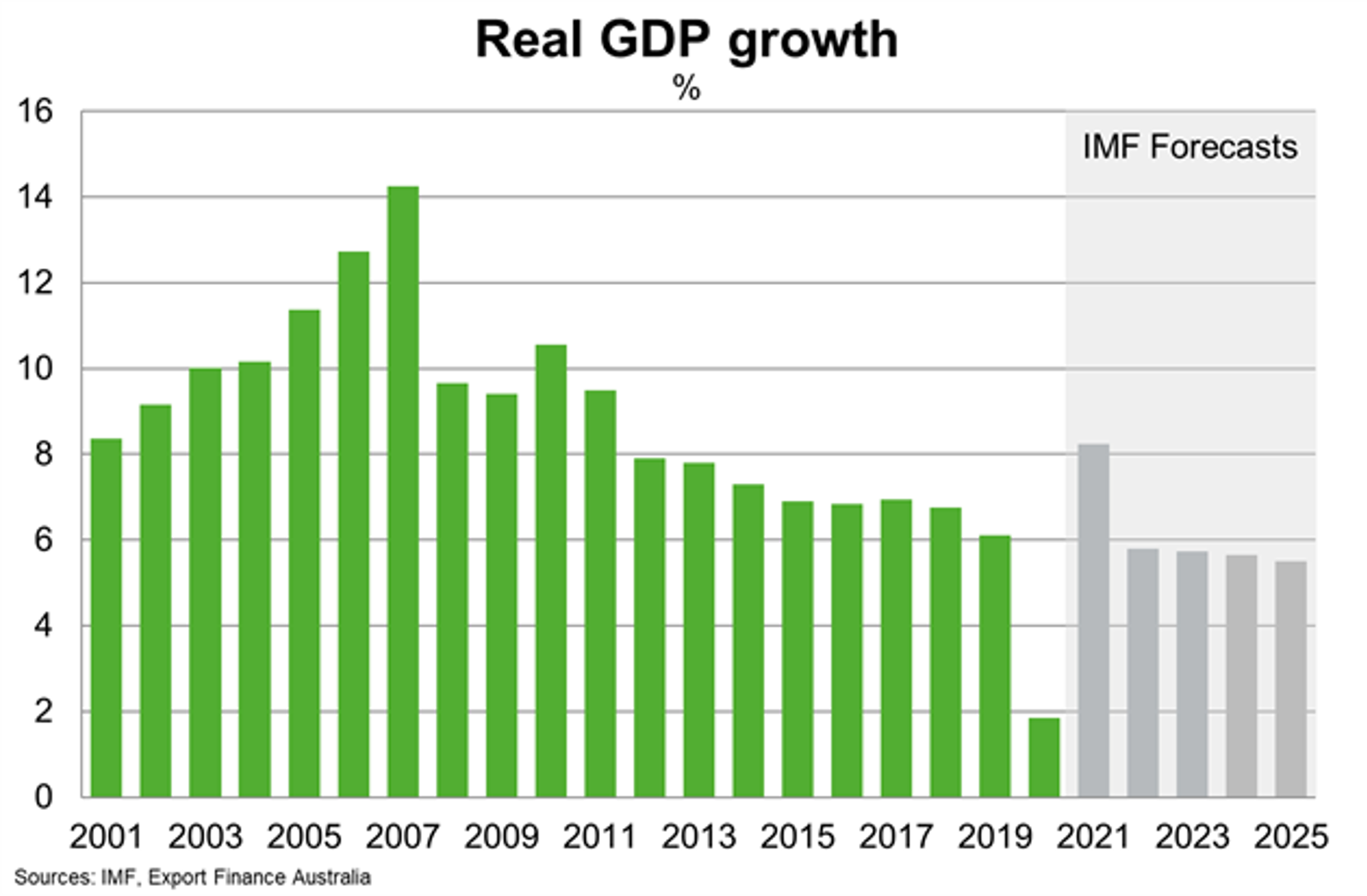 Alongside continued economic growth, per capita income will increase to US$16,000 by 2024. The growing push into knowledge-intensive industries should pave the way for stronger growth in incomes over the longer term.