Japan
Economic outlook
Japan remains in recession that began prior to the COVID-19 pandemic and has been exacerbated by it. The IMF estimates the economy shrank 5.3% in 2020.
The economy is gradually recovering, but ongoing difficulties in bringing COVID-19 infections under control hold back domestic demand. Consumption will be supported by government subsidies and incentives, while recovering external demand will sustain export growth. On the other hand, private investment is set to remain relatively subdued amid weak business confidence. The delayed Tokyo Olympic and Paralympic Games could support growth in 2021, depending on whether conditions permit a broader opening up to international tourists. Overall, the IMF expects Japan's economy to grow 2.3% in 2021, but output will remain well below pre-pandemic levels. Further, the OECD indicates that Japan will require further policy support and structural reforms to ensure a resilient and sustainable economic expansion.

The ruling Liberal Democratic Party elected Yoshihide Suga as Japan's new prime minister in mid-September following the resignation of Shinzō Abe due to poor health. Suga has pledged to continue the economic policies of his predecessor, known as "Abenomics", to revive growth. This includes ongoing progress in liberalising the agriculture sector, increasing immigration and raising female workforce participation.
Demographic pressures continue to pose the greatest challenge over the longer term, including on Japan's fiscal position. The working population aged 15 to 64 has been declining for close to 30 years, a trend that is expected to continue. A shrinking domestic market in population terms means Japan will likely continue to pursue growth opportunities overseas, including in Australia.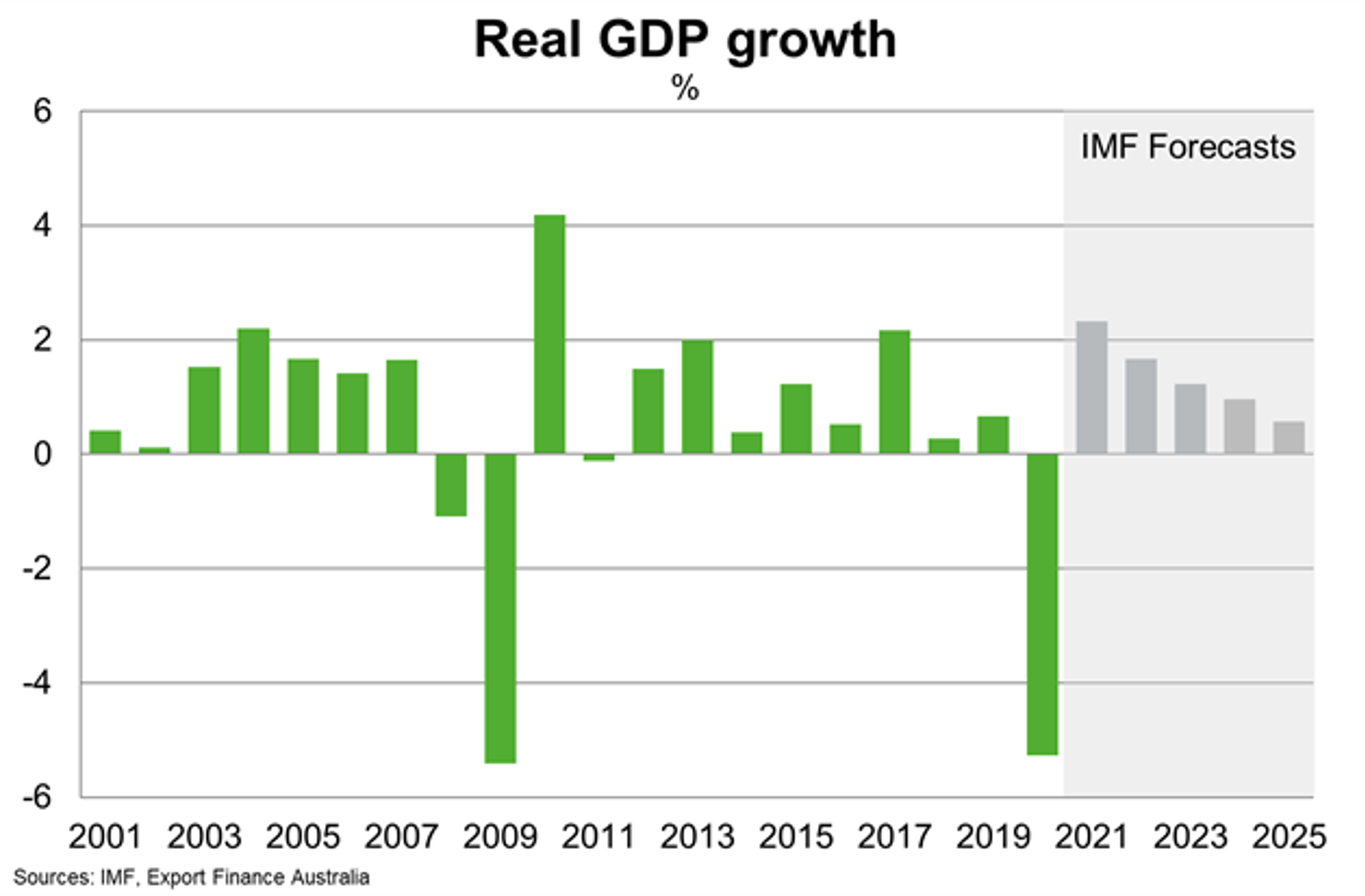 Weak economic growth stunts growth in Japan's per capita income. Japan's per capita income was 6% higher than that of the US in 2000. But fast forward 20 years and Japanese incomes are estimated to be about 40% lower than that of the US. Japan's rigid labour laws have made income inequality more of an issue, as the wealth gap between elderly generations and the youth widens. But overall per capita income remains high; the IMF expect per capita income levels to approach US$50,500 by 2025.