Malaysia
Bilateral relations
Malaysia is Australia's tenth largest trading partner accounting for about $22 billion, or 2.5% of Australia's bilateral trading relationship in 2019-20. The COVID-19 pandemic disrupted bilateral trade in 2020; total trade fell 14% over the year to 2019-20. Major goods exports include copper, coal, crude and refined petroleum, iron ore, manganese ores, alumina and nickel. Major Australian imports include of crude and refined petroleum, computers, telecommunications equipment and electronics parts.
More than 3,800 Australian businesses (mostly SMEs) trade with Malaysia, 300 of which have a physical presence in the country. Beyond the pandemic, Malaysia's growing economy presents export opportunities in sectors such as food and agribusiness (including halal food), education, digital economy (e-commerce and fintech), health care, smart cities, energy and defence.
More broadly, the Australia–Malaysia economic relationship is underpinned by a strong degree of complementarity in both economies, and two free trade agreements (FTAs)—the Malaysia–Australia FTA (MAFTA) and the ASEAN–Australia–New Zealand FTA (AANZFTA). The Comprehensive and Progressive Agreement for Trans-Pacific Partnership (CPTPP) and the Regional Comprehensive Economic Partnership (RCEP) add further potential upside to the bilateral trade relationship.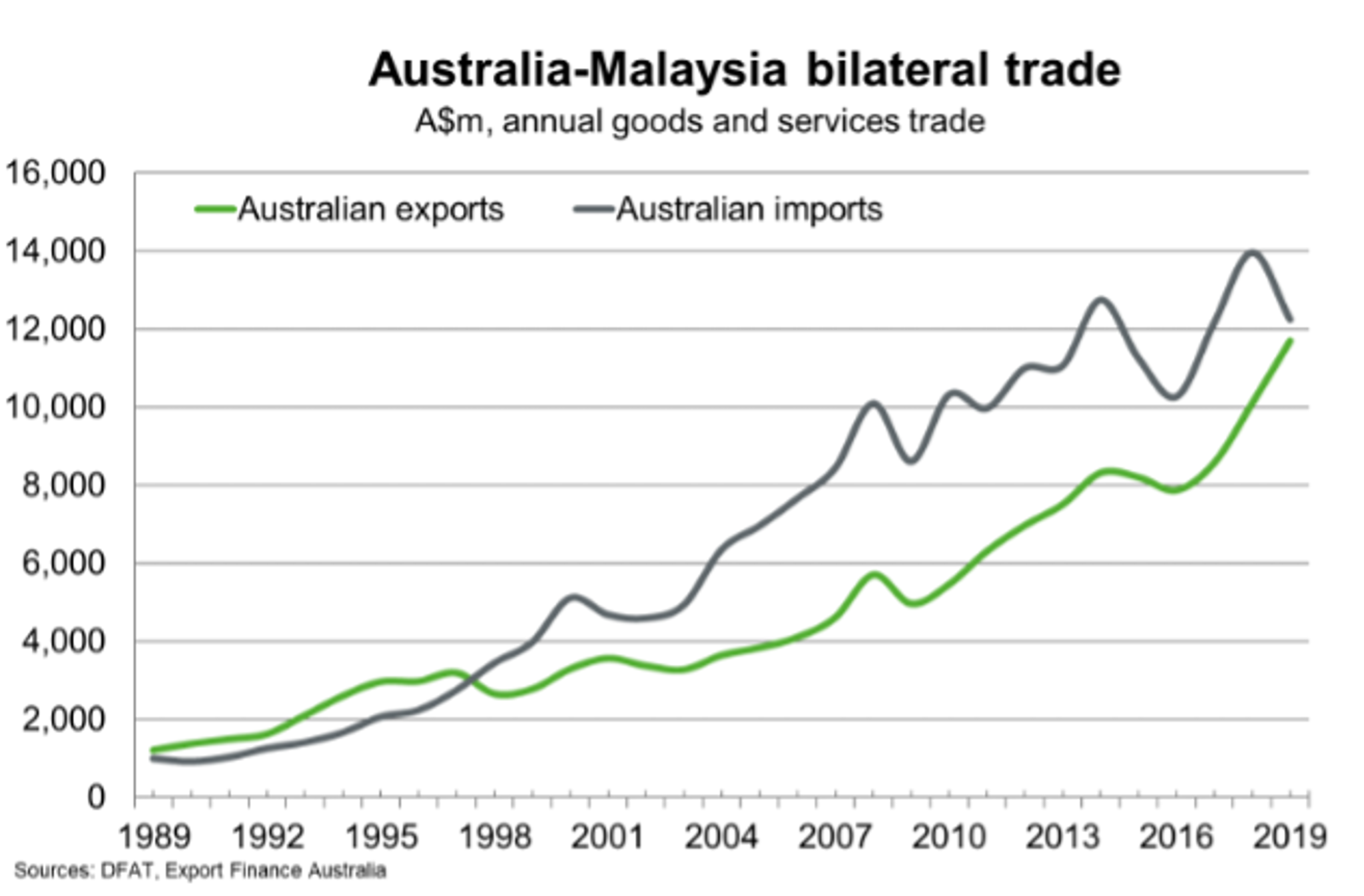 The COVID-19 pandemic and associated international travel restrictions disproportionately hurt services trade in 2020. Malaysian student enrolments in Australia moderated in 2020 and tourist arrivals slumped. Ongoing international travel restrictions points to another challenging year for services exports in 2021.
The pandemic also disrupted bilateral investment flows. In terms of foreign investment stocks, Malaysia is a modest investor in Australia, owning a portfolio of $19 billion in 2020 (0.5% of the total foreign investment stock). Malaysian investment is focused on Australian property, tourism infrastructure, energy and resources and food and agribusiness. Malaysia constitutes a small share of Australia's investment abroad at $11 billion in 2020 or 0.4% of the total stock of outward investment.