Sri Lanka
Economic outlook
The economy grew by 3.6% in 2021 from a low base, supported by growth in manufacturing, trade, financial services, and real estate activity. Rising COVID-19 infections weakened the pace of recovery in the second half of 2021, and the rapid spread of Omicron clouds an already challenging outlook.
The IMF forecasts 3.3% growth in 2022. This reflects the ongoing effects of the pandemic, subdued tourism and deteriorating government liquidity and external financing. Moreover, rising economic hardship, higher inflation and fuel and food shortages raises the risks of further protests and social unrest, as occurred in late 2021. A weak economic recovery worsens the outlook for debt sustainability. Public debt is expected to reach 111% of GDP by 2022 and remain high over the forecast period to 2026. Public interest payments absorb over 60% of public revenues, leaving the government with challenging tradeoffs in rationalising social spending and development expenditure.
Beyond the pandemic, growth potential hinges on attracting more foreign investment, diversifying trade and reviving tourism. Sri Lanka's strategic location on key shipping routes, as well as its expanded port capacity, position it well to benefit from increased trade, particularly in South Asia. Effective implementation of reforms to facilitate trade and investment would boost competitiveness and support longer-term growth.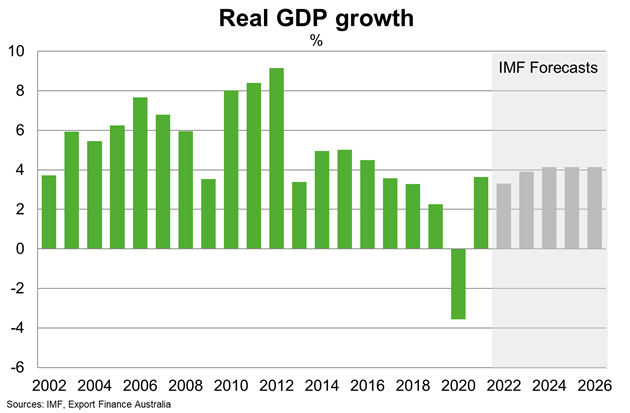 Significant progress in socio-economic and human development indicators, alongside continued economic growth has supported increasing incomes over the past two decades. But GDP per capita has fallen from above US$4,000 in 2017 and 2018 to an estimated $3,700 in 2020 and 2021 in part due to lost jobs and lower incomes related to the COVID-19 pandemic. As a result, the World Bank projects the poverty rate (earnings less than US$3.20 per day) to have increased from 9.2% in 2019 to 11.7% in 2020.