Seed Terminator
Seed Terminator is an innovative South Australian business that manufactures a harvester attachment that can kill most weed seeds before they can grow, improving crop yield and reducing herbicide use.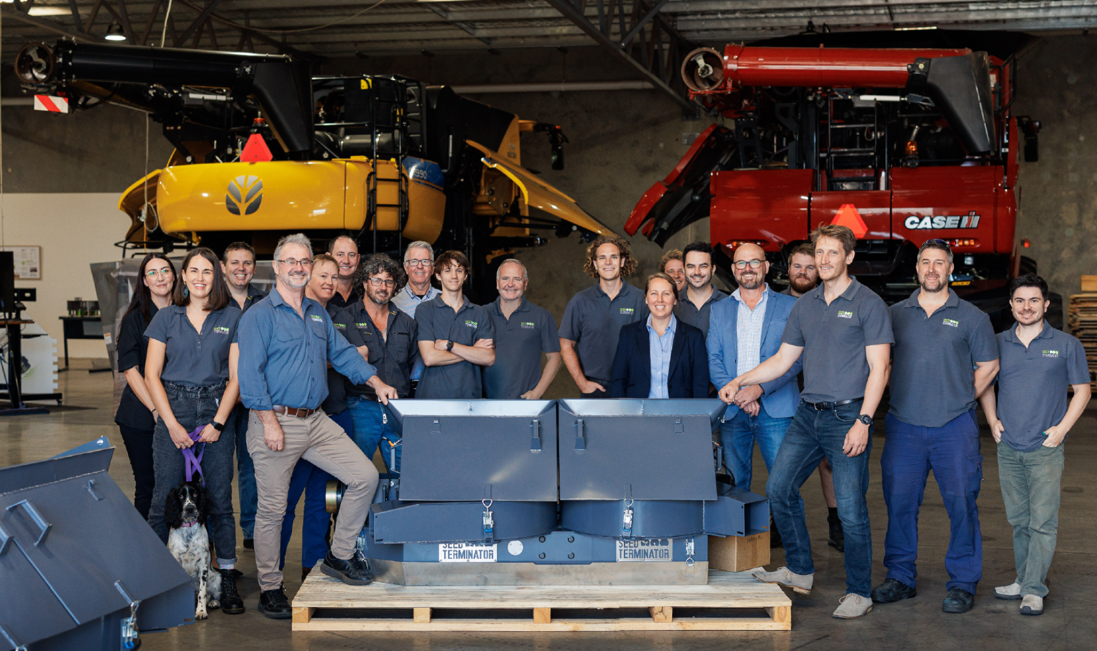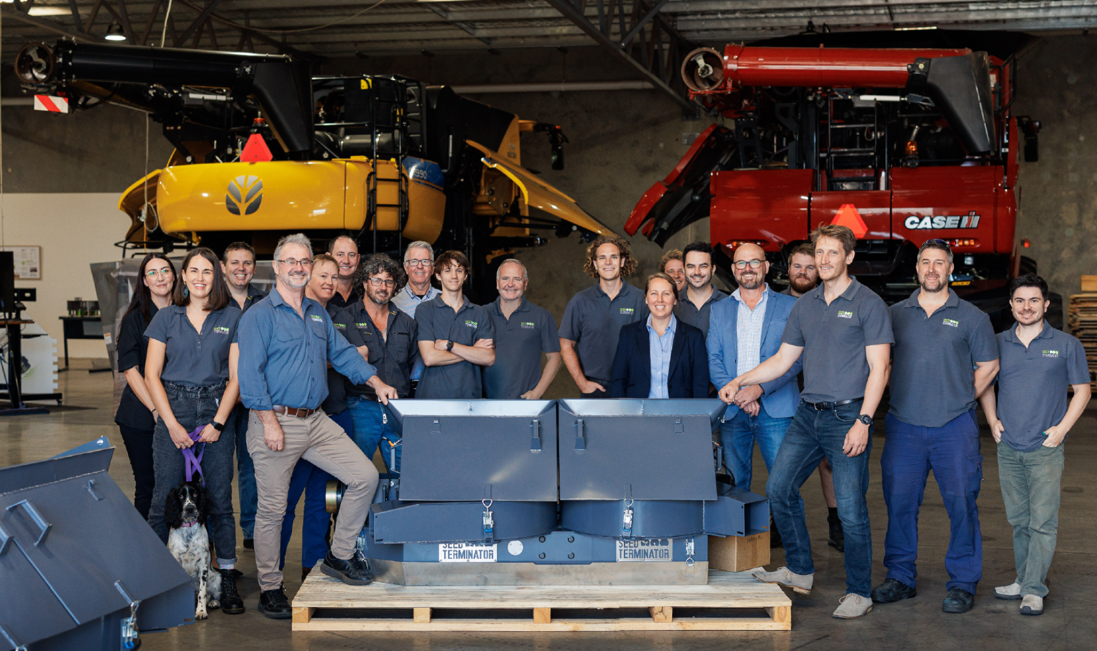 Need
To support its manufacturing operations and meet growing export contracts in new markets, including Europe and North America, Seed Terminator needed finance.
Solution
We provided a series of Small Business Export Loans that supported Seed Terminator to deliver on its export contracts and we continue to provide support to help grow its footprint in the Northern Hemisphere.
When fast-growing agribusiness, Seed Terminator, began securing contracts with buyers in Germany and Canada to supply its non-chemical weed killer, it needed finance support to take its invention to international markets. We have been able to support Seed Terminator's through the early stages of its export journey and continue to support its global growth.
In 2016, former banker, Mark Ashenden and Dr Nick Berry, a mechanical engineer and farmer's son, launched Seed Terminator.
With a mission to enable sustainable farming practices by empowering businesses with the best technology possible, their innovative product, the Seed Terminator – a small, multi-stage hammer mill that attaches to combine harvesters – is now helping farmers do more with less, across the globe.
Since launching, the Seed Terminator has killed weed seeds across 4,434,000 hectares of land, removed the need for 8,868,000 litres of herbicides, prevented 95,774,400 kg of CO2 from being released and saved 35,472,000 litres of diesel.
Export Finance Australia's support over the last few years has been critical. Without its help, we would not be where we are today. We would not have had the financial backing or the support to enter the European and Canadian markets because of the time lag with payments.


Mark Ashenden
Co-founder and Executive Director, Seed Terminator
"What we're trying to do is help feed the globe by making better use of existing crops," explained Mark, Co-founder and Executive Director at Seed Terminator.
With almost every farmer experiencing challenges with weeds, the Seed Terminator could revolutionise farming practices globally, killing up to 99% of weed seeds during harvest, before they can grow. This improves productivity, reduces herbicide use and protects against herbicide resistance.
Taking an Australian innovation global
The first commercial release of the Seed Terminator came in 2019, followed soon after by an export opportunity to supply products to Europe and North America.
"Exporting has always been part of our plan because what we're solving is a global problem," said Mark. "And if we can get it right here, there's no reason why the rest of the world can't enjoy the benefits of our products and innovation."
"We put a huge amount of effort and energy into ensuring we had the right amount of funding and then poured it back into the product.
"As a former banker, I looked at finding all the help I could, any way I could."
After exploring a range of finance options to support the delivery of the international contracts, Mark connected with our South Australian team.
"We'd signed a contract to supply product overseas and the loan allowed us to smooth out our payments over 12 months, but to have the money and cash flow upfront – which is essential for start-up and scale-up businesses," Mark said.
"Until Export Finance Australia, we didn't have the money or help for any global expansion."
A long-term finance partner
We have provided Seed Terminator with a number of small loans since 2020, which supported the business to grow its presence in the world's largest grain markets in the Northern Hemisphere.
"Export Finance Australia's loans enabled us to go into those markets for two reasons, Mark said. "One, it allowed us to get our foot in the market, while continuing our research and development to make our product better for their operating conditions.
"And it also allowed us to go to bring our export aspirations forward a year earlier. Without that capital, we would not have gone into Canada, and we would not have gone into Germany four years ago."
Scaling up global operations
At the beginning of 2023, Seed Terminator had more than 550 of its devices in action around Australia and 23 globally with more in the pipeline, employed 42 people directly and had created another 180 new manufacturing and assembly jobs nationally.
It is now strongly focused on growing its export business and international presence.
"Our goal is to saturate Australian markets first and then increase our international sales from 5% of current sales to around 20% by 2025," Mark said.