World—Turning point in 2023 as growth bottoms out and inflation falls
The IMF has upgraded its expectations for the global economy. Global growth is still forecast to slow—from 3.4% last year to 2.9% this year and 3.1% in 2024 (well below the historical average of 3.8%). But the 2023 forecast is 0.2 percentage points higher than predicted in October. Financial markets have rallied; the S&P 500 has gained nearly 7% through early 2023. Improved prospects owe to three key developments driving better performance in advanced economies in 2022 and Chinese prospects in 2023. First, overall inflation is now falling in most countries, allowing large central banks to slow the rate of monetary tightening. Second, an unseasonably mild winter has seen European energy prices fall below pre-invasion levels. Third, the relaxing of China's zero-COVID policies presages a domestic rebound and easing of global supply disruptions. China is expected to account for two-fifths of global growth this year, versus just a tenth for the US and euro area combined.
But downside risks continue to dominate. In particular, global inflation is not yet fully under control; while headline inflation is falling, underlying (core) inflation has not yet peaked in most economies. Inflation could rise further—for instance, if persistent labour market tightness fuels wages growth, or commodity prices surge, either due to an escalation of the war in Ukraine or China's commodity-intensive economic rebound. Indeed, the World Economic Forum's recent Global Risks Report ranked cost-of-living crises as the most severe perceived risk over the next two years, based on a survey of 12,000+ business leaders. 69% of respondents said the next two years would involve constant volatility with multiple shocks. Over a longer term, the top seven risks are environmental, plus large-scale involuntary migration and the erosion of social cohesion (Table).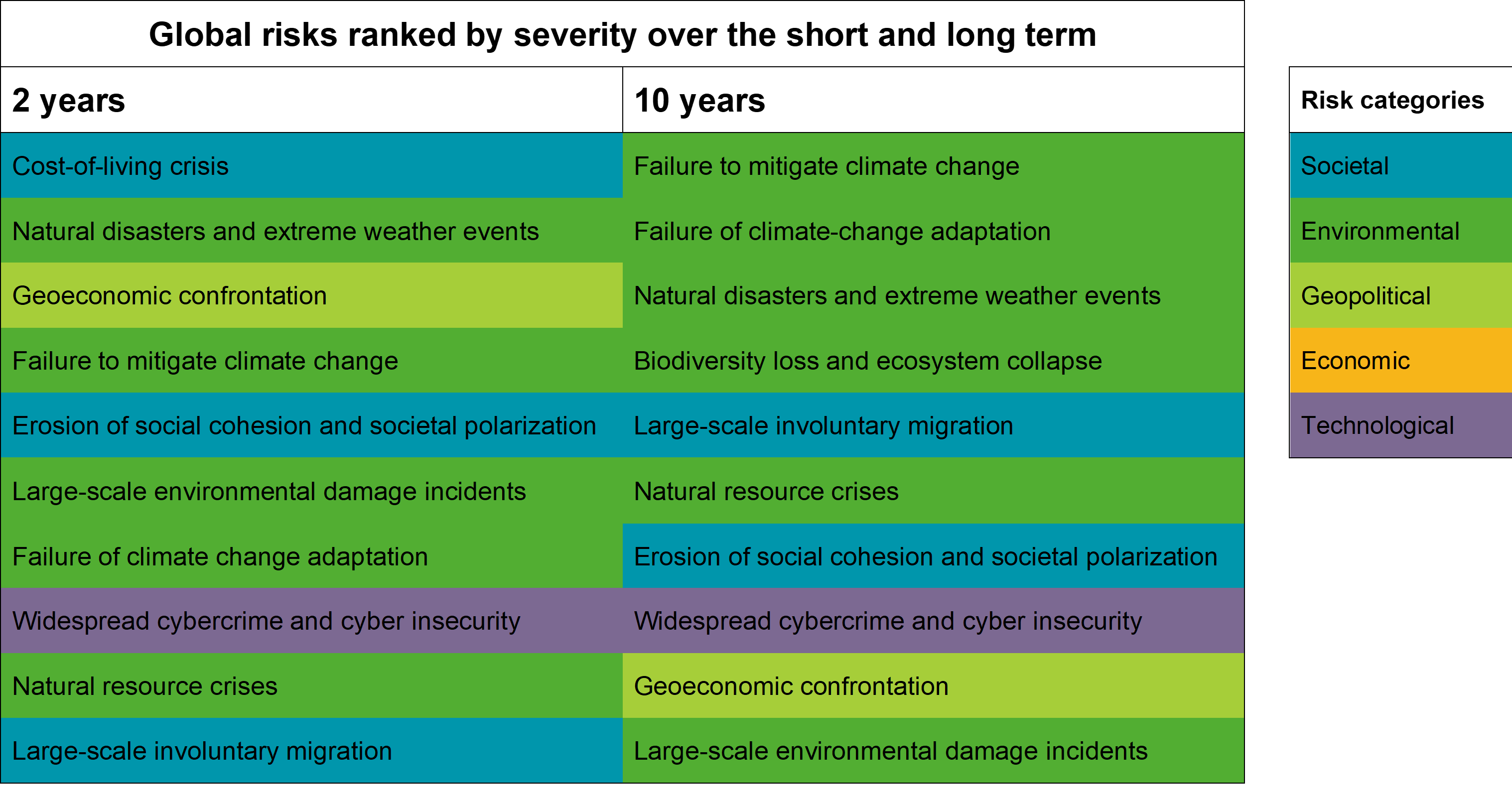 Source: World Economic Forum, The Global Risks Report 2023, 18th Edition