World—Financial volatility may erode economic prospects
The US Federal Reserve is now unequivocally committed to bringing down inflation, currently at 8.2%, to its target of 2%, via aggressive interest rate hikes. Having already raised interest rates by 300 basis points since March to 3.25%, Fed policymakers expect rates to peak at 4.6% in 2023. Global financial conditions have tightened (Chart)—partly an intended consequence of tighter monetary policy and partly due to heightened economic and geopolitical uncertainty that has seen investors retreat from risk-taking. Government bond yields have surged and stock markets have tumbled. The DXY—an index of the US dollar against a basket of major currencies—has risen about 18% this year, to its highest level in two decades.
While the global banking sector has been bolstered by stronger capital and liquidity buffers following the GFC, financial stability risks are increasing, amplified by poor market liquidity. Dysfunction in the gilt market following the UK's September "mini-budget", which forced the Bank of England to purchase long dated UK government bonds, highlights this risk.
Financial instability could undermine the real economy via several channels. In emerging markets, capital outflows and rising interest expenses on government debt are increasing liquidity pressures. For countries with poor economic fundamentals and a reliance on external financing, a lack of investor risk appetite could induce damaging defaults. Higher borrowing costs amid the challenging macroeconomic environment are also pressuring corporates. Large firms have reported a contraction in profit margins while SME bankruptcies in major advanced economies are rising. Rising rates and tighter lending standards, coupled with stretched valuations after years of rising prices, are also denting housing markets. For example, the 30-year US mortgage rate has more than doubled in the past year, and US house prices posted their biggest monthly decline in a decade in July.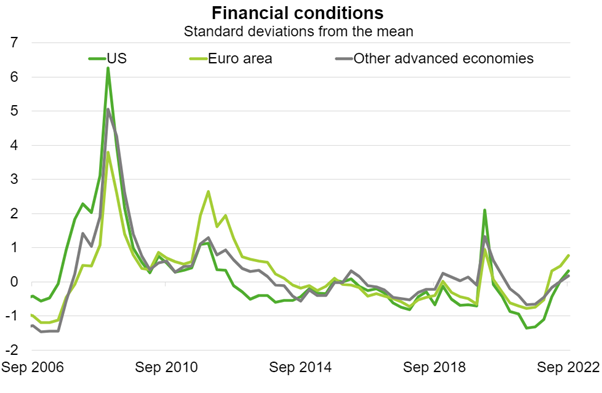 Source: IMF Global Financial Stability Report, October 2022