World—Economic and trade outlook deteriorates while risks increase
The IMF expects countries accounting for one-third of the global economy to contract this year or next. Overall, its global growth forecast was downgraded to 2.7% in 2023—the weakest since 2001 aside from the GFC and the acute phase of COVID-19. This reflects significant slowdowns in the world's largest economies—the US, euro area and China (combined constituting 50% of Australian exports last year). In the US, the IMF says tighter monetary and financial conditions will slow growth to 1% next year. In the euro area, the energy crisis caused by Russia's invasion of Ukraine will reduce growth to 0.5%. In China, the IMF expects the weakening property sector and strict COVID-19 containment policies will see growth of 4.4% (well below Beijing's 5.5% target). Given the importance of China in supply chains, this will weigh heavily on global trade. The downgrades to growth will result in permanent output losses; scarring from the pandemic and the war are forecast to leave the global economy 4.6% smaller in 2024 than had been expected in January 2020.
Moreover, downside risks remain unusually large. The risk of a policy miscalibration has risen sharply amid growing uncertainty. Despite the economic slowdown, inflation is proving broader and more persistent than expected (Chart). Monetary under-tightening would further entrench inflation, erode the credibility of central banks, and de-anchor inflation expectations. Over-tightening risks are pushing the global economy into an unnecessarily deep recession and stoking financial market turmoil. Other risks include a worsening of the impact of Russia's war in Ukraine; a resurgence in COVID-19 or another pandemic; a Chinese property crash; emerging market debt distress; and fragmentation of the world economy. But despite 'stormy waters' ahead, large export markets like Saudi Arabia, India and the ASEAN-5 (expected to outperform China for the first time since 1990), are among the few countries expected to see relatively strong growth and moderate inflation.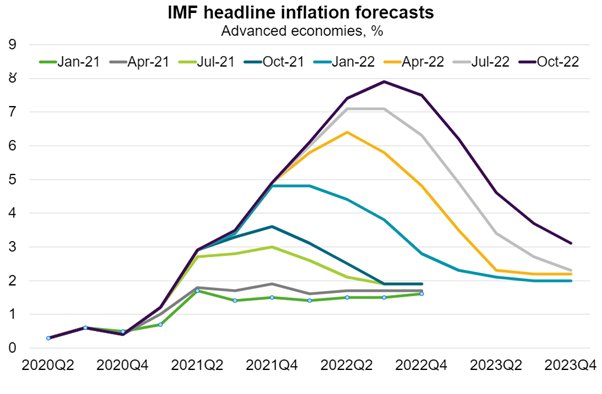 Source: IMF World Economic Outlook, October 2022.