Indonesia—Strong economic fundamentals underpin bright outlook
Indonesia's economy is a bright spot amid the global slowdown. The IMF expects GDP growth to hit 5.3% in 2022 and remain solid at 5% in 2023. High global prices for key commodities—-tin, coal, nickel and palm oil—-are supporting an acceleration in exports while political stability and implementation of structural reforms are helping to lift foreign direct investment inflows (Chart). A recent poll by Indikator Politik Indonesia showed President Joko Widodo remains highly popular, with a 63% approval rating.
Indonesia has a large population of more than 270 million which supports domestic demand. It has sufficient foreign exchange reserves to mitigate the risks to external shocks. Investment in infrastructure supports domestic productive capacity and enhances access to export markets. The Indonesian government says it has constructed 1,900 kilometres of toll roads since 2014 compared with about 780 kilometres in the prior 40 years. Indonesia also stands to benefit from the global shift toward clean energy technologies. Indonesia is the world's largest producer of nickel (21 million tonnes or 30% of global reserves, tied with Australia), a critical component in electric vehicle (EV) batteries. This supports export prospects and may also help Indonesia develop a domestic EV industry. Demand for Indonesian bauxite and copper should also benefit from the rise in global renewable energy investment.
The entry-into-force of the Indonesia–Australia Comprehensive Economic Partnership Agreement (IA-CEPA) in July 2020 improved market access for Australian exporters and investors. In 2021-22 Indonesia was our 10th largest merchandise export market ($11.5 billion, up 45% year-on-year). Leading exports included coal ($2.3 billion) and wheat ($1.5 billion). The COVID-19 pandemic caused services trade to dramatically slump but there are signs of recovery.  Indonesia's ongoing economic development and outperformance will continue to provide new opportunities for Australian exporters.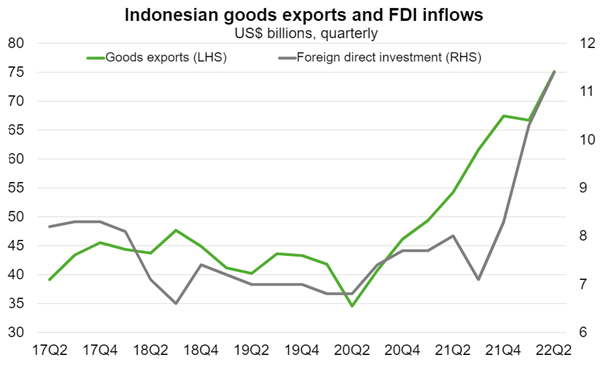 Sources: Indonesia's Ministry of Investment/BKPM, Bank Indonesia.