Australia—Beverage exports diversifying by market and product
Australian wine exporters have faced challenging trading conditions in recent years, reflecting the ongoing impact of Chinese tariffs on bottled Australian wine, severe shipping delays, and rising business costs. Export values fell 27% to $2.1 billion over the three years to FY2022. Unlike bulk commodities, market diversification takes longer and costs more for products reliant on reputation and market presence, like wine. However, progress is being made. Excluding China, wine exports increased 5% to $2.06 billion last financial year—the highest value since FY2010. This mainly reflected increased exports to Singapore, US, Malaysia, Thailand, India and New Zealand.
While Australian beverage exports remain dominated by wine, other segments are showing impressive growth. For instance, in FY2022, exports of sweetened water grew 43% to $164 million, while exports of unsweetened water grew fourfold to $26 million. Fruit and vegetable juice exports (dominated by grape and mixed juice) rose by a third in FY2022, to $67 million (Chart). While New Zealand, Japan, China, Korea and Hong Kong dominated sales (77% in FY2022), Australia exported fruit and vegetable juices to 57 countries last financial year, of which 42 markets exhibited growth. Increasingly health-conscious consumers, growth in emerging markets, value addition and product innovation, along with improving market access, are all likely to support export opportunities going forward. For instance, the Indonesia-Australia Comprehensive Economic Partnership Agreement reduced tariffs of 10% on many of these exports to zero from 2020 onwards. The recovery in non-wine alcoholic beverage exports also continues. Exports grew strongly in FY2022 for whisky (to $41 million), liqueurs and cordials ($31 million), beer ($24 million), gin ($19 million) and vodka ($15 million)—though export sales were still shy of combined peak $301 million recorded in FY2019.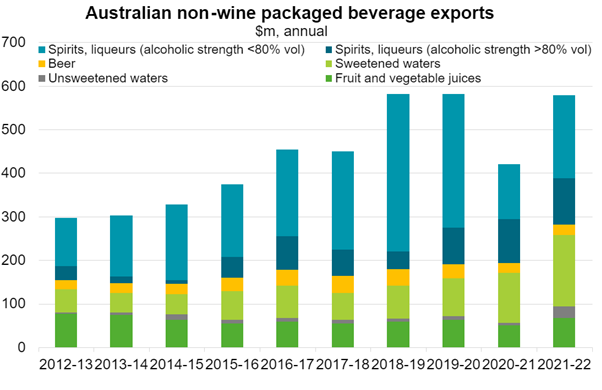 Source: DFAT and Export Finance Australia.