Indonesia
Jump to a section of the page
Indonesia
Last updated: February 2022
Indonesia's economic growth prospects are in line with the average of Emerging and developing Asian peers, supported by a large, growing and youthful population. Creditworthiness and business climate indicators are above the regional average. But despite solid economic growth in the past decade and prospects for that to continue beyond the COVID-19 pandemic, Indonesia's per capita income lags regional peers.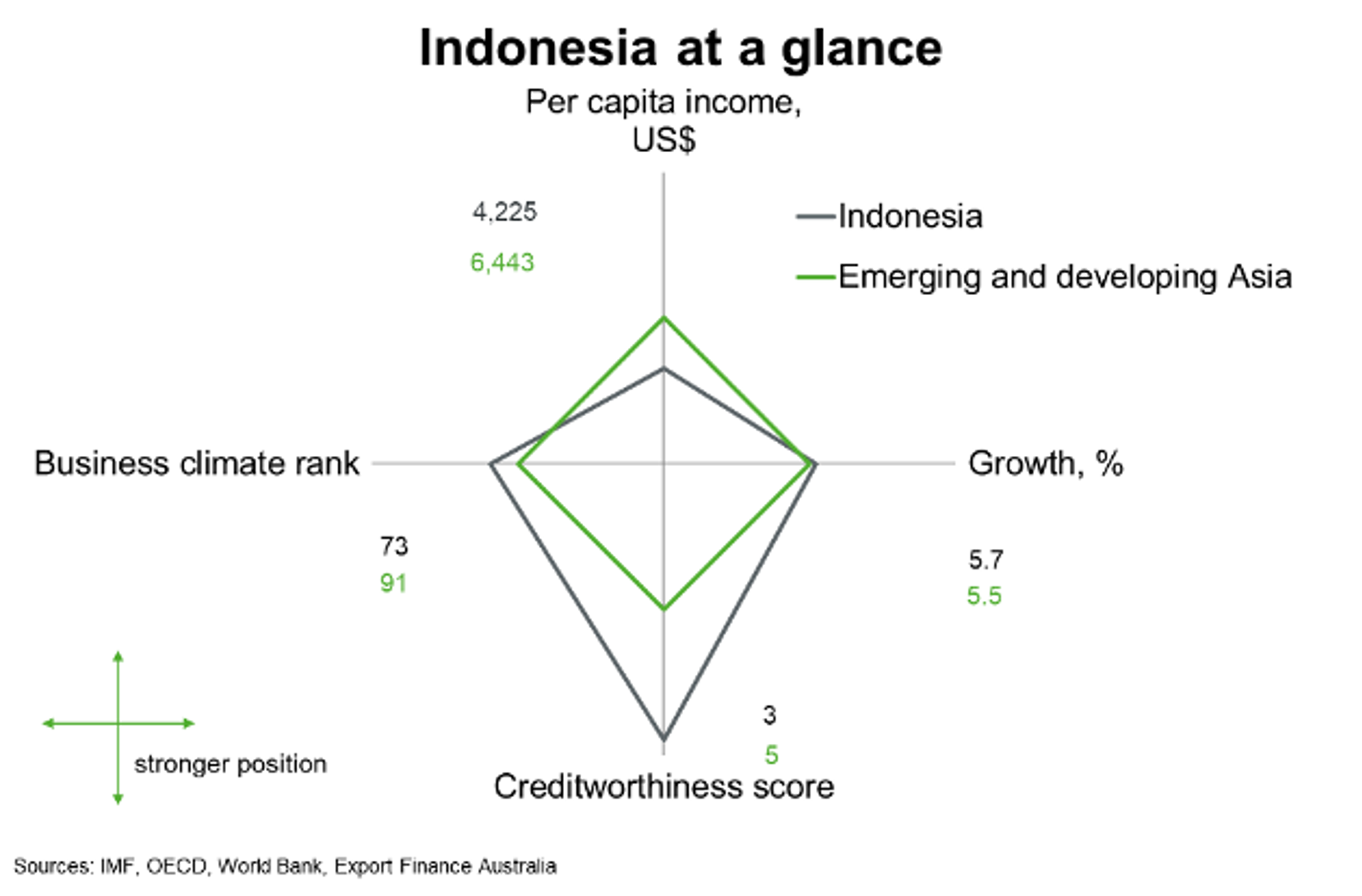 The above chart is a cobweb diagram showing how a country measures up on four important dimensions of economic performance—per capita income, annual GDP growth, business climate rank and creditworthiness. Per capita income is in current US dollars. Annual GDP growth is the five-year average forecast between 2022 and 2026. Business climate is measured by the World Bank's latest Ease of Doing Business ranking of 190 countries. Creditworthiness attempts to measure a country's ability to honour its external debt obligations and is measured by its OECD country credit risk rating. The chart shows not only how a country performs on the four dimensions, but how it measures up against other countries in the region.
Economic outlook
Indonesia's economy is recovering steadily after a strong COVID-19 surge from June through August 2021 constrained domestic demand. GDP ended 2021 above its level before the pandemic. High global prices for Indonesia's commodities supported exports in 2021 and are likely to do so again in 2022. The IMF forecasts real GDP to grow 5.6% in 2022 after a 3.7% increase in 2021.
But risks to the outlook are tilted to the downside. The recovery may slow as the government has stepped up public activity restrictions in Jakarta and Bali through February amid the rapidly spreading Omicron variant; renewed pressures on the health system could require the government to impose tighter social and business restrictions for even longer. Given higher commodity prices have driven much of the recent increase in exports and investment, a marked decline in prices in the face of rising risks to world growth remains a threat to the recovery. Indonesia is also vulnerable to rising US interest rates and local currency depreciation, given its high dependence on capital inflows into local equity and bond markets and elevated external debt. Indonesia may also raise interest rates to tame rising domestic inflation, threatening the consumption rebound.
Beyond the pandemic, economic growth should receive a boost from reforms to strengthen the business climate and public finances, but this is subject to effective policy implementation. Favourable demographics and an expanding middle class bode well for raising consumption growth longer term. Rising infrastructure needs and relocation of the capital away from Jakarta will support public investment in the mid-2020s and beyond.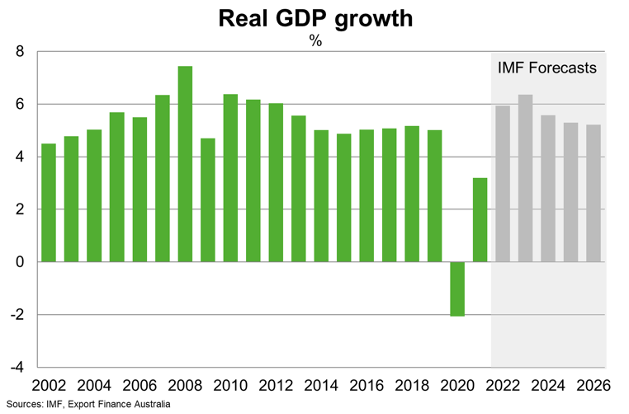 Alongside increasing economic development, per capita income has risen more than four-fold over the past 20 years to about US$4,000 in 2019. Per capita incomes dipped in 2020, as the pandemic hit employment and incomes. Economic recovery is likely to support ongoing growth in incomes towards US$6,000 in 2026 as per IMF estimates. But incomes are still below the Emerging Asia average, holding back GDP growth and government revenue generation.
Country risk
Country risk in Indonesia is low to moderate. Indonesia has an investment grade credit rating and an OECD country credit grade of 3. This indicates a low to moderate likelihood that it will be unable or unwilling to meet its external debt obligations.
The World Bank's ease of doing business gauge ranks the Indonesian business climate 73rd out of 190 economies. There have been significant improvements across doing business indicators since 2013. But starting a business and enforcing contracts remain somewhat more difficult relative to the regional average.
Risk of expropriation in Indonesia is moderate. Indonesia has a track record of economic nationalism. The 2009 Mining Law introduced a raft of measures that impact on foreign investment—including domestic processing and majority-ownership divestment requirements. For instance, the divestment regulations stipulate that all foreign miners must divest 51% of shares to Indonesian companies by the tenth year of production. As part of the implementation of the mining law and its implementing regulations, Freeport and Rio handed over majority ownership of the Grasberg mine, the world's second largest copper mine, to the Indonesian government.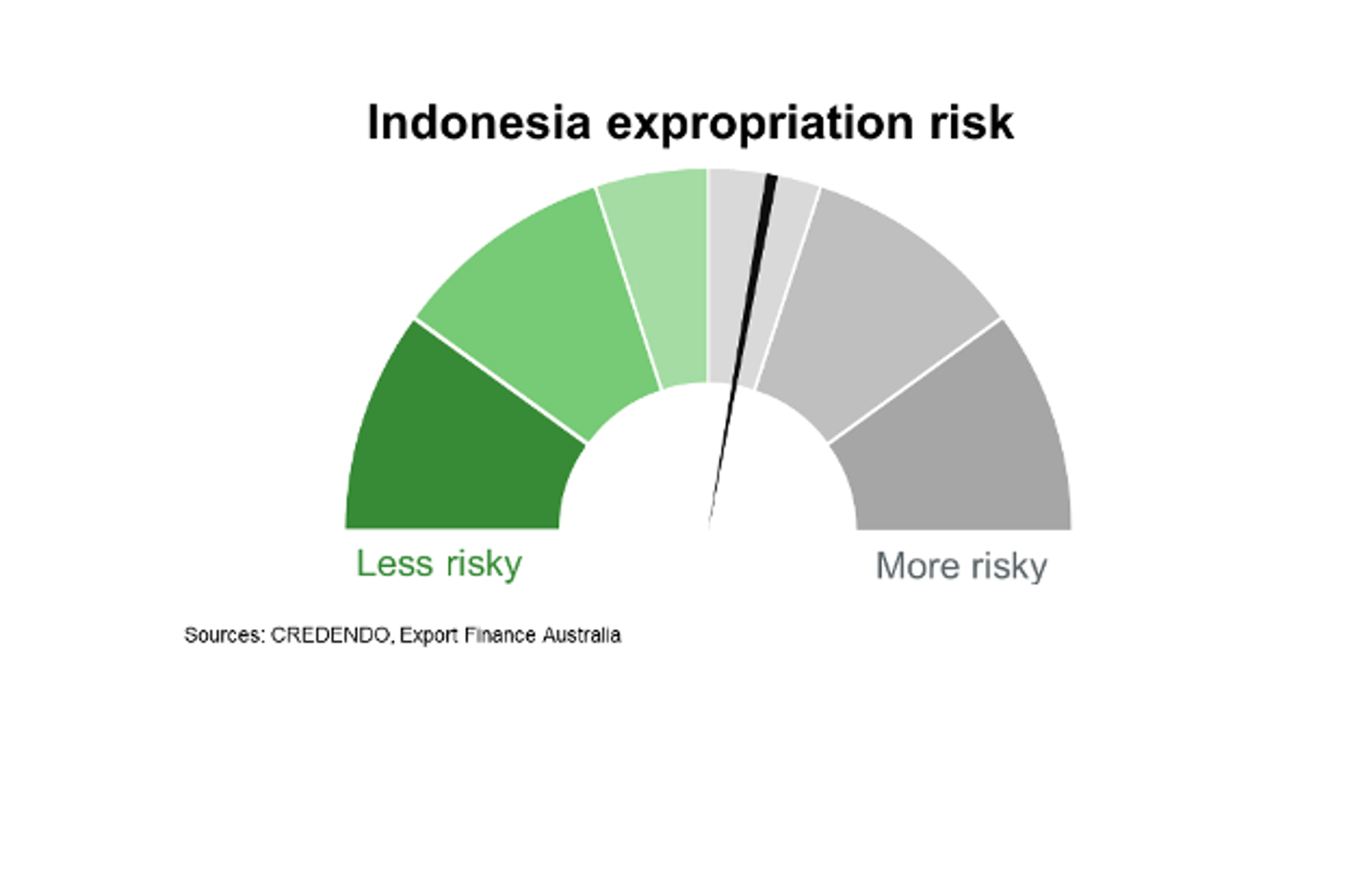 Political risk in Indonesia is low to moderate. Politically motivated demonstrations occasionally occur throughout Indonesia, but not to the extent that it damages foreign investment. Flare-ups in religious-based and student violence (including in recent years student protests over weakening anti-corruption laws) also underpin political risks. The World Bank ranks Indonesia in the second bottom quartile for all but one dimension of governance. Indonesia lags the regional average on measures of political stability and absence of violence.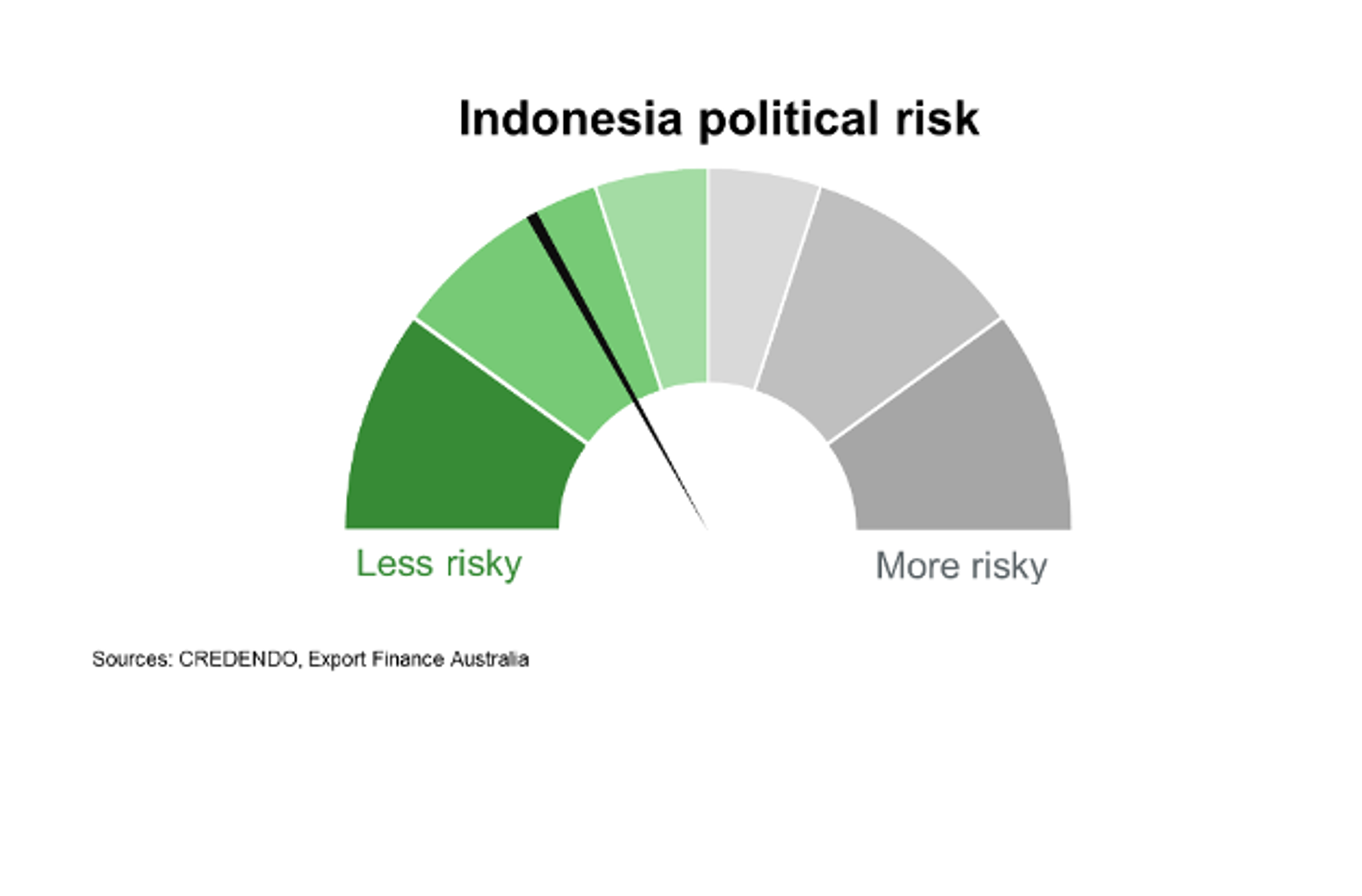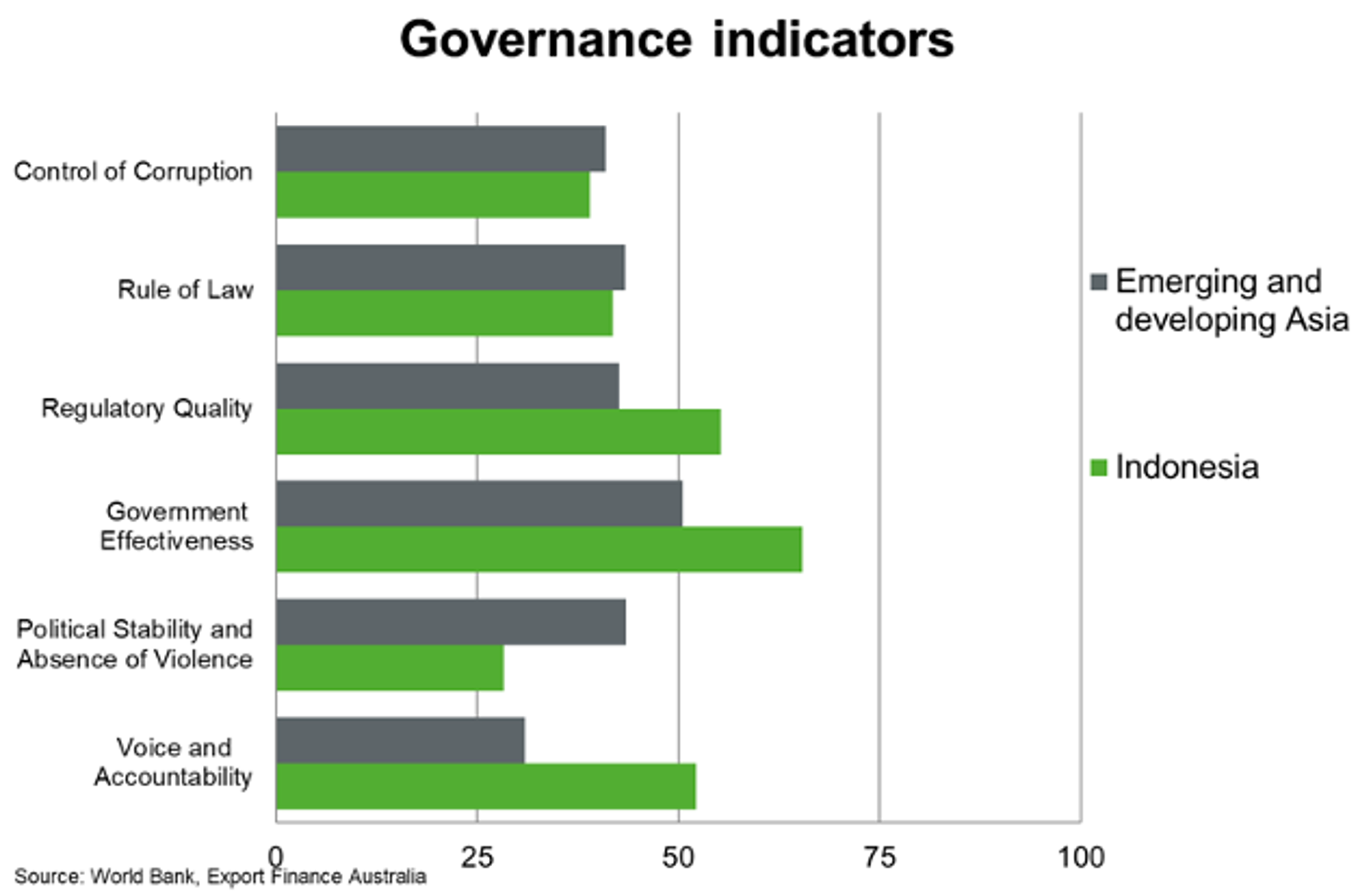 Bilateral relations
Indonesia was Australia's 14th largest trading partner in 2020. Total goods and services trade amounted to $12.9 billion in 2020, down a large $4.8 billion from 2019. The COVID-19 pandemic has disrupted bilateral trade over the past two years. Indonesia remains an important trading partner. About 2,500 Australian companies export to Indonesia, and around 250 Australian businesses have a subsidiary in Indonesia.
Major Australian goods exports include coal, iron ore, crude petroleum, sugar, molasses and honey and live animals. The entry-into-force of the Indonesia–Australia Comprehensive Economic Partnership Agreement (IA-CEPA) in July 2020 provides further opportunities for Australian exporters and investors to take advantage of Indonesia's growth potential and diversify their businesses.
The Indonesian consuming class hit 70 million in 2016 and is forecast to increase by 5 million each year to 125 million by 2030, according to McKinsey. This makes Indonesia the greatest expanding consumer market worldwide. Australia is poised to benefit from rising Indonesian consumer demand for education, finance, healthcare, information and communications technology, and tourism. Beyond the pandemic, Indonesia's plans to develop mass tourism could present further opportunities for Australian agricultural producers to supply hotels.
Goods imports from Indonesia consist mainly of refined petroleum, gold, tobacco, wood, monitors and televisions.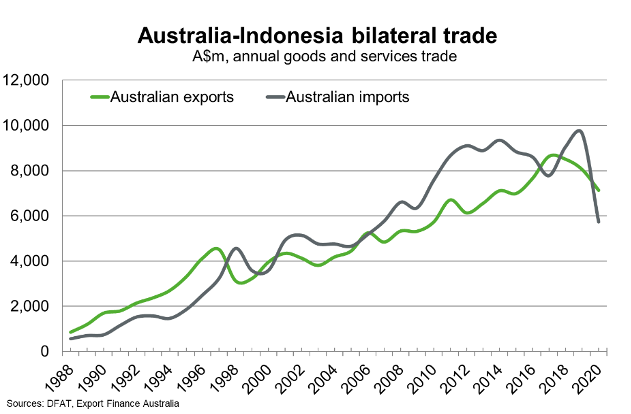 Before the COVID-19 pandemic, roughly 23,000 students undertook education in Australia in 2019 (2.4% of the total). Almost 222,000 (2.4% of the total) Indonesians visited Australia in 2019, continuing a solid growth trend. However, the pandemic and associated international travel restrictions have hurt services trade over the past couple of years. The ongoing pandemic points to another year of uncertainty for services exports in 2022.
Beyond the pandemic and to support the government's economic growth objectives, Indonesia is looking to maximise the benefits of its demographic dividend, including through increased access to globally relevant education and training. President Widodo has set an ambitious target of adding 57 million skilled Indonesians to the workforce by 2030. That could open up opportunities for Australian education operators, particularly vocational education and training providers.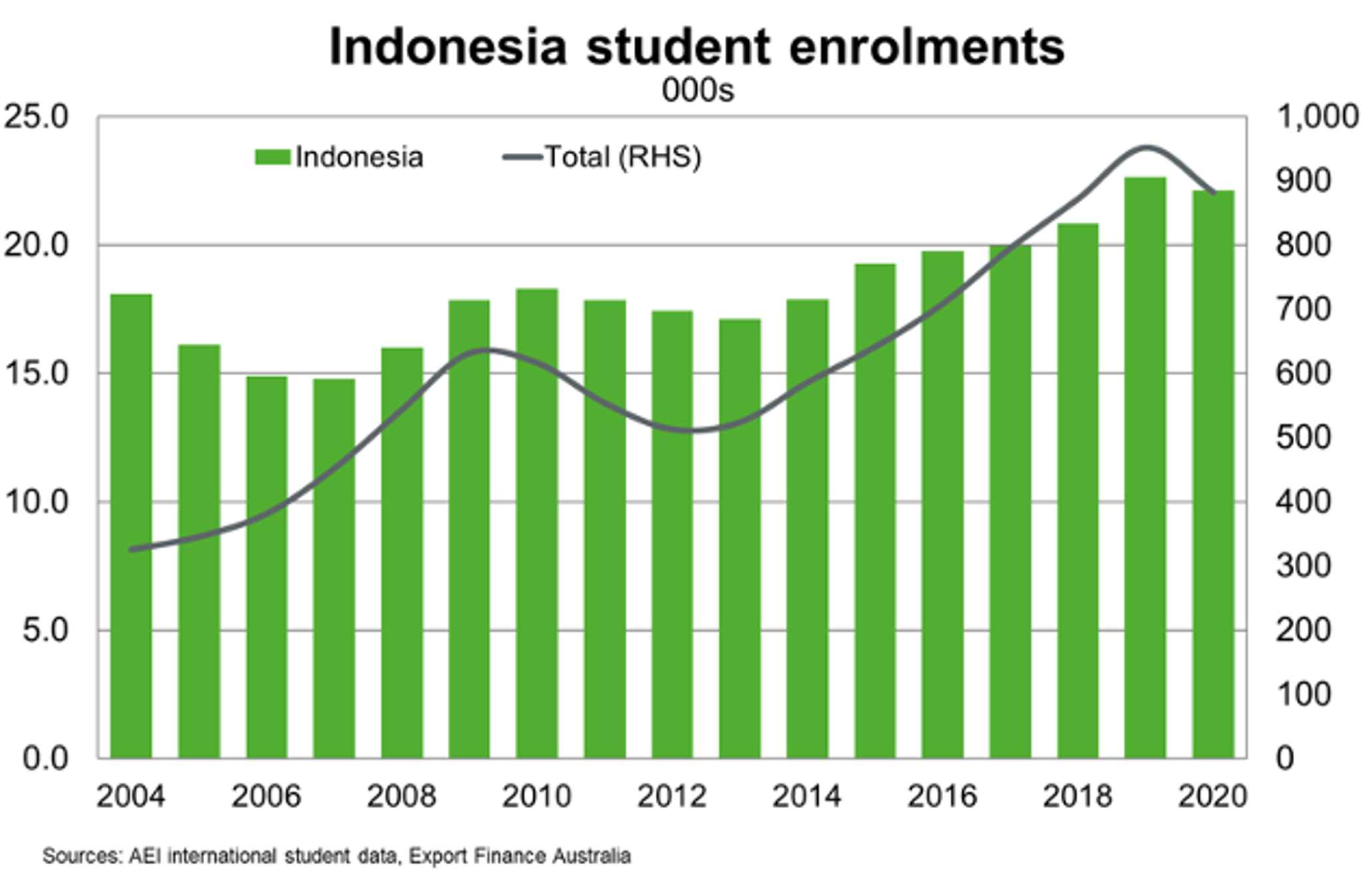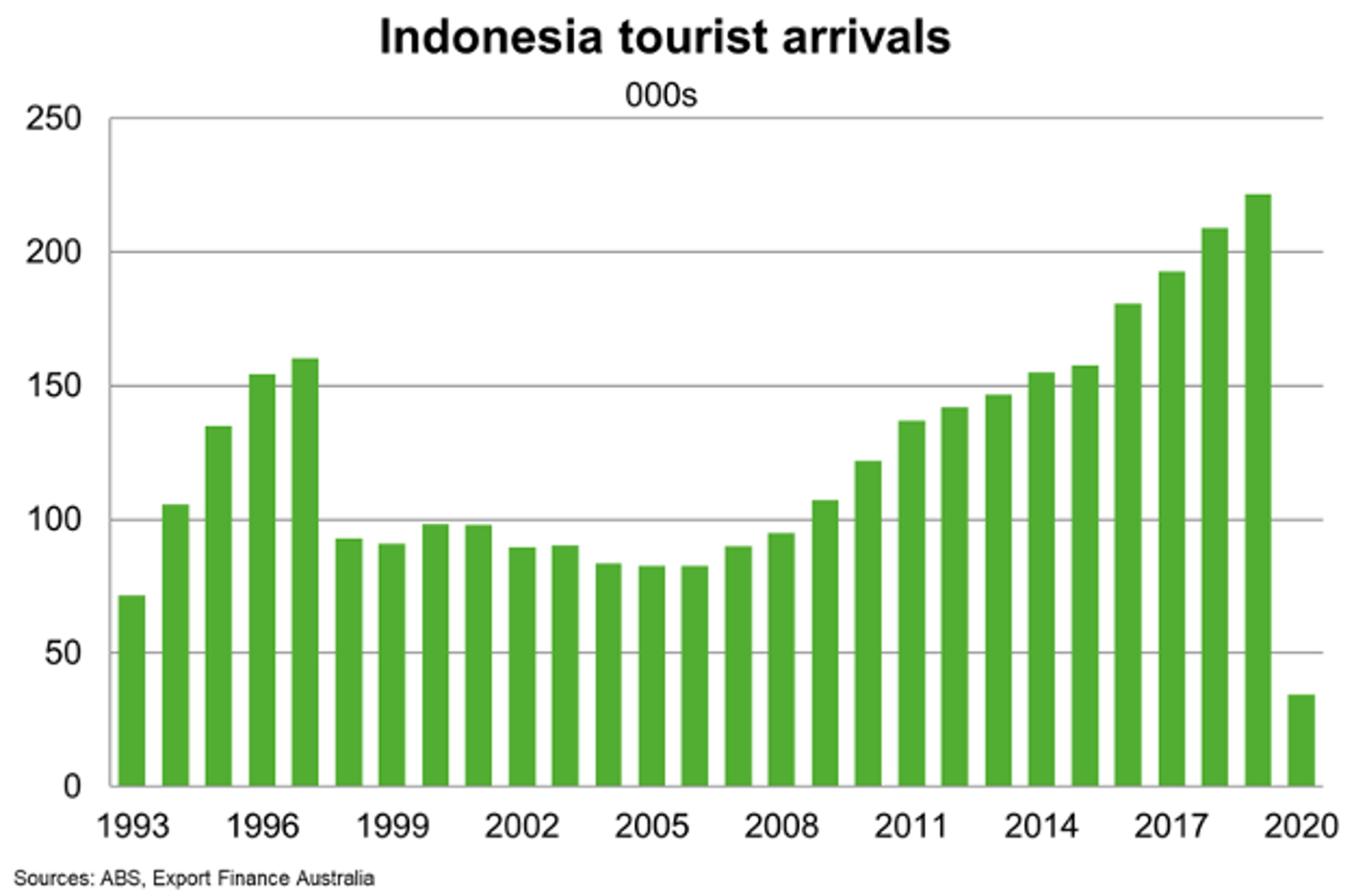 Indonesia is a small investor in Australia, owning a portfolio of $1.2 billion in 2020. The stock of Australia's investment in Indonesia is larger, at $3.2 billion in 2020, albeit substantially lower than in prior years. The projected rise in Indonesian demand for consumer goods and services — particularly for premium food and beverages, education and healthcare, financial and ICT services and tourism — and its ambitious infrastructure investment agenda, offers significant opportunities for Australian investors and exporters.