Philippines
Jump to a section of the page
Philippines­
Last updated: February 2023
The Philippines is the third largest economy in the Southeast Asian region after Indonesia and Thailand. The Philippines outperforms emerging Asian economies on measures of creditworthiness and GDP growth but lags behind its peers on indicators of per capita incomes and the business climate.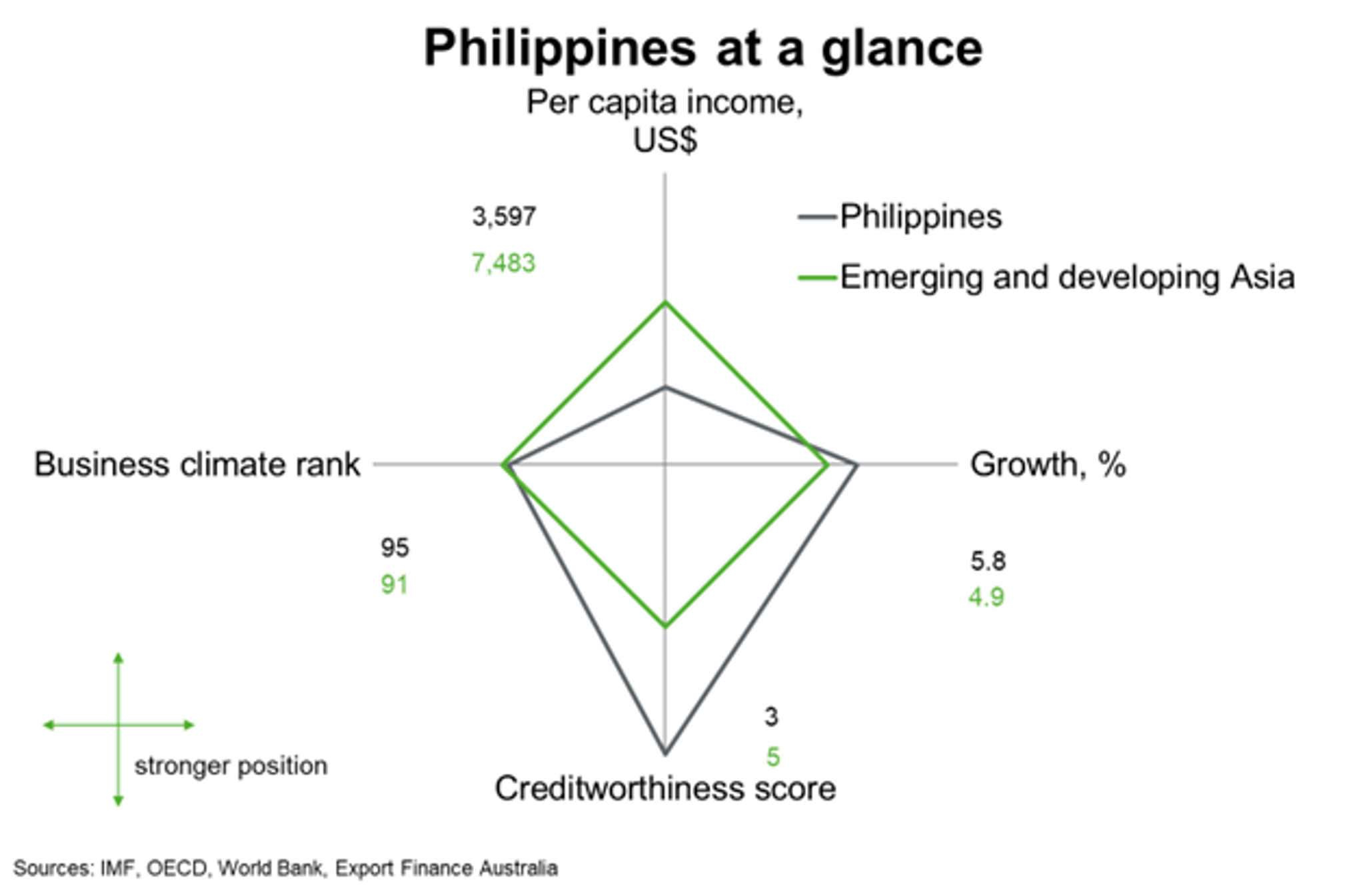 The above chart is a cobweb diagram showing how a country measures up on four important dimensions of economic performance—per capita income, annual GDP growth, business climate rank and creditworthiness. Per capita income is in current US dollars. Annual GDP growth is the five-year average forecast between 2023 and 2027. Business climate is measured by the World Bank's 2019 Ease of Doing Business ranking of 190 countries. Creditworthiness attempts to measure a country's ability to honour its external debt obligations and is measured by its OECD country credit risk rating. The chart shows not only how a country performs on the four dimensions, but how it measures up against other countries in the region.
Economic outlook
A resilient export sector and strong household consumption helped offset waning investment growth and lifted GDP growth to 7% in 2022, from 5.7% in 2021.
Looking ahead, the Philippine economy will grow slower but still robust in 2023. Weakening external demand amid tightening global credit conditions is likely to drag on Philippine exports, although China's economic reopening will provide a boost. The Philippines, as a net importer of commodities and food, is experiencing sharply higher inflation, squeezing household budgets. The Philippine central bank indicated further rate hikes are necessary to help contain inflation, which will weigh on private investment.
Stronger public spending will support growth. President Marcos has committed to developing infrastructure by allocating 5% to 6% of GDP for infrastructure spending in the 2023 Budget under the Build, Better, More Program. Increased infrastructure spending will help enhance the business climate, attract greater foreign investment and support productivity. The IMF expects growth to average 6% per annum between 2024 to 2027.
Risks to growth are balanced. On the downside, a sharper than expected slowdown in major export markets may weigh more heavily on Philippines export growth. On the upside, consumption growth could prove resilient to rising inflation pressures amid strengthen wages and remittances inflows.  
Longer term macroeconomic fundamentals remain sound. A large and youthful population and the government's ongoing commitment to enhancing the investment climate through increasing infrastructure spending should bolster growth potential.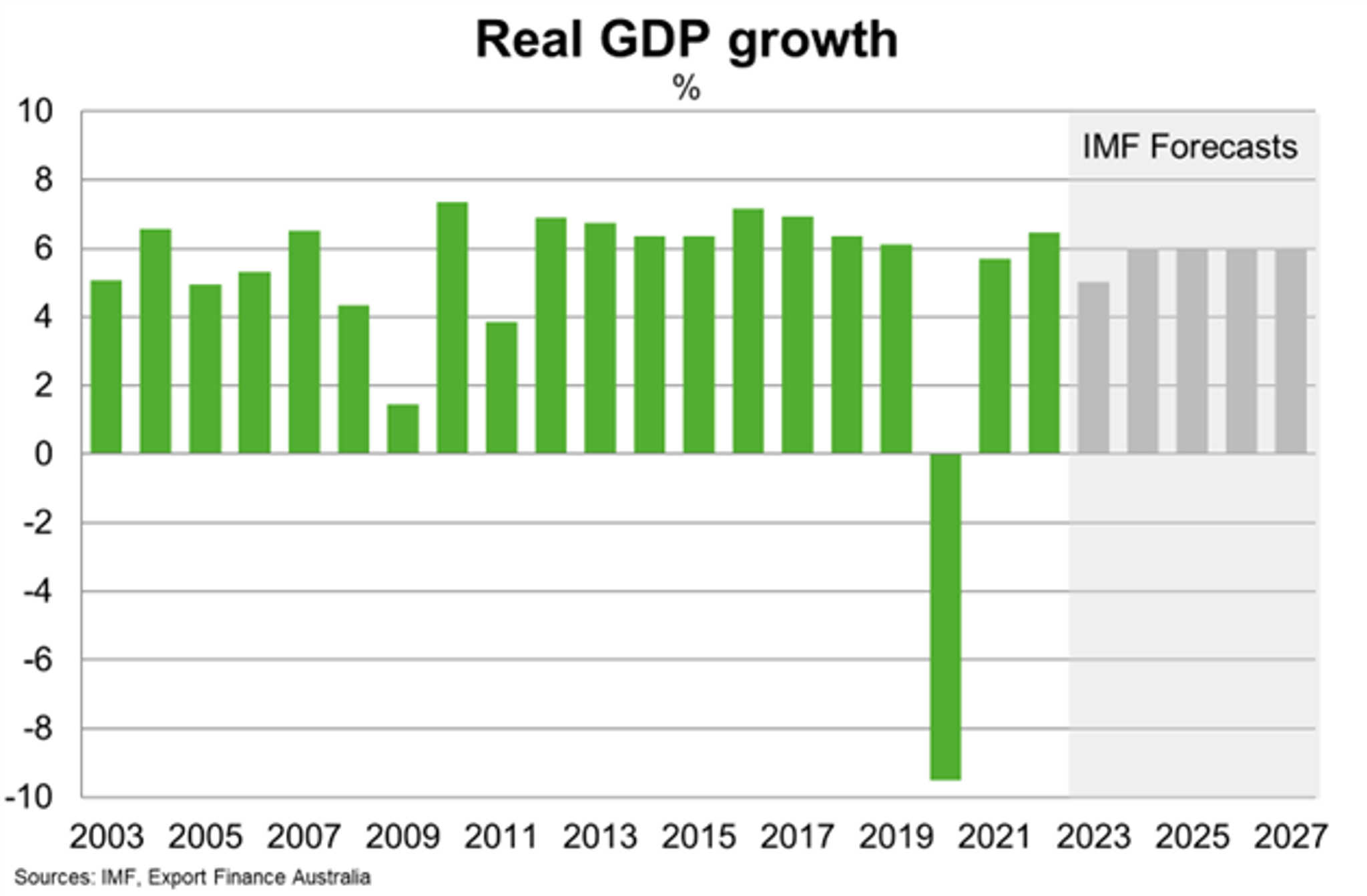 The COVID-19 pandemic hampered years of government poverty reduction efforts and human capital development in the Philippines, with the poverty rate rising to 18.1% in 2021 from 16.7% in 2018. As the economy grows around 6% per annum over the next five years, the IMF projects GDP per capita to rise above US$4,800 in 2027, from an estimated $3,500 in 2022.
Country Risk  
Country risk in the Philippines is low to moderate. The OECD gives the Philippines a country credit rating of 3, which indicates a relatively low to moderate likelihood that this country will be unable or unwilling to meet its external debt obligations.
There is low to moderate risk of expropriation in the Philippines. The Philippines compensates any expropriation at fair market value in the currency in which the investment is made. However, several mine closures in early 2017 due to changes in environmental regulations highlight contract alteration risks, particularly in the mining industry.
Political risk is moderate. The government is continuing its focus on security and illegal drugs to enhance the operating environment. The Philippines ranks low on the World Bank's measure of political stability and absence of violence. But domestic politics, on its own, has not weighed on economic growth or derailed fiscal reform in the past. Most governance scores are broadly in line with the emerging Asia average.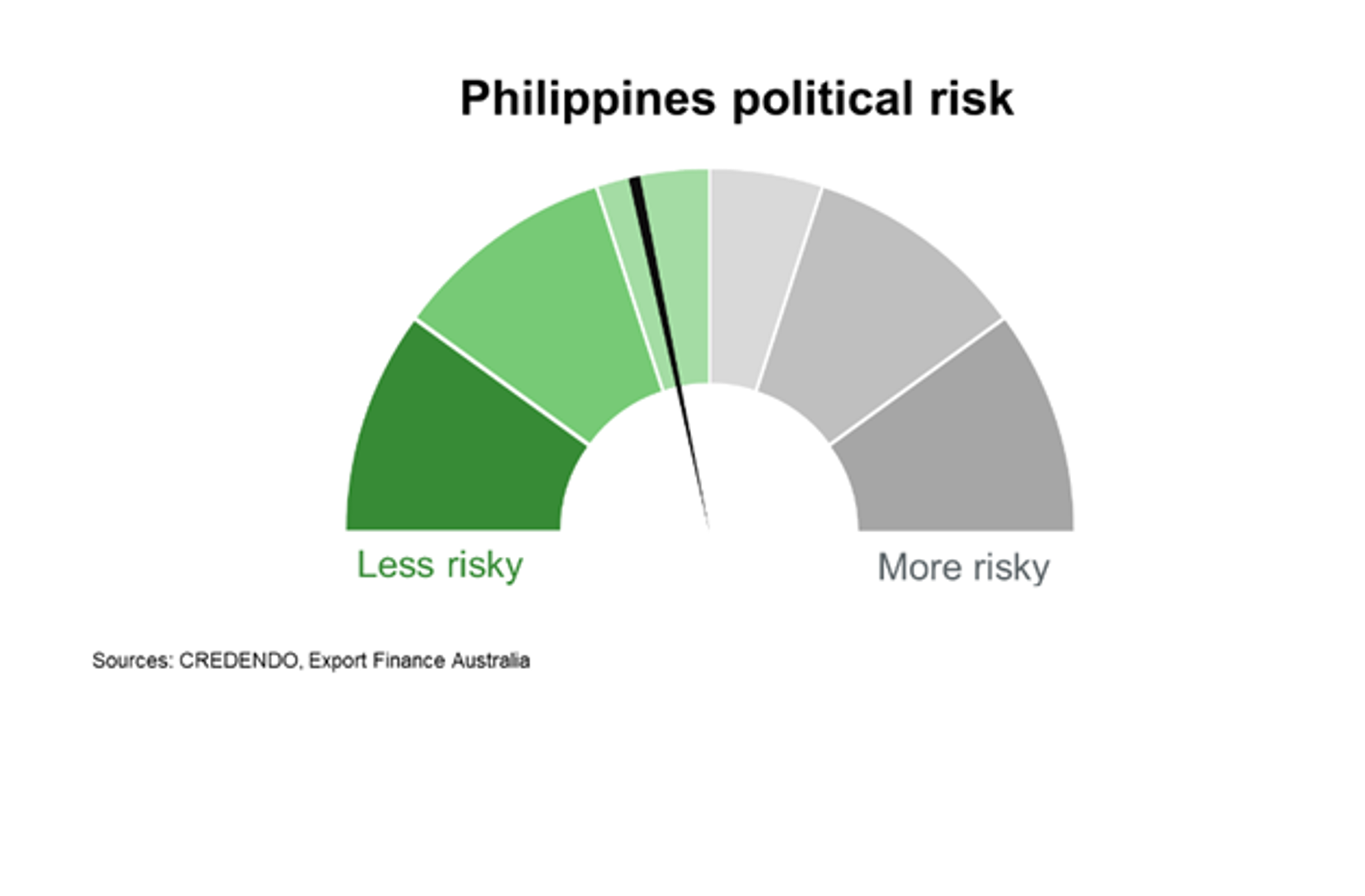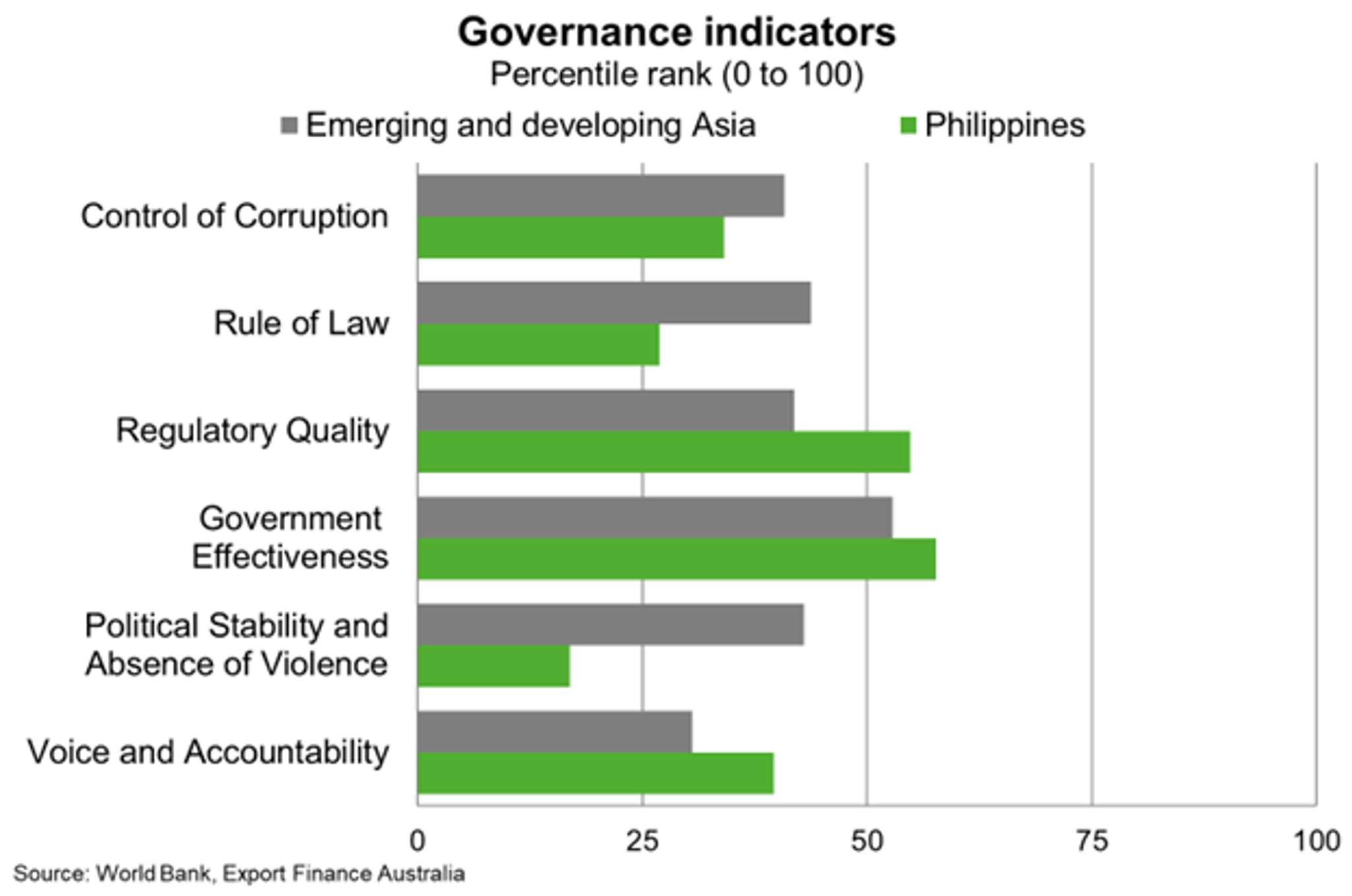 Bilateral Relations
The Philippines was Australia's 21st largest trading partner in 2021. Total goods and services trade between Australia and the Philippines rose more than 35% to $6.2 billion in 2021. Goods and services exports consists mostly of wheat, education-related travel, precious metals and ores, beef and barley. There exist opportunities for Australian exporters of technology, cybersecurity and big data as e-commerce expands in the Philippines. Australian imports from the Philippines amounted to $1.4 billion in 2021 and consisted mainly of technology and other business services, telecommunications and ICT services, copper, electrical machinery and parts, computers, office machines and financial services.
There are more than 200 major Australian companies that operate in the Philippines employing more than 41,000 Filipinos in the business process outsourcing, infrastructure, banking, telecommunications, energy, and education sectors. Australia and the Philippines are both members of APEC, and Australia is an active participant in the East Asia Summit (EAS). Australia and the Philippines are among the 15 countries that signed the Regional Comprehensive Partnership Agreement (RCEP) in November 2020, which will help strengthen economic integration and regional trade.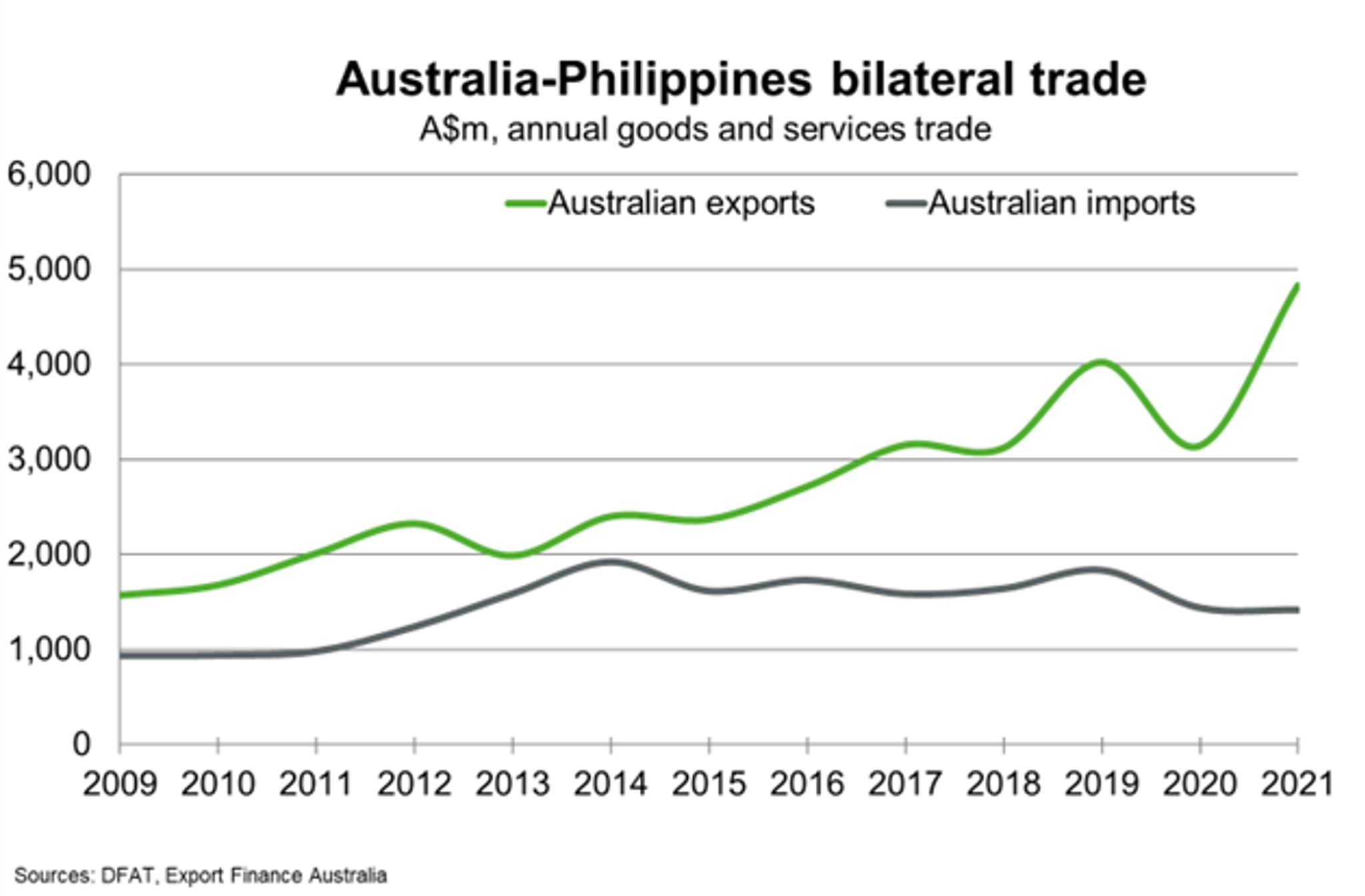 Australia remains a key destination for Filipino students, supported by remote learning through the pandemic. Filipino tourism to Australia recovered in 2022 to reach one-third of its 2019 level. Another year of open international borders and pent-up demand for travel should support further recovery in Filipino tourism to Australia, and broader services exports, in 2023.
Two-way investment totaled $8.9 billion in 2021. Australia's proximity to the Philippines and its reputation as a supplier of quality materials and services are important factors enhancing the bilateral trade, economic and investment relationship.