Philippines
Jump to a section of the page
Philippines
Last updated: March 2022
The Philippines is the third largest economy in the Southeast Asian region after Indonesia and Thailand. The Philippines outperforms emerging Asian economies on measures of creditworthiness and GDP growth, but lags peers on indicators of per capita incomes and the business climate.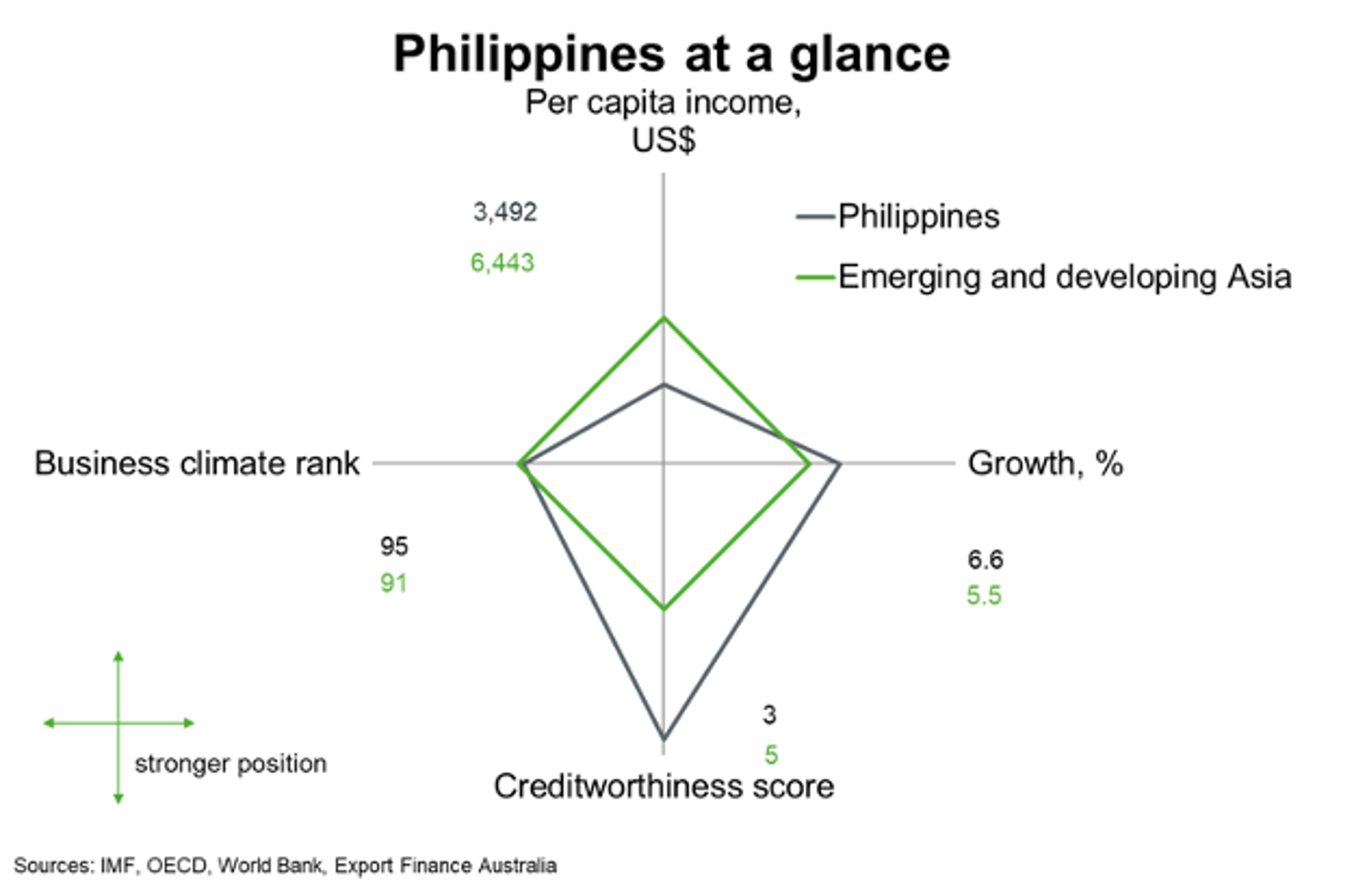 This chart is a cobweb diagram showing how a country measures up on four important dimensions of economic performance—per capita income, annual GDP growth, business climate and creditworthiness. Per capita income is in current US dollars and is the five-year average between 2022 and 2026 as provided by the IMF. Annual GDP growth is the five-year average between 2022 and 2026. Business climate is measured by the World Bank's latest Ease of Doing Business ranking of 190 countries. Creditworthiness attempts to measure a country's ability to honour its external debt obligations and is measured by its OECD country credit risk rating. The chart shows not only how a country performs on the four dimensions, but how it measures up against other regional countries.
Economic outlook
Robust consumer spending helped lift GDP growth to 5.6% in 2021, after a record 9.6% GDP contraction in 2020 amid persistent COVID-19 lockdowns.
The IMF expects real GDP growth to accelerate to 6.3% in 2022. Rising vaccination rates should support continued solid consumer spending. Fiscal policy will remain supportive of growth, while increased spending related to the Presidential election slated for May 2022 will also provide a boost. The Philippine central bank, which has kept its key policy rate at a record low of 2% since November 2020, has indicated it will keep monetary policy accommodative to support the recovery. Moreover, the government's infrastructure program is likely to support increased investment. The COVID-19 pandemic remains the key downside risk to the outlook; the government reimposed some restrictions in the early part of 2022, and any resurgence in infections could prompt new lockdowns. Rising inflation pressures from higher prices of oil and some food items also threaten to squeeze household budgets and consumption.
Longer term macroeconomic fundamentals remain sound. A large and youthful population and the government's ongoing commitment to enhancing the investment climate through increasing infrastructure spending should bolster growth potential. Beyond the pandemic, recovery in the business process outsourcing industry and tourism should contribute to a revival in the services sector.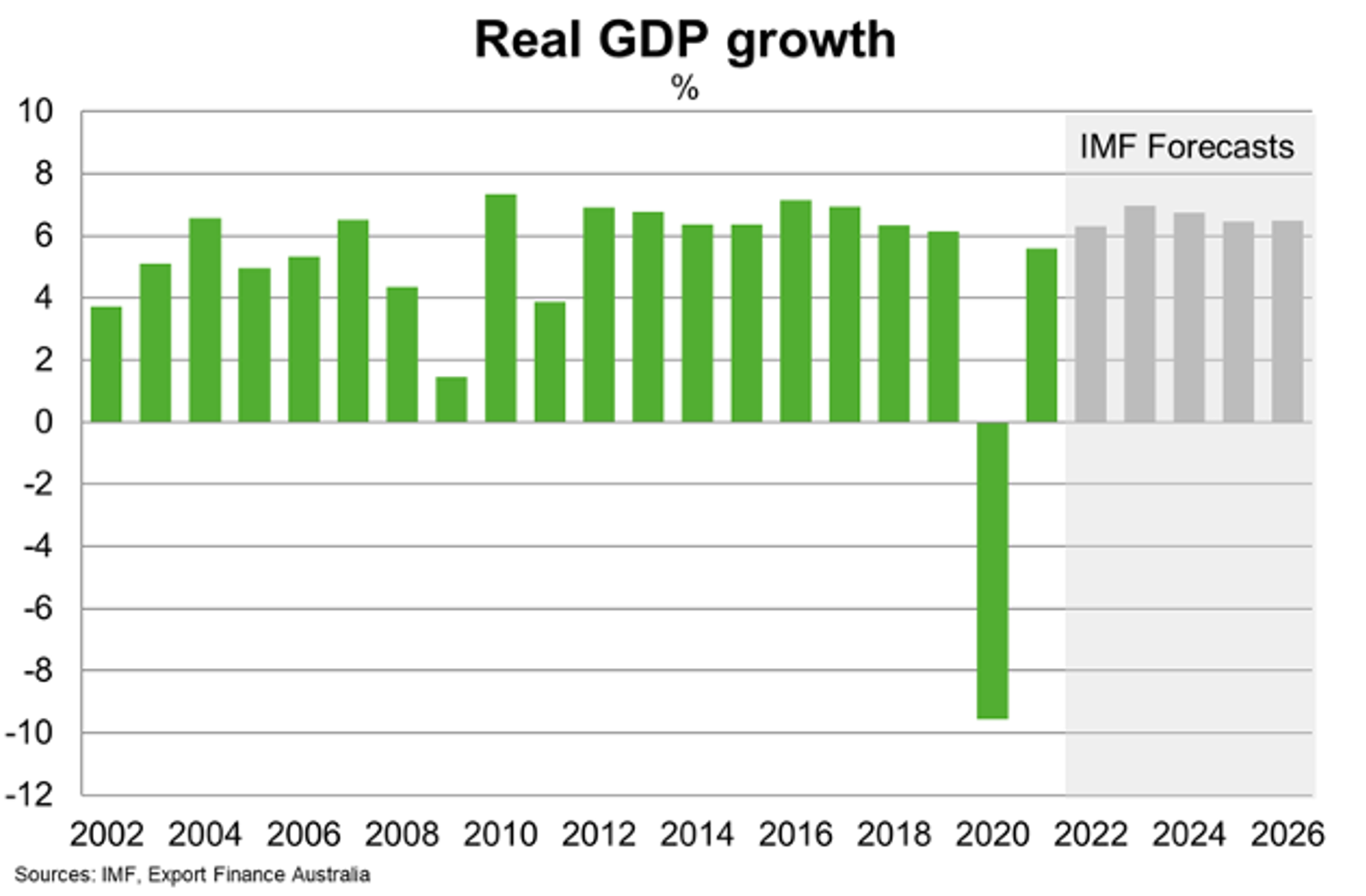 Per capita incomes took a hit as the COVID-19 pandemic temporarily reversed gains in output, jobs and incomes. Government assistance for workers and firms provide some support to incomes. The IMF projects GDP per capita to rise above US$4,500 in 2026, from an estimated $3,500 in 2021, as the economy resumes GDP growth above 6% per annum over the next five years.
Country risk
Country risk in the Philippines is low to moderate. The OECD gives the Philippines a country credit rating of 3, which indicates a relatively low to moderate likelihood that this country will be unable or unwilling to meet its external debt obligations. That said, individual debtors can and do default.
The Philippines has an ease of doing business rank of 95 out of 190 economies. The Philippines outperforms emerging Asian peers on resolving insolvencies and accessing electricity. But starting a business, getting credit and enforcing contracts are generally more difficult than regional peers.

There is low to moderate risk of expropriation in the Philippines. The Philippines compensates any expropriation at fair market value in the currency in which the investment is made. However, several mine closures in early 2017 due to changes in environmental regulations highlight contract alteration risks, particularly in the mining industry.
Political risk is moderate. The government's ongoing focus on security and illegal drugs, and other political controversies, poses a risk to the operating environment. The Philippines ranks low on the World Bank's measure of political stability and absence of violence. But domestic politics, on its own, has not weighed on economic growth or derailed fiscal reform. Most governance scores are broadly in line with the emerging Asia average.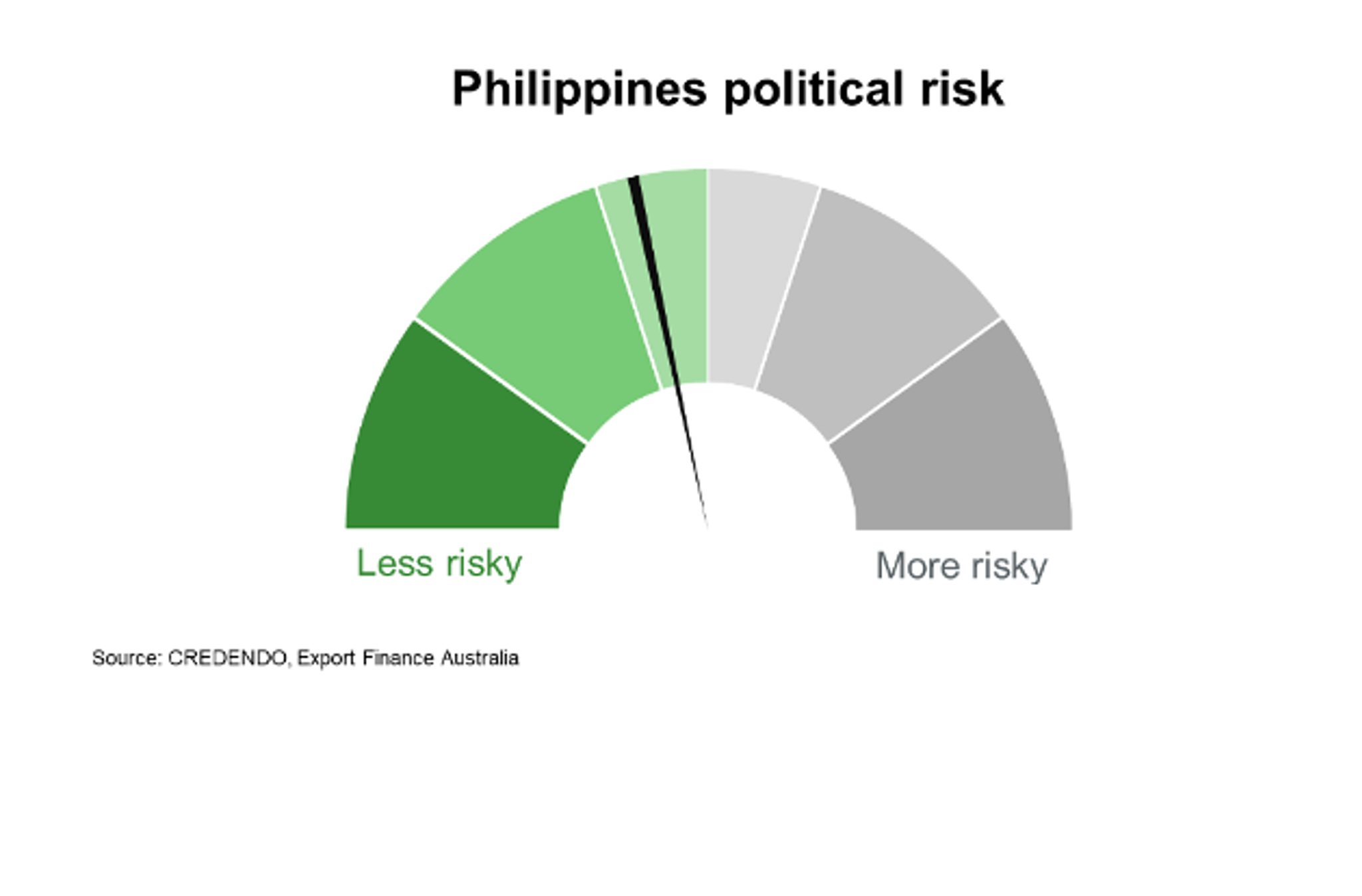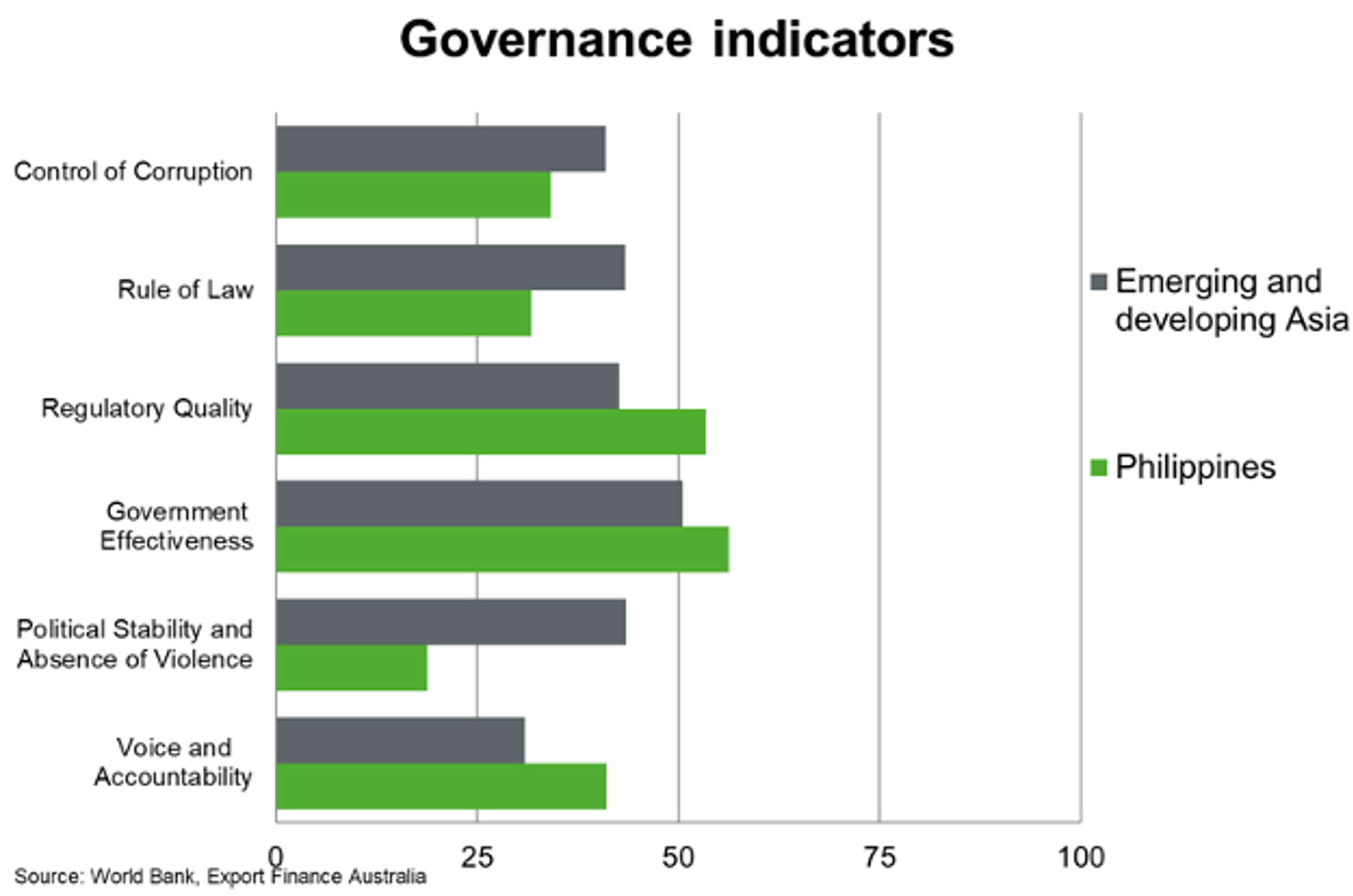 Bilateral relations
The Philippines was Australia's 24th largest trading partner in 2020. The COVID-19 pandemic has disrupted bilateral trade over the past couple of years. Total goods and services trade between Australian and the Philippines fell to $4.6 billion in 2020 from $5.9 billion in 2019.
Goods exports to the Philippines totalled $2.1 billion in 2020, consisting mostly of precious metals and ores, copper, wheat and beef. As the Philippines emerges from COVID-19, this provides opportunities to Australian exporters of personal protective equipment and vaccines, copper mining, electric vehicles, agriculture, construction, defence technology projects, education and renewable energy. Australian merchandise imports from the Philippines amounted to $623 million in 2020 and consisted mainly of electrical machinery and parts, computers and office machines.
More than 300 Australian companies operate in the Philippines, employing over 44,000 Filipinos in business process outsourcing, infrastructure, financial services, ICT and energy sectors. Australia and the Philippines are both members of APEC, and Australia is an active participant in the East Asia Summit (EAS). Australia and the Philippines are among the 15 countries that signed the Regional Comprehensive Partnership Agreement (RCEP) in November 2020, which will help strengthen economic integration and regional trade.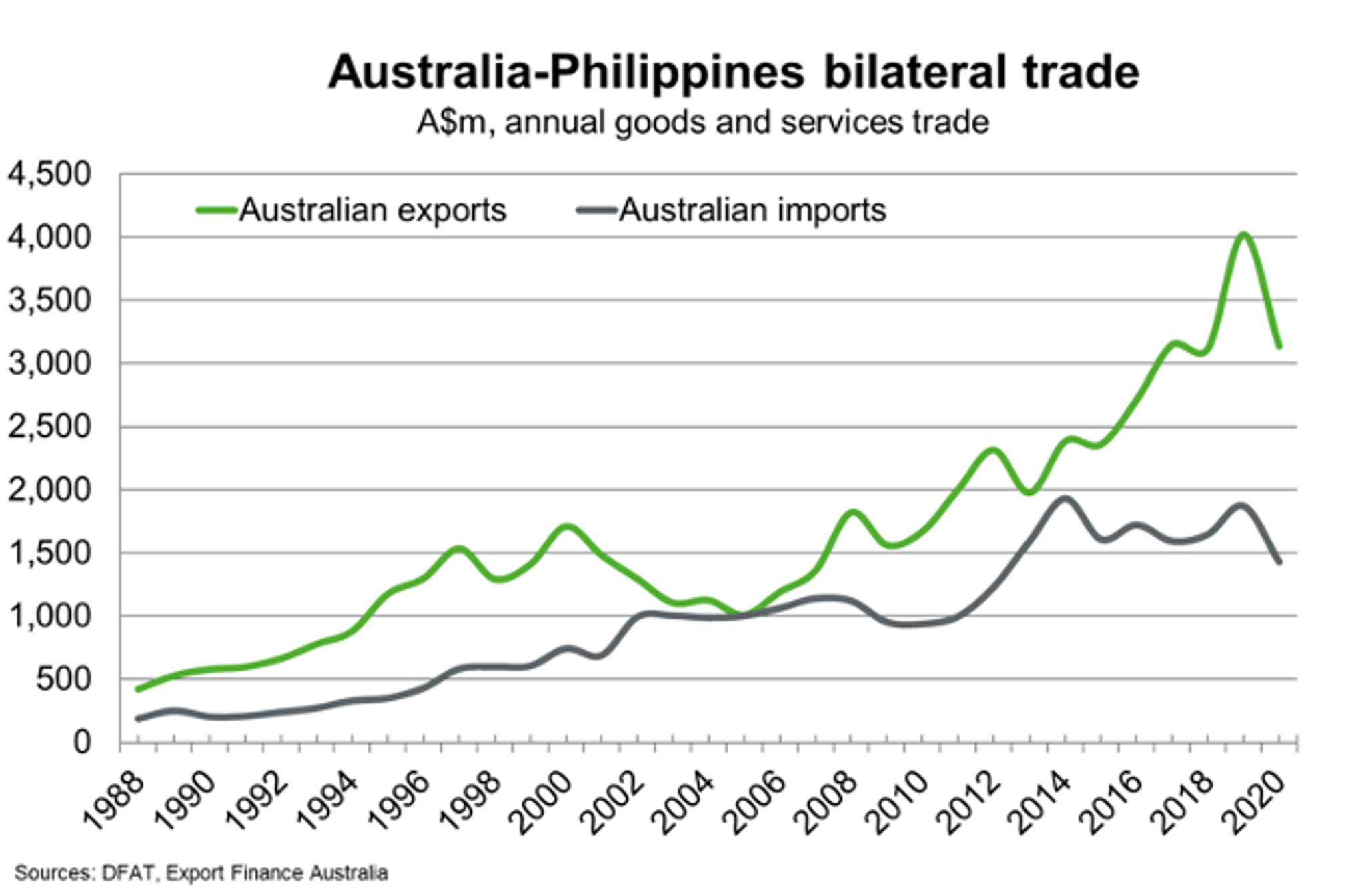 The COVID-19 pandemic and associated international travel restrictions have hurt services trade over the past couple of years. Tourism arrivals slumped in 2020 and remained very low in 2021. Notably, Australia remains a key destination for Filipino students, in part supported through remote learning. Beyond the pandemic, rising incomes should support recovery in Filipino demand for Australian tourism and education.
Prior to the pandemic, Australia's investment in the Philippines held broadly consistent between $9 billion to $10 billion over the five years to 2019, but fell to $7.2 billion in 2020. Philippines investment in Australia is smaller. Overall, Australia's proximity and its reputation as a supplier of quality products, technology and services are important factors in supporting trade and investment between the two countries.