United Arab Emirates
Jump to a section of the page
United Arab Emirates
Last updated: February 2022
The United Arab Emirates (UAE) is the third largest economy in the Middle East region, behind Saudi Arabia and Iran. The UAE has higher per capita incomes, business climate rank, and creditworthiness score compared to MENAP neighbours (Middle East, North Africa, Afghanistan and Pakistan), while growth lags. The UAE is a major hub for Australian businesses looking to expand into the Middle East and North Africa (MENA) region. Most of the UAE is highly dependent on energy exports to drive output and incomes, and has had some success diversifying its economy into the tourism and services sectors.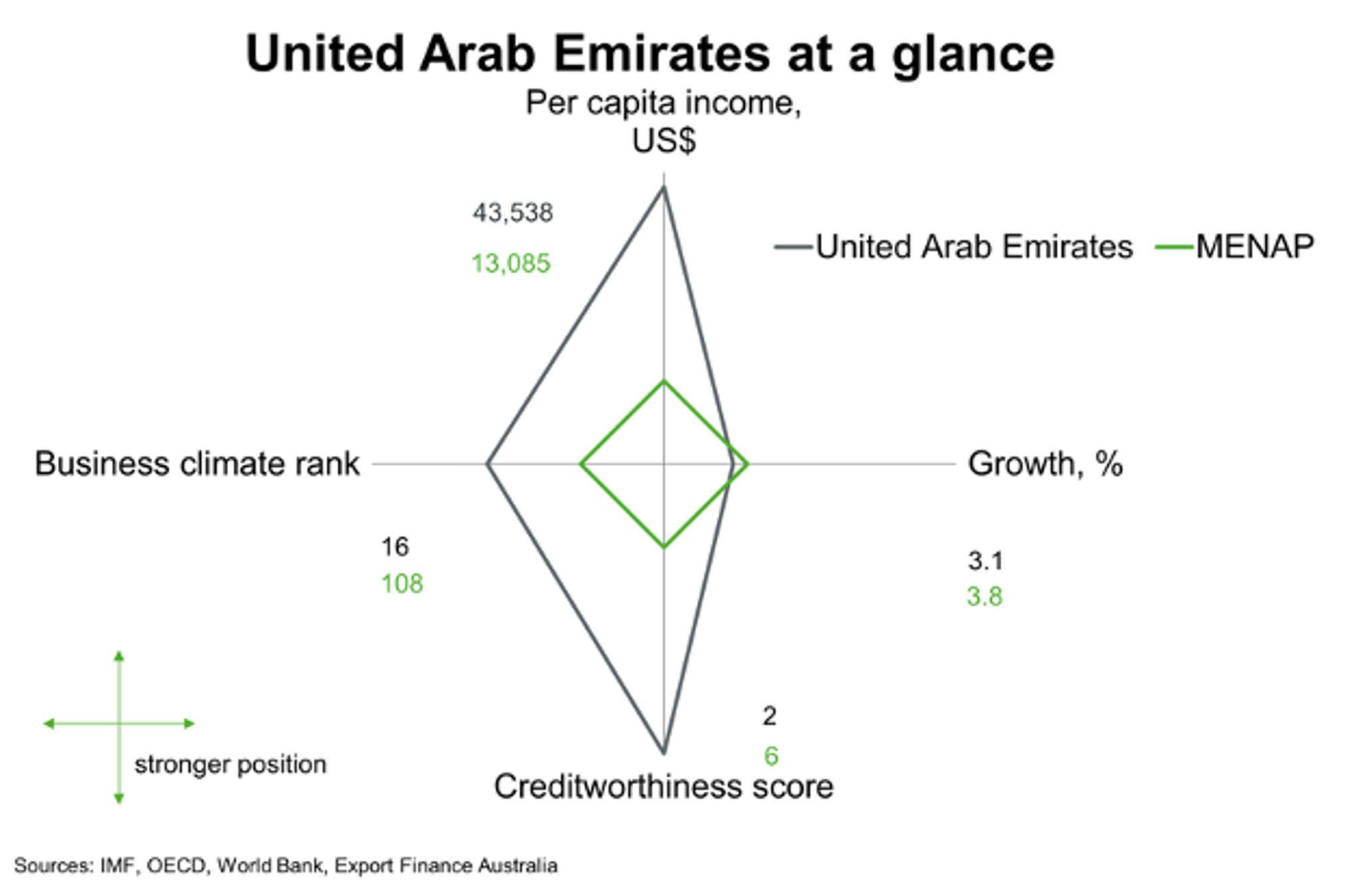 The above chart is a cobweb diagram showing how a country measures up on four important dimensions of economic performance—per capita income, annual GDP growth, business climate rank and creditworthiness. Per capita income is in current US dollars. Annual GDP growth is the five-year average forecast between 2022 and 2026. Business climate is measured by the World Bank's latest Ease of Doing Business ranking of 190 countries. Creditworthiness attempts to measure a country's ability to honour its external debt obligations and is measured by its OECD country credit risk rating. The chart shows not only how a country performs on the four dimensions, but how it measures up against other countries in the region.
Economic Outlook
Real GDP growth in the United Arab Emirates (UAE) bounced back to 2.2% in 2021, following a 6.1% contraction in 2020 amid the dual shocks from the COVID-19 pandemic and lower energy prices.
Growth is expected to stabilise at around 3% per annum through to 2026, according to IMF forecasts. Oil production is projected to increase robustly in 2022 as OPEC+ further reduces production cuts. Non-oil GDP is expected to rise, supported by increased public spending, higher employment and strong business sentiment thanks to the ongoing Expo event in Dubai; the UAE aims to strengthen its status as a regional hub for tourism, recreation and foreign investment. To attract foreign investment and stimulate business activity beyond the pandemic, the UAE amended its citizenship laws to grant permanent residency and citizenship to expatriates in 2021.
COVID-related risks remain a prominent downside to the outlook. The UAE's economy and public and external finances remain susceptible to fluctuations in global oil prices. Geopolitical developments in the region remain an ever-present downside risk. On the positive side, policies to promote diversification of the economy, and in particular, greater infrastructure development could support faster economic growth in the longer term.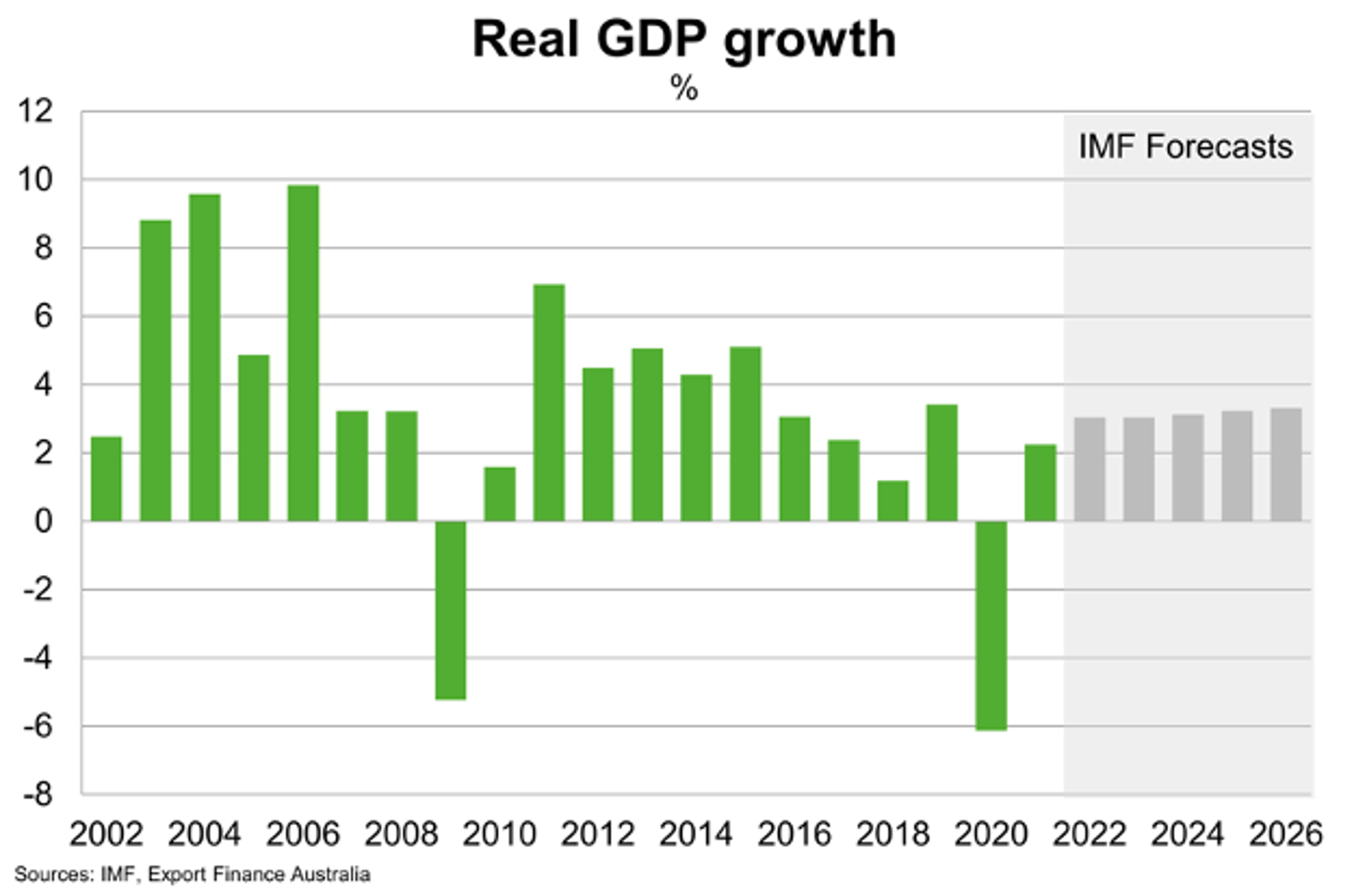 The UAE has the second-highest per capita income ($44,750) in the MENA region only after Qatar and is expected to rise to about $50,000 by 2026. Per capita incomes have, however, been volatile due to the country's dependence on oil. But incomes should stabilise as the UAE attempts to reduce its reliance on oil in the coming years. Inequality remains an issue – according to data from the World Inequality Database, the top 10% of adult income earners in the UAE earn 57% of the country's total income.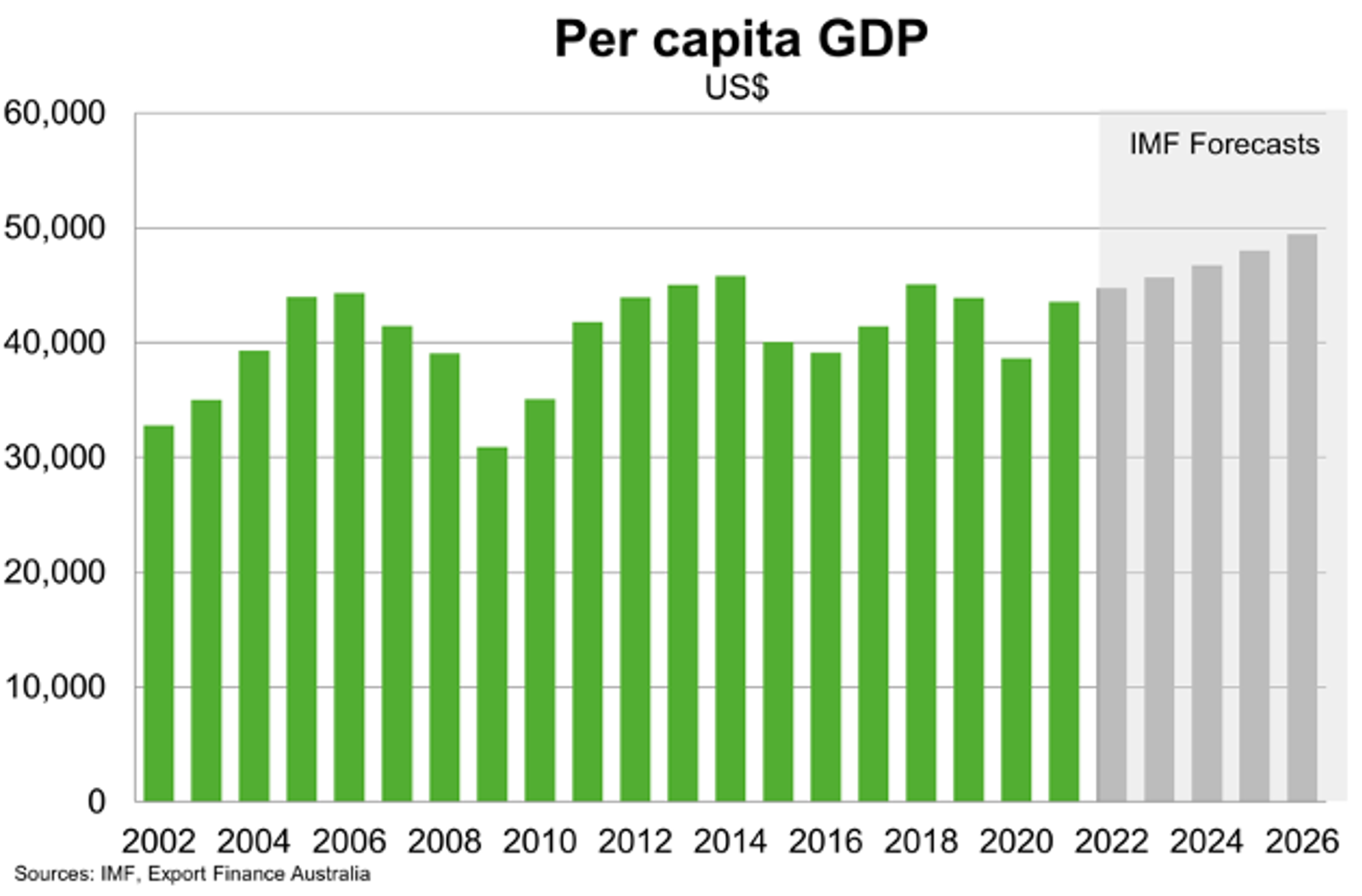 Country Risk
Country risk in the UAE is low. The OECD country credit grade is 2. All three major private credit ratings agencies have classified the UAE as investment grade. This means that there is a negligible likelihood of the country being unable/unwilling to meet its external debt obligations. Having said that, sub-sovereign entities and individual debtors can and do default. Indeed, Dubai experienced severe financial stress in the wake of its 2008-2009 property crash; but it managed to stave off default thanks to support from Abu Dhabi. Abu Dhabi's economic weight tends to give it a dominant role in federal affairs over the other emirates. Most laws are based on Islamic principles.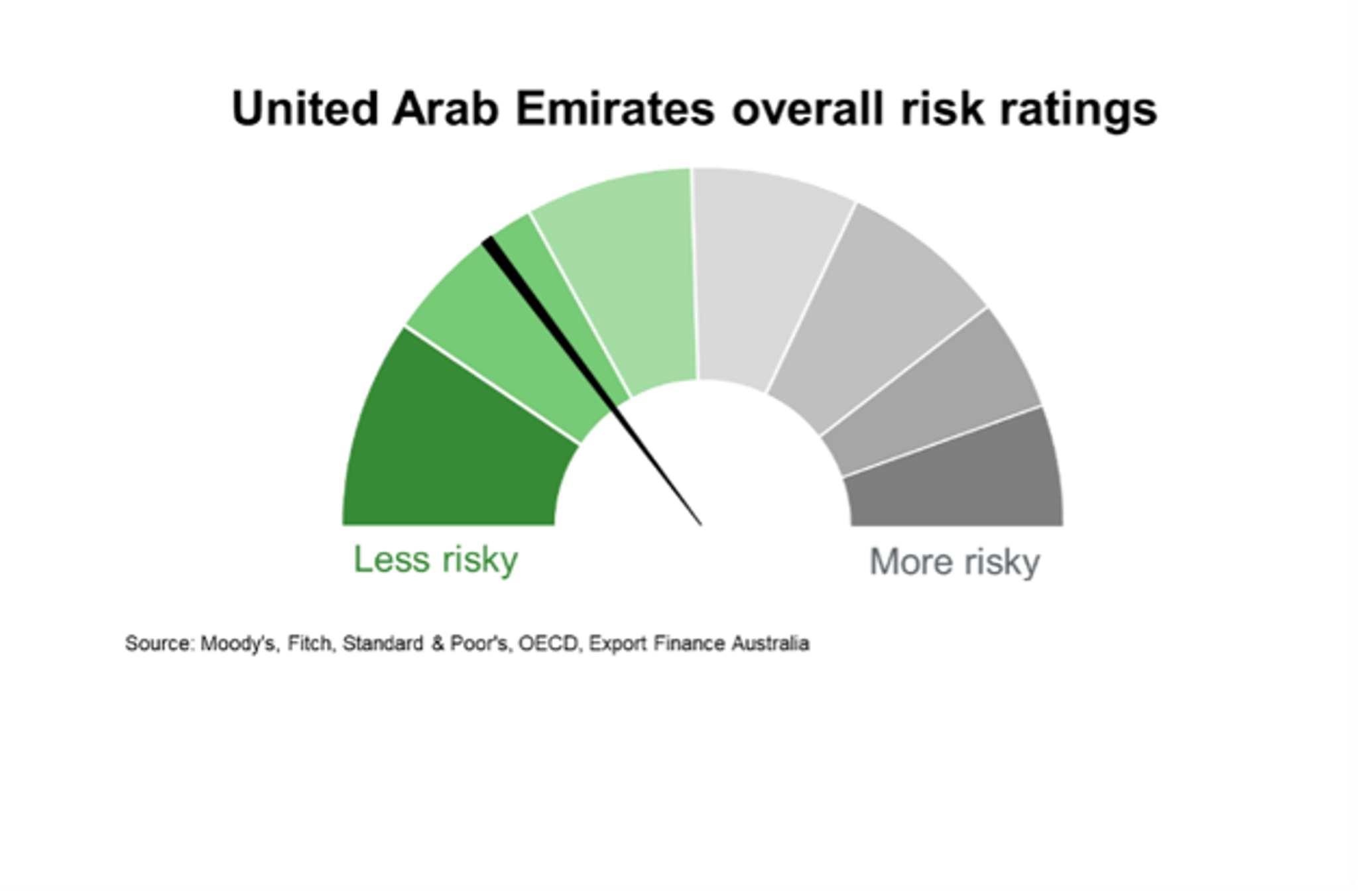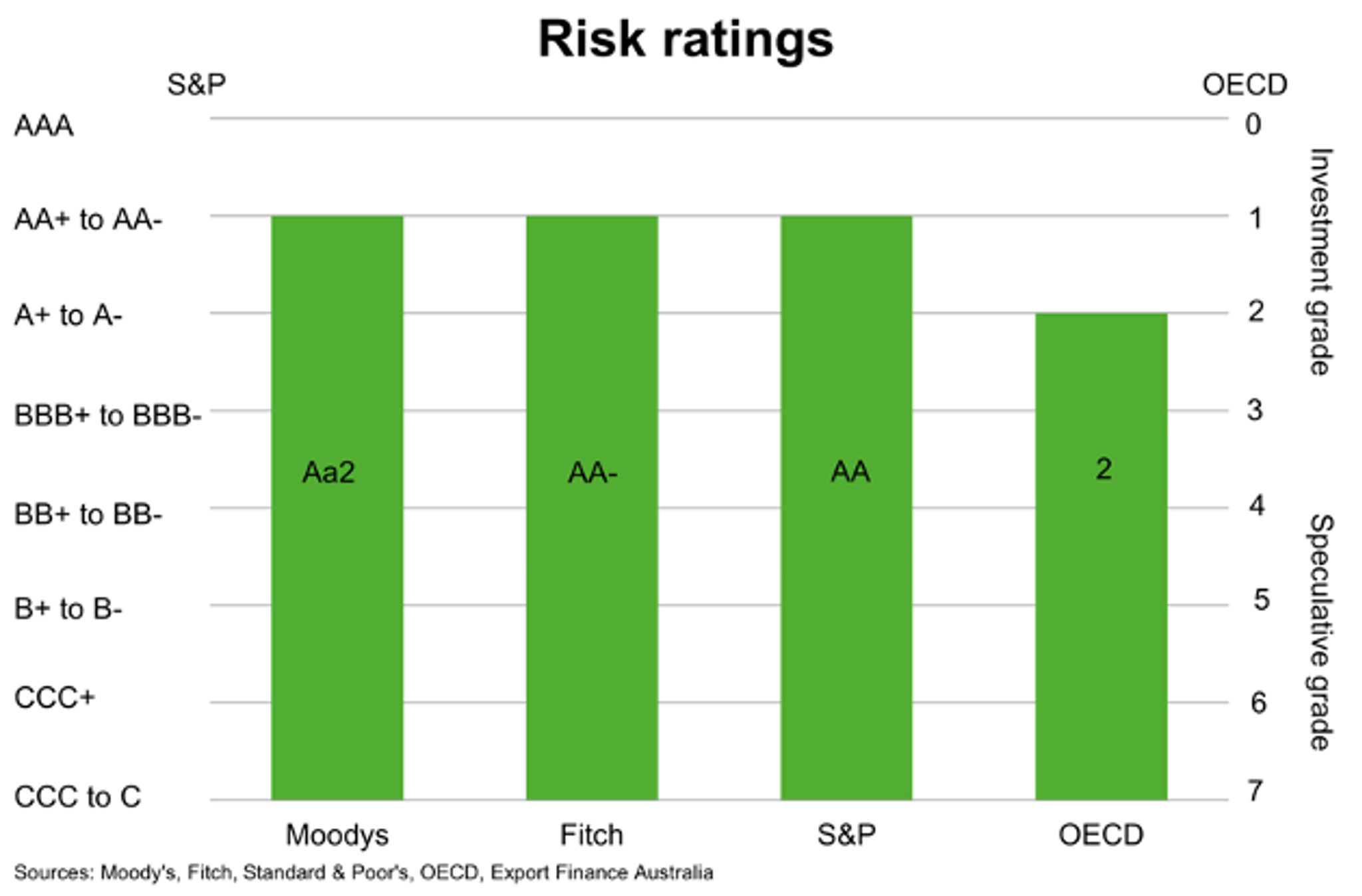 The UAE's business climate is ranked 16th out of 190 economies on the World Bank's latest ease of doing business scorecard. The UAE outperforms the rest of the Middle East in all areas of the World Bank's doing business categories. The UAE also performs well on most indicators relative to advanced economies, but lags on resolving insolvencies and trading across borders.
The risk of expropriation is low. There have been no reported cases of expropriation in the recent past.
Political risk in the UAE is low to moderate, and includes risks related to escalation of regional geopolitical tensions that could hinder trade and investment.
The UAE scores highly on government effectiveness, rule of law, regulatory quality and control of corruption, implying strong governance and institutional frameworks on a stand alone basis and relative to other MENAP countries. However, as in many MENAP countries, the UAE scores in the lowest quartile for voice and accountability.
Bilateral Relations
The UAE is Australia's largest trading partner in the MENAP region and 20th largest overall in 2020. Australia's major goods exports to the UAE in 2020 included alumina, meat and beef, vehicle parts and accessories and telecommunications equipment. Crude petroleum, refined petroleum and fertilisers were Australia's biggest imports from the UAE in 2020. The UAE is a major hub for Australian businesses looking to expand into the Middle East due to its favourable transport, financial and communications infrastructure. Dubai serves as a major hub for Qantas by nature of its codeshare agreement with Dubai-based Emirates Airlines.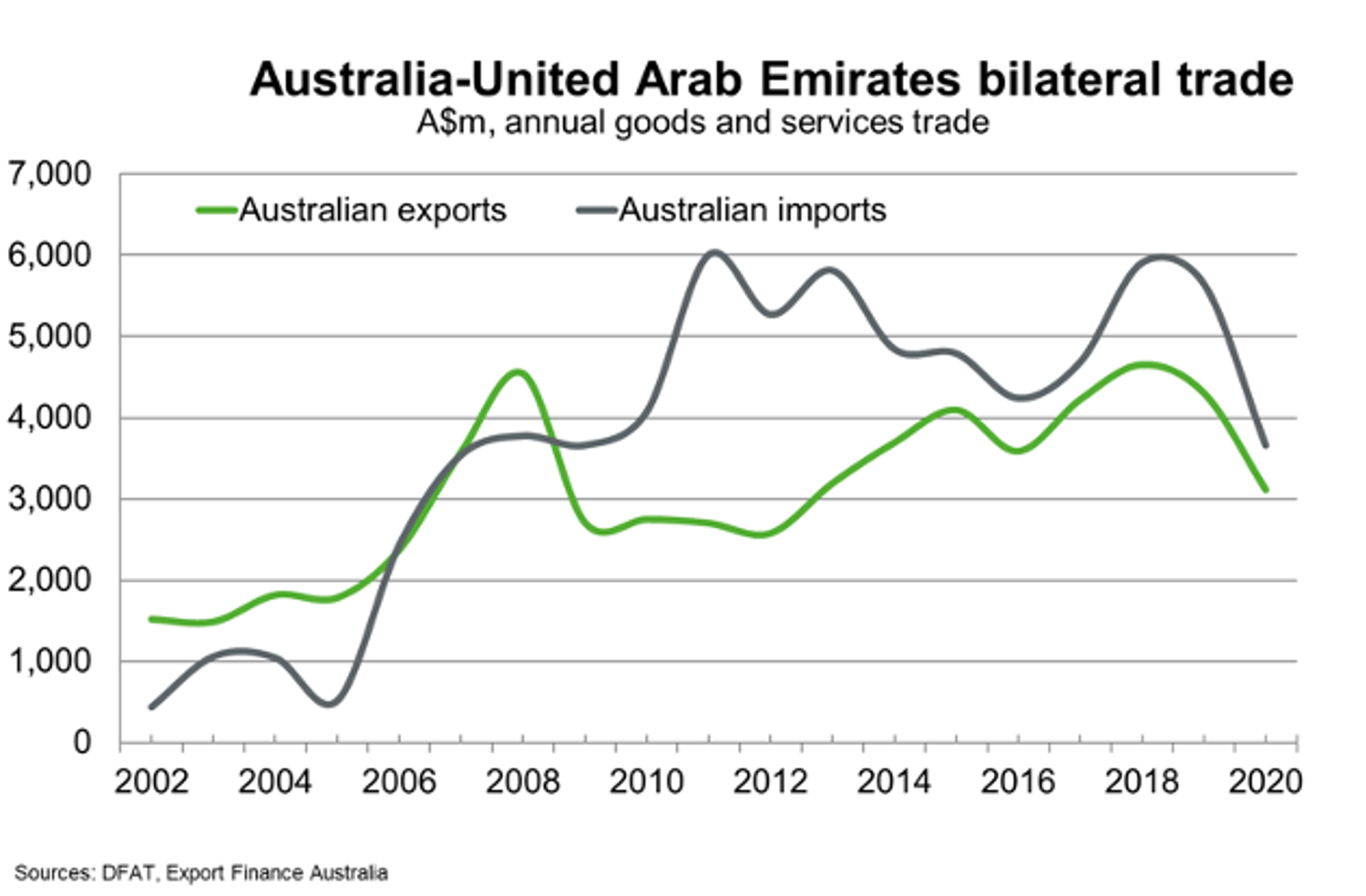 The COVID-19 pandemic and associated international travel restrictions has hurt services trade over the past couple of years. Student enrolments continued their downward trend from their peak in 2009 and tourist arrivals have slumped. Education remains a key sector offering strong export potential, given Australian universities such as the University of Wollongong, Murdoch University and Curtin University all having campuses in the UAE. However, strong competition from other universities, such as New York University, remains a key challenge Australian universities based in the UAE. The ongoing pandemic also points to another year of uncertainty for education and tourism exports in 2022.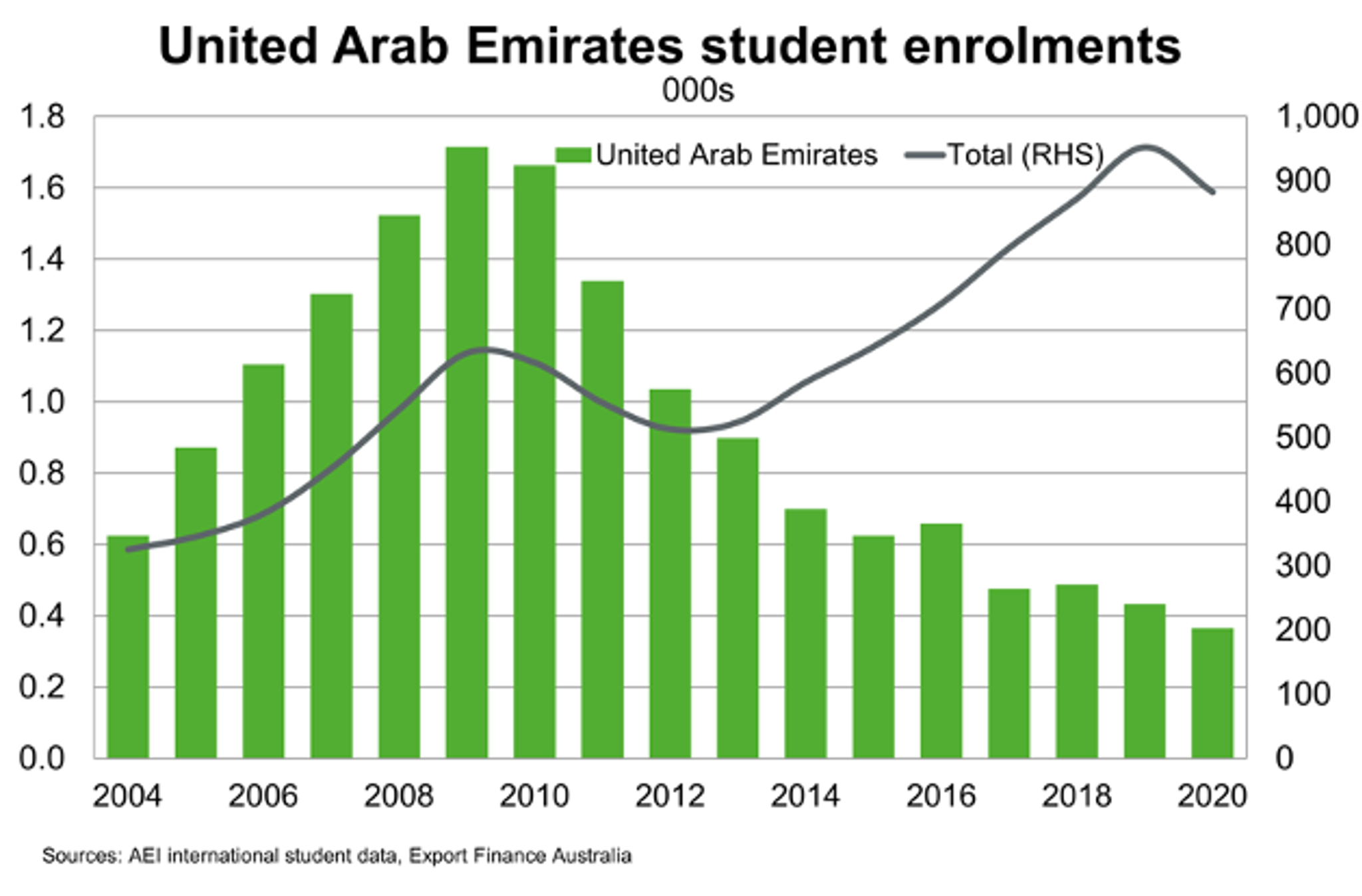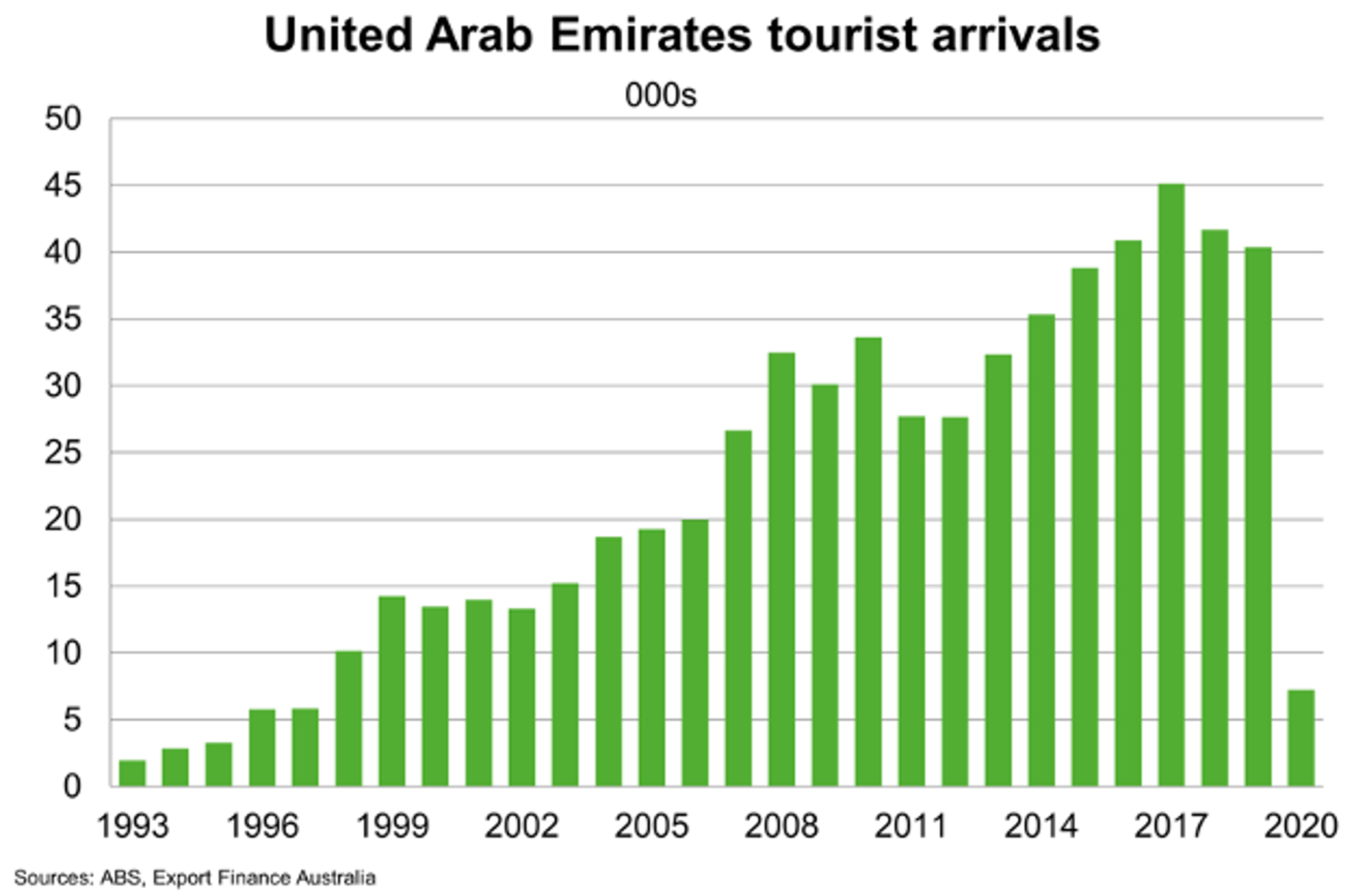 UAE investment in Australia stood at $11.6 billion in 2020, slightly lower than 2019. UAE investors hold significant investments in Australia across infrastructure, utilities, real estate, tourism and hospitality. Australian investment in the UAE amounted to $6.3 billion in 2020, and has been on a rising trend. Sectors that offer the most trade and investment opportunities for Australian capabilities are education, agriculture, digital technology, health, defence, infrastructure and resources (in particular, oil and gas).