India
Jump to a section of the page
India
Last updated: March 2022
India is the world's sixth largest economy and is projected to overtake China to become the most populated country by 2027. Growth, creditworthiness and business climate indicators are above the emerging and developing Asian average. But per capita income lags most regional peers.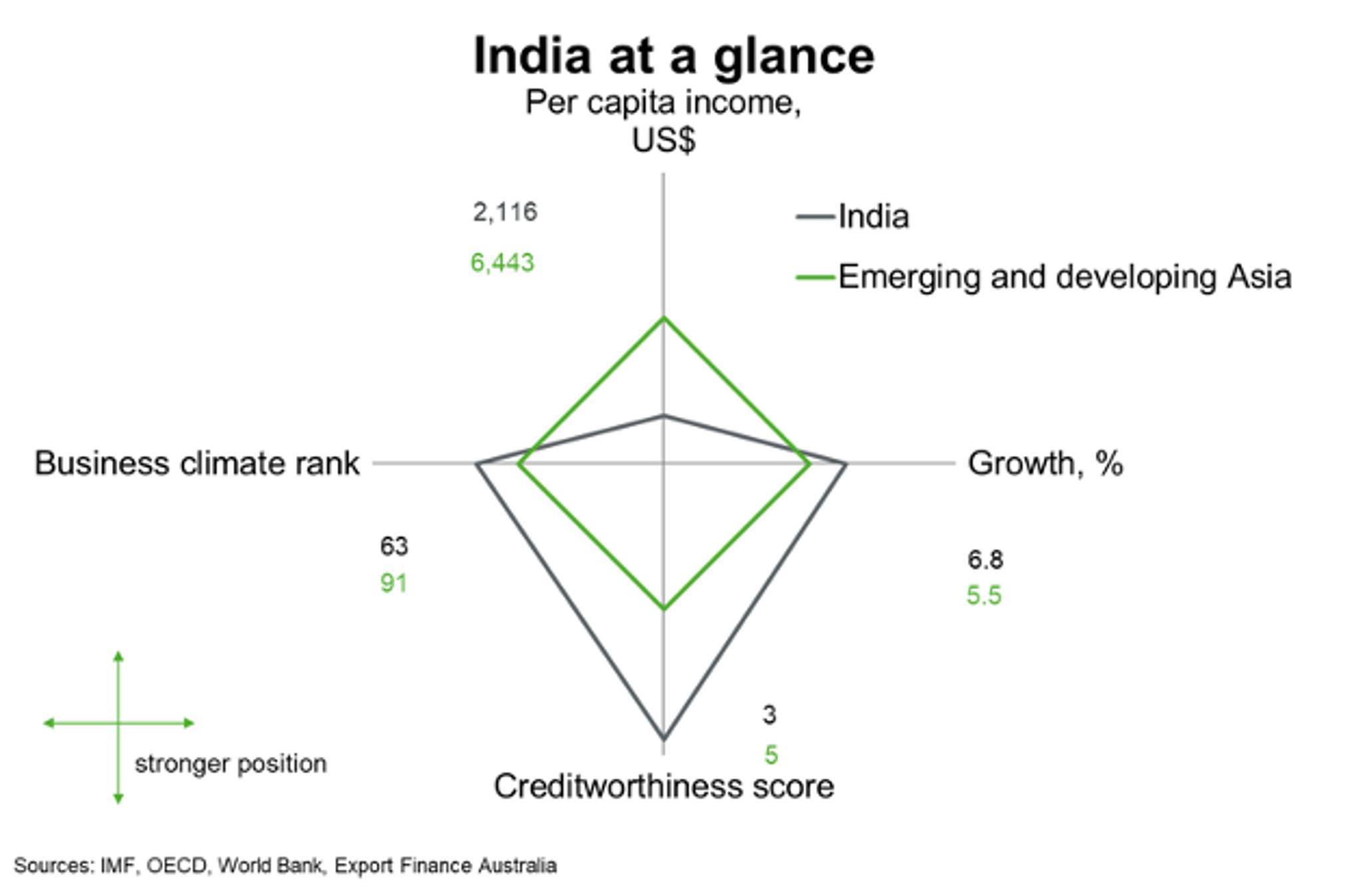 This chart is a cobweb diagram showing how a country measures up on four important dimensions of economic performance—per capita income, annual GDP growth, business climate and creditworthiness. Per capita income is in current US dollars and is the five-year average between 2022 and 2026 as provided by the IMF. Annual GDP growth is the five-year average between 2022 and 2026. Business climate is measured by the World Bank's latest Ease of Doing Business ranking of 190 countries. Creditworthiness attempts to measure a country's ability to honour its external debt obligations and is measured by its OECD country credit risk rating. The chart shows not only how a country performs on the four dimensions, but how it measures up against other regional countries.
Economic outlook
India's economy is recovering after enduring a second wave of COVID-19 infections in 2021 that weighed on activity. The IMF estimates India's GDP grew 8.2% in 2021 following a contraction of 7.3% in 2020.
The IMF expects India's economy to expand 9% in 2022 and 7.1% in 2023—the highest across all country forecasts—as easing of mobility restrictions supports the large services sector. The pro-growth budget and accommodative monetary policy will also sustain the recovery. In particular, plans to increase government spending on infrastructure, including a large highway expansion plan and allocations for railways, airports, mass transport, waterways and logistics infrastructure, will help encourage private investment and position India as an alternative for global companies seeking to diversify their supply chains. Risks to the outlook stem from another surge in COVID-19 infections, elevated energy prices, persistent supply disruptions, high and rising inflation and tighter global financing conditions. 
India's longer-term outlook remains robust. The IMF projects growth to average more than 6% per annum over 2024-26, supported by the government's reform agenda and ongoing investment in infrastructure that enhances economic development. Further, the government's production-linked incentive scheme offers financial incentives to boost domestic manufacturing, lift foreign direct investment, support labour reform and create a 'bad bank' to manage financial issues. These measures, along with the National Monetisation Pipeline (of public entities), should support growth potential over the longer term.
In line with domestic economic recovery, the IMF estimates GDP per capita rose back above US$2,000 in 2021 after dipping below this level in 2020 due to the effects of the COVID-19 pandemic. The impact of the pandemic has been most severe for the informal sector, where most of India's labour force is employed. The pandemic has also exacerbated the vulnerabilities for traditionally excluded groups, such as youth and women. Recognising these challenges, authorities are reworking their social safety programs to provide greater protection for informal workers and the urban poor in addition to their ongoing support for rural workers. The response of the government to these challenges has been swift and comprehensive, including enhancing social protection measures for the poorest households and providing financial support to small and medium-sized businesses. Ongoing GDP growth and implementation of structural reforms should help lift incomes to US$3,000 in 2026 according to IMF projections.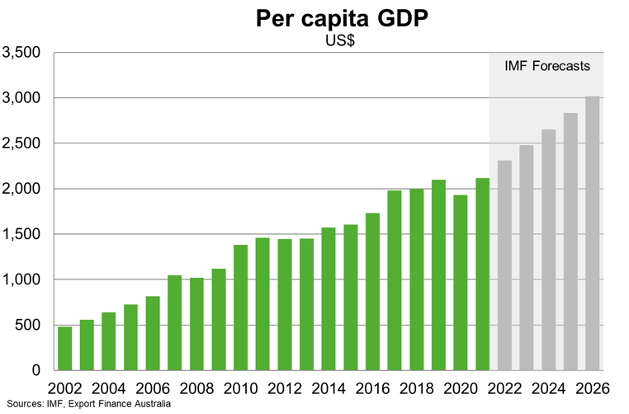 Country risk
Country risk is low to moderate in India. The OECD country risk grade is 3; comparable with the Philippines, Thailand and Indonesia. This indicates a relatively low to moderate likelihood that India will be unable and/or unwilling to meet its external debt obligations—though individual private debtors can and do default.
India ranked 63rd out of a possible 190 countries on the World Bank's latest ease of doing business scorecard, improving 14 places from the prior year. Dealing with construction permits, trading across borders, protecting minority investors, getting electricity and credit are easier in India relative to most emerging Asian economies. But enforcing contracts, starting a business, paying taxes and registering property are still more difficult.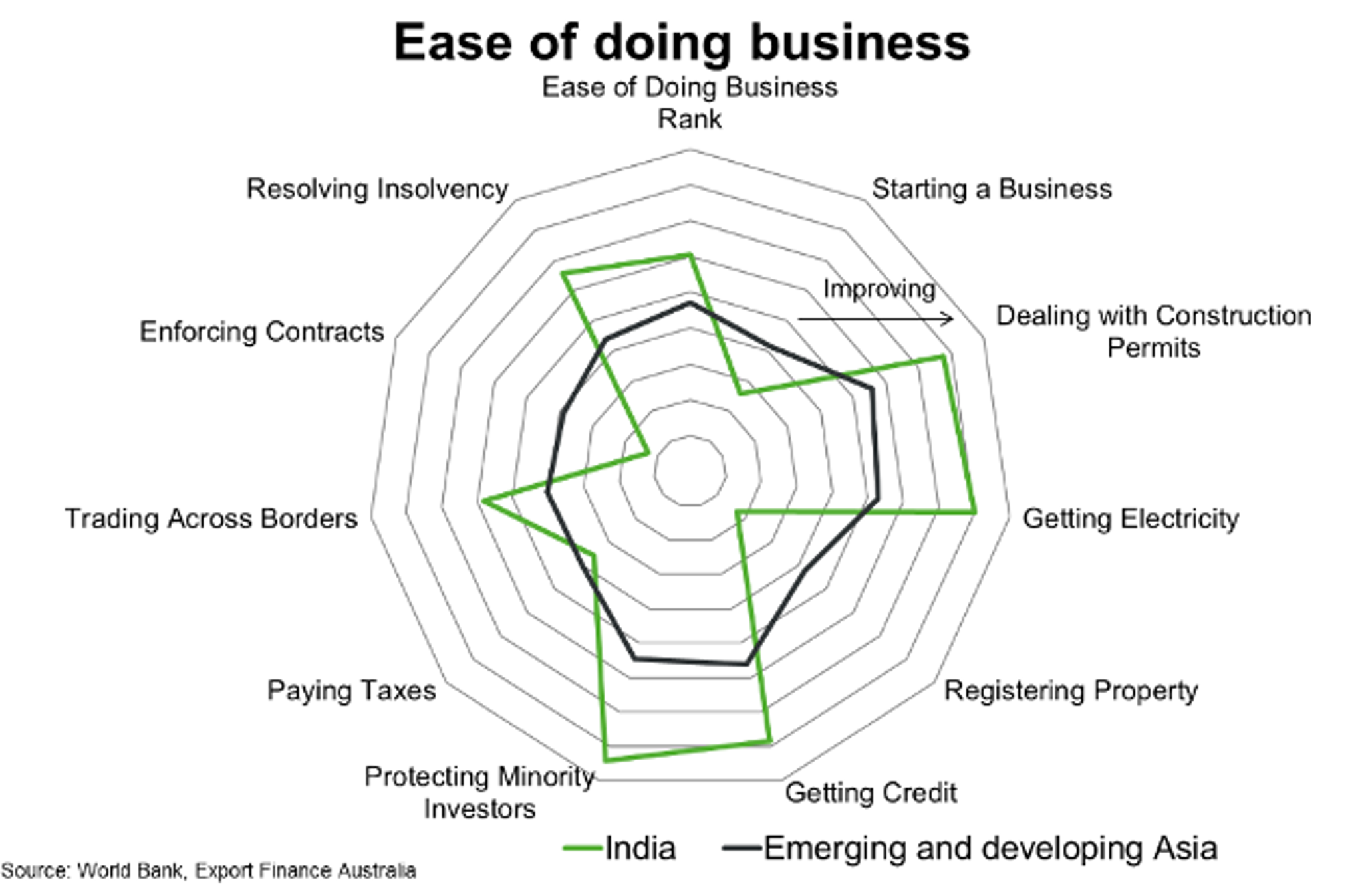 The risk of expropriation in India is low to moderate. According to the US investment climate statements, the government does not have expropriation laws in place. But the government has taken several measures, including implementation of transfer pricing, the introduction of a goods and services tax in 2017 and new insolvency and bankruptcy laws to help strengthen business regulations. The Indian government has been divesting from state owned enterprises (SOEs) since 1991, and has committed to continuing to do so, to help raise government revenue without increasing taxes and reduce the role of the government in the economy.
India's political risk is low to moderate. The Kashmir conflict between India and Pakistan poses potential military risks, while long-standing border issues with China remain prominent. Such disputes, if they were to escalate, could weigh on business confidence and undermine the economic recovery.
India scores above the emerging and developing Asian averages on all governance indicators, except for political stability and absence of violence.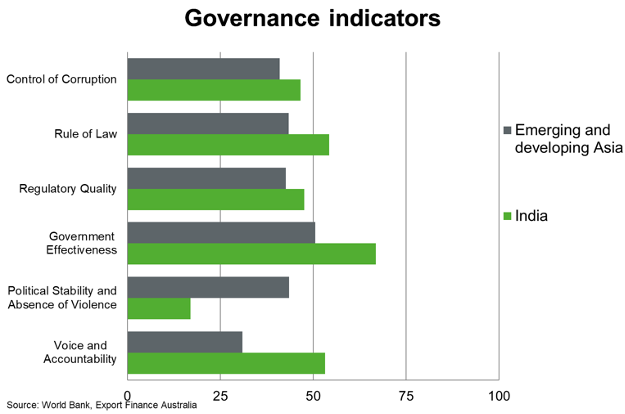 Bilateral relations
India was Australia's seventh largest trading partner in 2020. Total goods and services trade amounted to $24.3 billion in 2020, down from $29.2 billion in 2019. The COVID-19 pandemic has disrupted bilateral trade over the past couple of years. Australian exports of goods and services contributed the lion's share of bilateral trade in 2020, at $16.9 billion. Goods exports in 2020 were dominated by coal, natural gas, copper and gold. Goods imports from India in 2020 included mostly refined petroleum, medicines, made-up textiles, pearls, gems and jewellery.
The elevation of the Australia-India relationship to a Comprehensive Strategic Partnership (CSP) includes a commitment to encourage expanded trade and investment flows to the benefit of both economies. Australia and India are re-engaging on a bilateral Comprehensive Economic Cooperation Agreement (CECA), and progressing cooperation in a range of areas including critical minerals, health, critical technology, science and agriculture.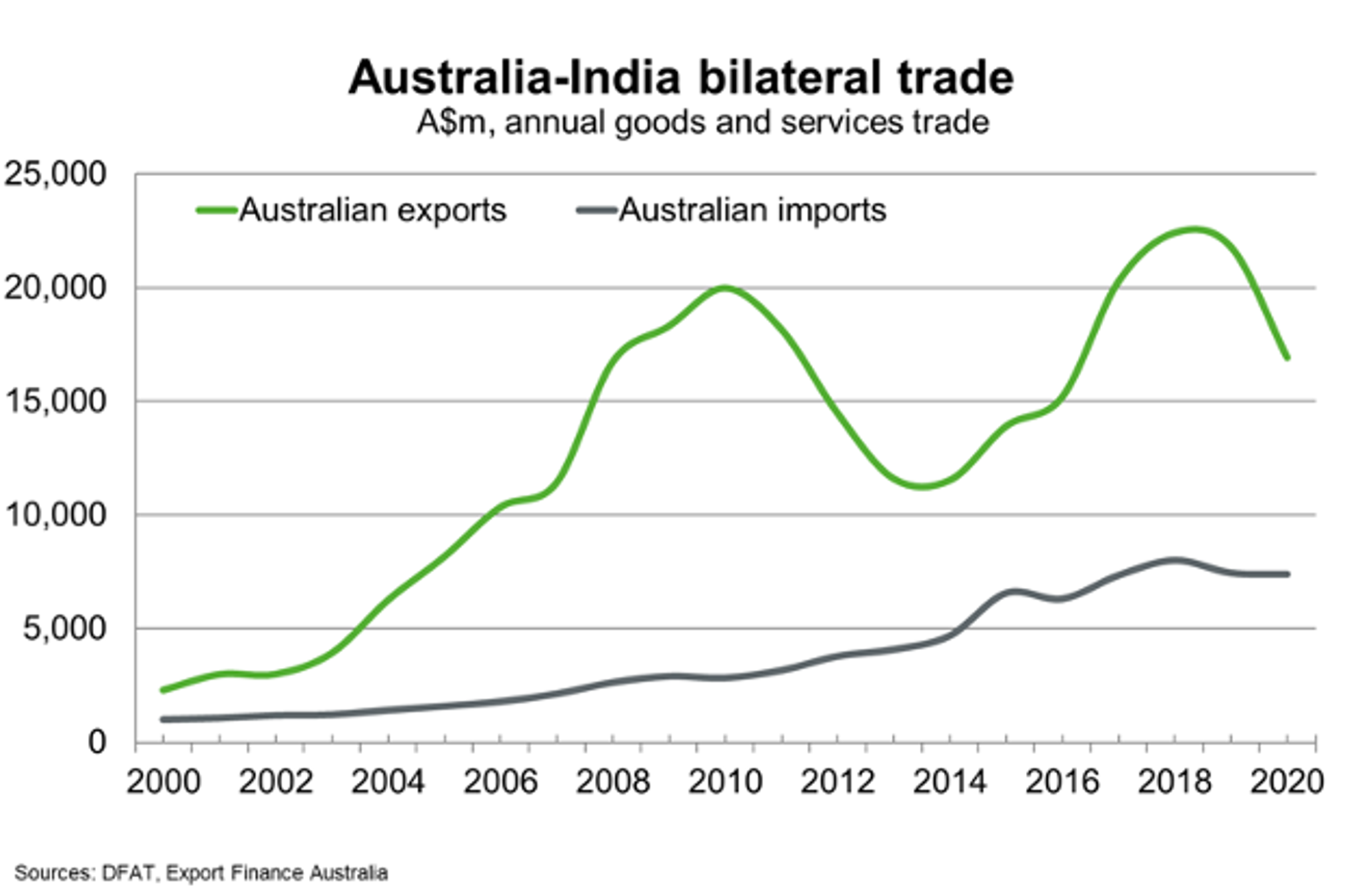 Education is Australia's largest service export to India, valued at $6.9 billion in 2020. The COVID-19 pandemic and associated international travel restrictions have hurt services trade over the past couple of years. Before the pandemic, Indian student enrolments had been increasing significantly. Australia received about 150,000 Indian student enrolments in 2020, the second largest intake behind China. This is due to several factors, including: the lack of adequate schooling opportunities in India; former Indian students sharing a positive experience; a huge latent demand among Indians looking to go to universities abroad; and the Australian government's streamlining of the student visa process.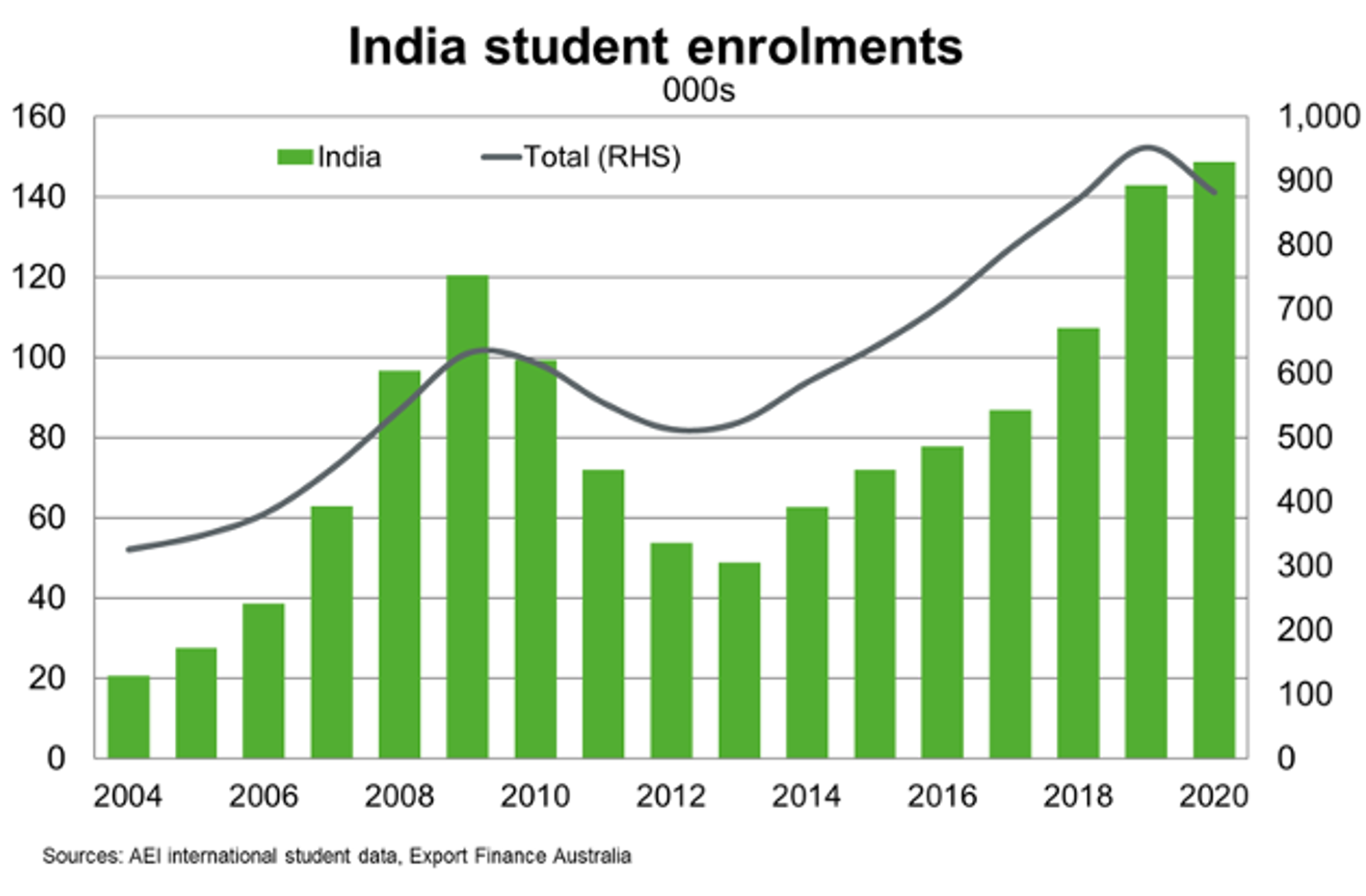 India is also an important source of tourists. Prior to the pandemic, almost 400,000 visitors arrived from India in 2019, a record high. The ongoing pandemic points to another year of uncertainty for services exports in 2022. Beyond the pandemic, rising Indian incomes, Australia's geographic proximity, a growing bilateral relationship and close economic and cultural ties with India should support a recovery in tourism.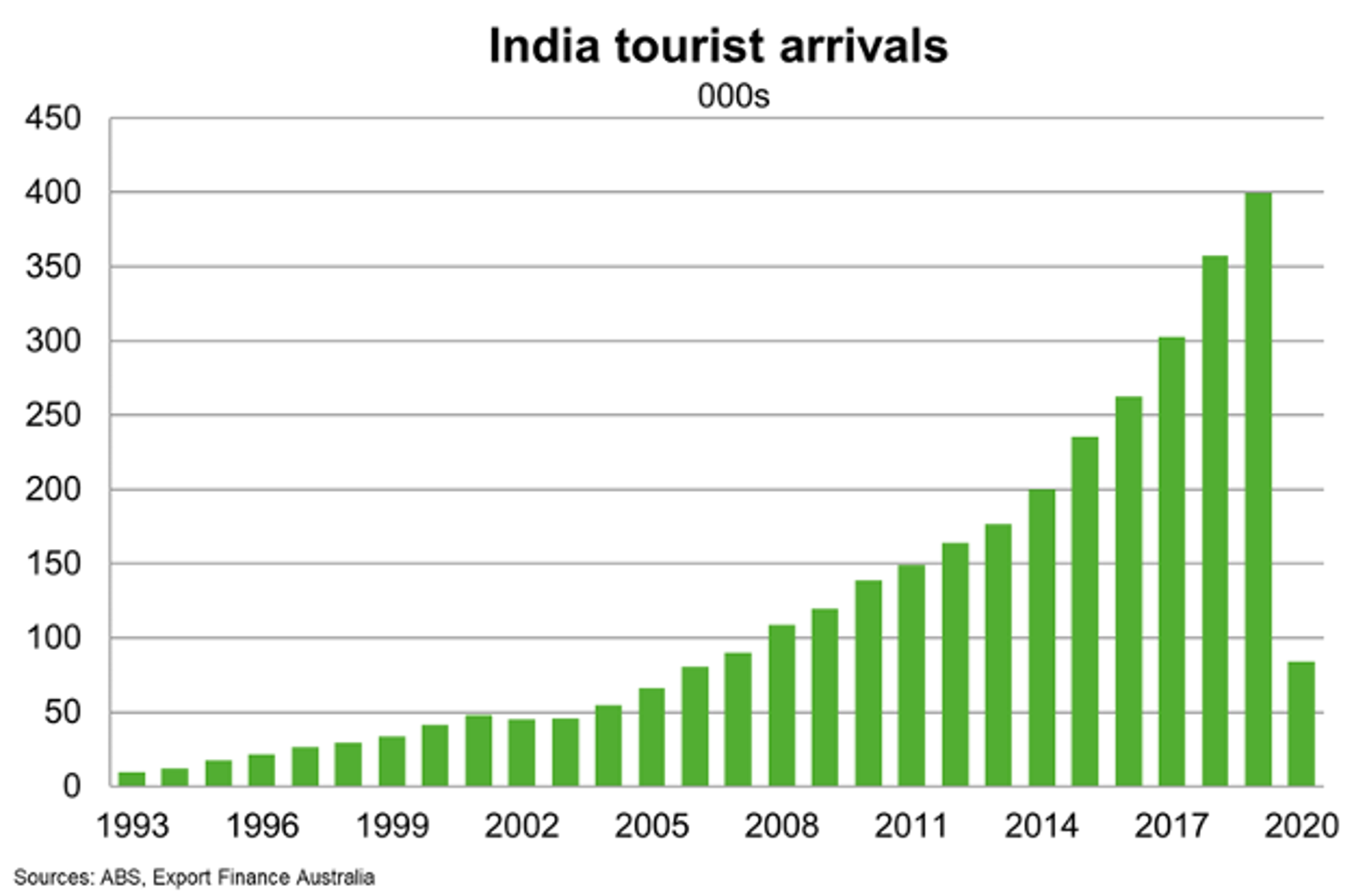 The stock of Australian investment in India fell to a little more than $15 billion in 2020 from nearly $20 billion in 2019. Australian mining firms such as BHP Billiton, Rio Tinto, and engineering firms such as Snowy Mountain Engineering and Leighton Holdings have large operations in India. On the other side, Indian investment in Australia comprises of mainly tech-companies, such as, Mahindra Aerospace, Dexler and Servion Global Solutions.
To support more Australian and Indian business partnerships, the Australian Government has launched the Australia India Business Exchange (AIBX) program. AIBX provides a range of services to support Australian businesses to enter and establish in India, from industry specific insights to guidance on doing business with India and entering India's online retail market.