Vietnam
Jump to a section of the page
Vietnam
Last updated: February 2022
Vietnam's transformation in the early 1990s toward a market-based economy ushered in a period of strong growth and attracted significant foreign investment. Continued economic liberalisation, anchored by several international trade deals, has fostered a strengthening in the business climate, which outperforms other emerging Asian countries. Growth is higher than regional peers, a trend that is expected to continue. Creditworthiness is stronger than emerging Asian peers. But per capita incomes continue to lag the regional average.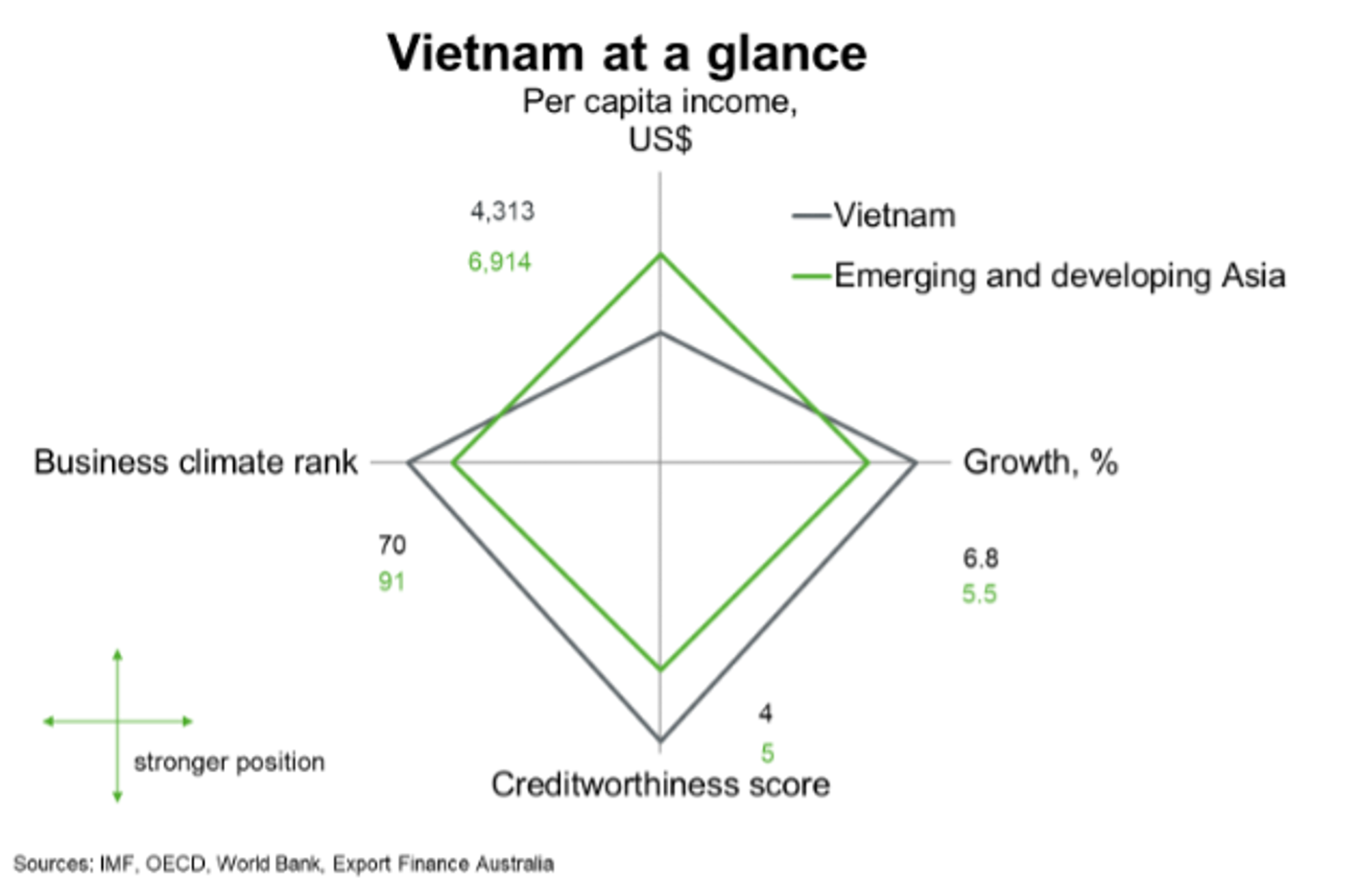 The above chart is a cobweb diagram showing how a country measures up on four important dimensions of economic performance—per capita income, annual GDP growth, business climate rank and creditworthiness. Per capita income is in current US dollars. Annual GDP growth is the five-year average forecast between 2022 and 2026. Business climate is measured by the World Bank's latest Ease of Doing Business ranking of 190 countries. Creditworthiness attempts to measure a country's ability to honour its external debt obligations and is measured by its OECD country credit risk rating. The chart shows not only how a country performs on the four dimensions, but how it measures up against other countries in the region.
Economic outlook
Vietnam's export-oriented economy suffered like all others from the COVID-19 pandemic, including the Delta wave in mid-2021. Real GDP grew 3.8% in 2021 following 2.9% in 2020, much slower than the 7% gains on average in the five years before the pandemic. The IMF projects growth to hit 6.6% in 2022 (and average 6.9% per annum over the five years to 2026), as domestic demand recovers and export-manufacturing remains strong. The recent cut in the value added tax rate to 8% from 10% will support households' purchasing power and consumption. Recovery in tourism from March once borders reopen, which accounted for roughly 9% of GDP in 2019, will support the economic recovery. The high level of vaccination domestically (about 75% of the population is fully vaccinated as of early 2022) will assure the authorities that they can ride out any further spikes in cases as tourism resumes. On the downside, rising global oil prices will add to input costs and reduce the tax benefit for businesses.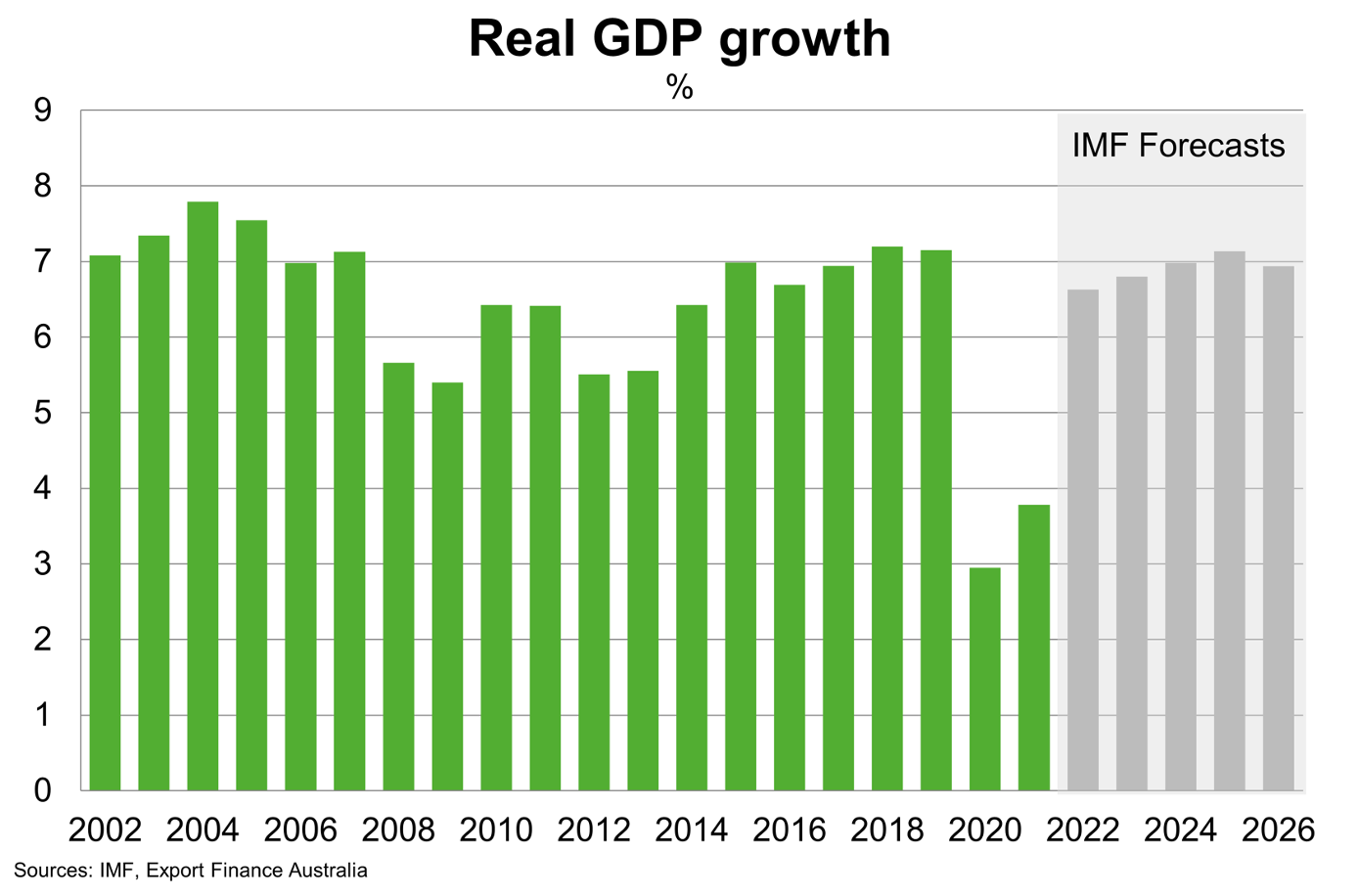 Over the medium term, Vietnam is well placed to continue to attract trade and investment from within and outside the region. Vietnam is widely seen as a supply-chain alternative to China because of its low labour costs, educated workforce and large and growing population. Vietnam's young population and low dependency ratio, alongside the increasing shift into higher-value added manufacturing and services industries, will bolster economic activity. Longer-term challenges include the potential for increasing global trade tensions and the reliance on large, inefficient state-owned enterprises.
Greater industrialisation and a credit boom over the past decade have propelled Vietnam from a low-income to a lower-middle-income country. Beyond the pandemic, continued economic expansion and increases in minimum wages supports projections for a lift in GDP per capita beyond US$6,000 by 2026. As the workforce moves away from agriculture towards more productive manufacturing and services jobs, poverty rates have fallen from over 32% in 2011 to below 2% in 2020.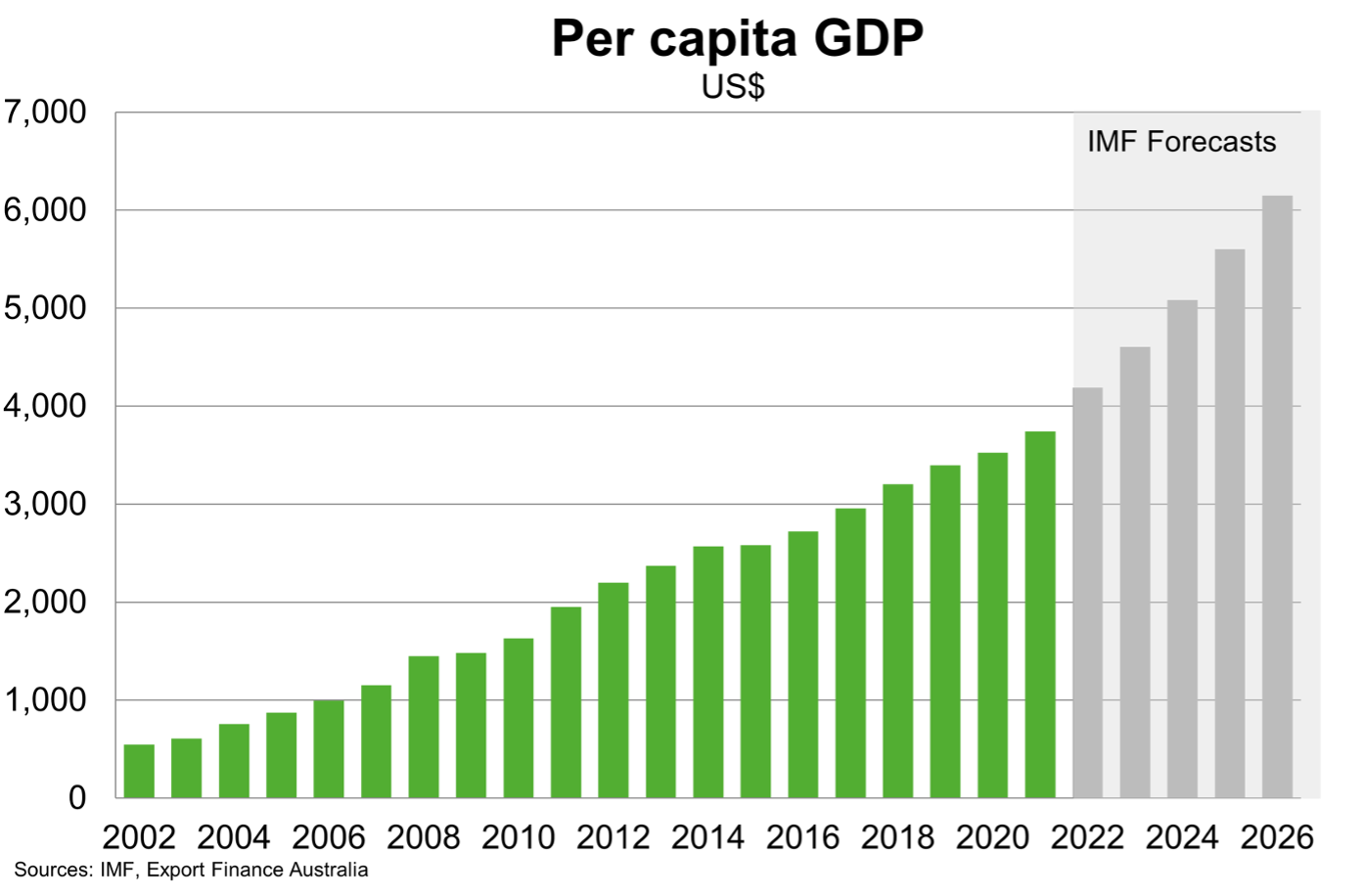 Country Risk
Vietnam has an OECD country risk rating of 4, which means that there is a moderate possibility of Vietnam being unwilling or unable to service its debt obligations.
The three major rating agencies have sub-investment grade credit ratings for Vietnam.
The World Bank ranks Vietnam 70th out of 190 economies in the ease of doing business survey. Vietnam outperforms emerging Asian peers in most areas of doing business, particularly access to credit and electricity and dealing with construction permits.
Vietnam's scores on Worldwide Governance Indicators are broadly in line with, or stronger, than the average for emerging Asian countries. The notable exception is voice and accountability.
The risk of expropriation in Vietnam is low, consistent with the governance scores around the control of corruption and rule of law. The government can only expropriate investors' property in cases of emergency, disaster, defence, or national interest. The government is required to compensate investors if it expropriates property.
Political risk in Vietnam is moderate. The political and security environment have a track record of stability. President Nguyen Phu Trong's recent election to a third five-year term as general secretary supports policy continuity in the near term, including policies to attract investment. Territorial disputes in the South China Sea remains an ongoing risk to Vietnamese relations with neighbouring countries, including China.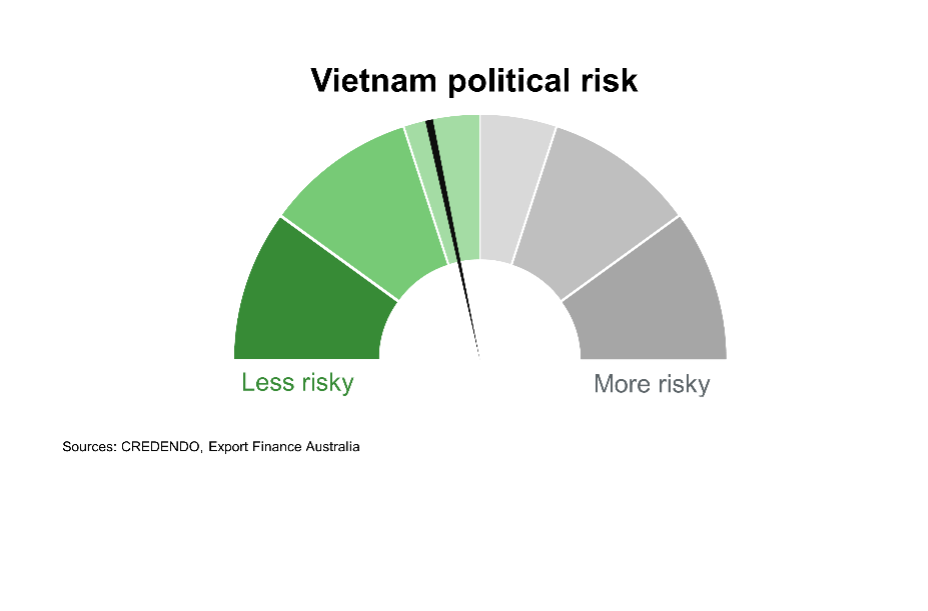 Bilateral Relations
Vietnam was Australia's 13th largest trading partner in 2020. The COVID-19 pandemic disrupted bilateral trade over the past couple of years. Exports of goods and services managed to rise over the 12 months to 2020, amounting to almost $8 billion. Australia's main merchandise exports to Vietnam include coal, iron ore, live animals and wheat. Goods imports fell in 2020, in part due to supply chain disruptions. Goods imports consist mainly of telecommunications equipment, monitors, projectors and TV's, footwear and furniture. Vietnam is part of a network of Free Trade Agreements, including the ASEAN-Australia-New Zealand Free Trade Agreement (AANZFTA), Comprehensive and Progressive Agreement for Trans-Pacific Partnership (CPTPP) and the Regional Comprehensive Economic Partnership (RCEP) that all support bilateral trade.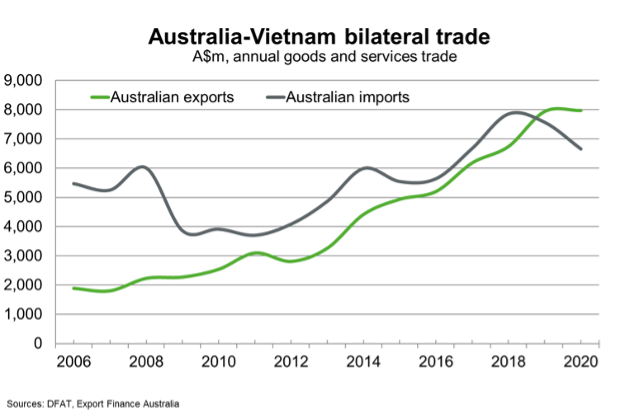 Vietnam was Australia's sixth largest source of international students in 2020. Student enrolments have held up, supported by remote learning. Moreover, Royal Melbourne Institute of Technology (RMIT) has two campuses in Vietnam, with a student roll of more than 6,000. There exists a very high demand for education and training services in areas such as information technology and business management in Vietnam. Tourist arrivals from Vietnam have fallen sharply over the past couple of years due to international travel restrictions. The ongoing pandemic points to another year of uncertainty for tourism, and broader services exports, in 2022.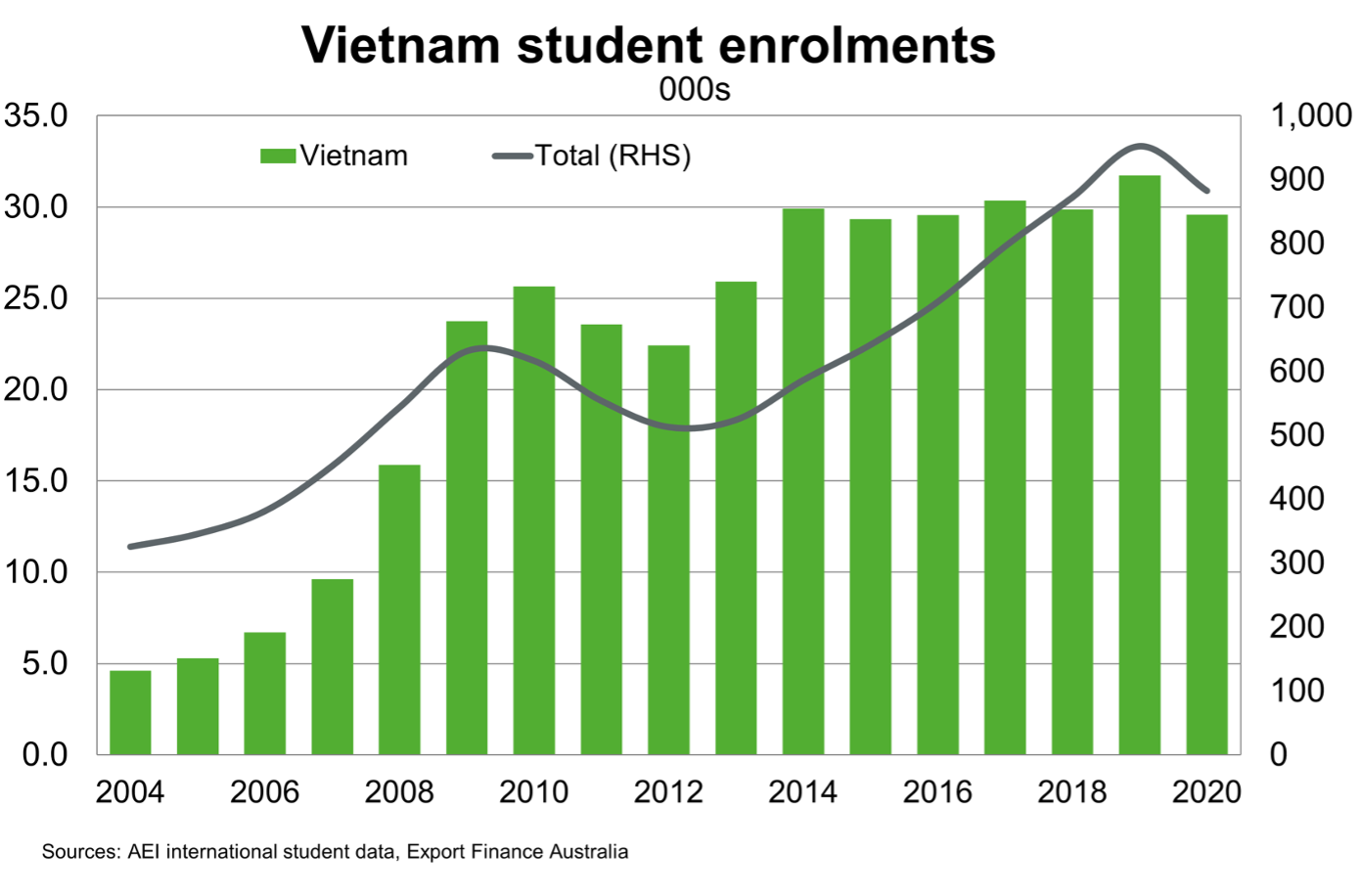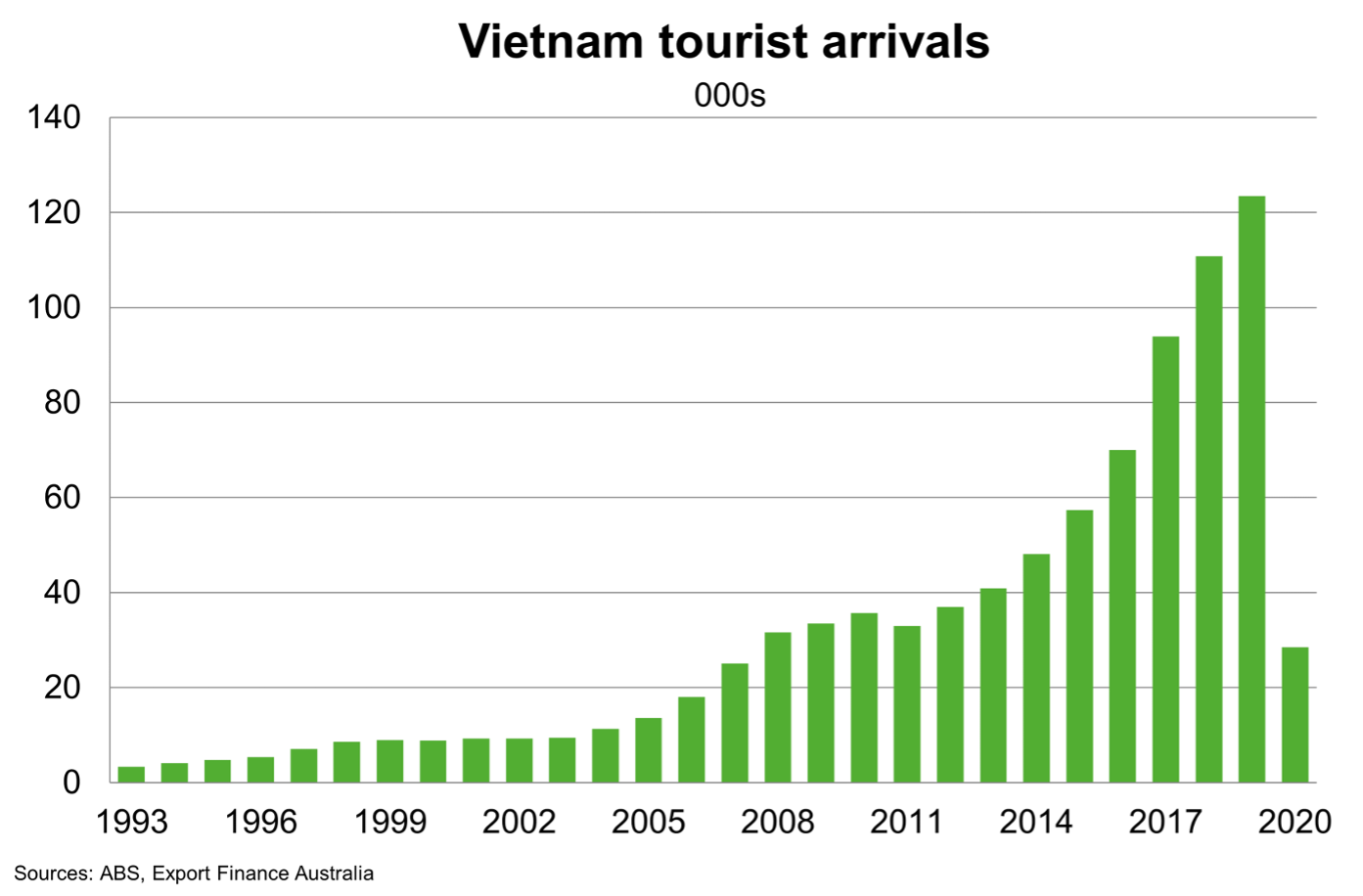 Beyond the pandemic, Vietnam's growing economy and burgeoning middle-class present significant opportunities for Australian exporters, including coal, LNG, iron ore, wheat and live cattle. Services—including education, professional and technical services—are also well positioned to capitalise on these opportunities.
The pandemic hit Australian investment in Vietnam in 2020. Prior to the pandemic, bilateral investment between Vietnam and Australia increased strongly alongside growing foreign trade. Australian companies that have invested in Vietnam include BlueScope Steel and QBE. Vietnam's foreign direct investment-led growth provides opportunities for Australian companies to increase investments in education, manufacturing, agribusiness, logistics, financial services and professional services. Vietnamese investment in Australia is small at around $800 million.
Useful links
Department of Foreign Affairs and Trade
Austrade