China
Jump to a section of the page
China
Last updated: March 2022
China is the world's second largest economy, behind the US, and outperforms its peers in emerging and developing Asia on indicators of per capita income, creditworthiness and business climate while growth is broadly in line with the region. China's economy is one of the few around the world that has continued to grow during the COVID-19 pandemic.
This chart is a cobweb diagram showing how a country measures up on four important dimensions of economic performance—per capita income, annual GDP growth, business climate and creditworthiness. Per capita income is in current US dollars and is the five-year average between 2022 and 2026 as provided by the IMF. Annual GDP growth is the five-year average between 2022 and 2026. Business climate is measured by the World Bank's latest Ease of Doing Business ranking of 190 countries. Creditworthiness attempts to measure a country's ability to honour its external debt obligations and is measured by its OECD country credit risk rating. The chart shows not only how a country performs on the four dimensions, but how it measures up against other regional countries.
Economic outlook
Strong industrial output and export performance propelled China's strong GDP growth of 8.1% in 2021, after a COVID-induced downturn in 2020.
Chinese authorities are targeting slower economic growth of around 5.5% in 2022, while the IMF predicts growth of 4.8%. This is sharply lower than average growth of 7.7% per annum over the decade to 2019. Lower growth prospects reflect headwinds from the uncertain global recovery and a downturn in the property sector; the government has controlled borrowing among highly-indebted property developers, hitting construction and hurting buyer confidence. Weaker demand for Chinese manufactured exports is likely as the world dials back fiscal stimulus and shifts toward services spending, although Chinese manufacturers may benefit from a weaker local currency if US interest rates rise sharply. Meanwhile, a strict COVID-19 policy and recurrent mobility restrictions will likely weigh on consumer confidence and private consumption. To support growth, the central bank has started cutting interest rates, local governments have expedited infrastructure spending and the government has pledged more tax cuts.
The near-term outlook faces downside risks stemming from rising COVID cases, growing financial vulnerabilities in the property sector and among state-owned enterprises and corporates, high commodity prices and an increasingly challenging external environment.

Research by the RBA suggests China's economy is likely to continue to slow for another decade, reflecting a slowing working-age population, weaker investment and lower productivity growth. China's economy will also face the difficult task of rebalancing to achieve sustained growth over time. This includes the shift from external demand to domestic demand and from investment and industry-led growth to greater reliance on consumption and services; a greater role for markets and the private sector in driving innovation and the allocation of capital and talent; and transitioning from a high to a low-carbon economy.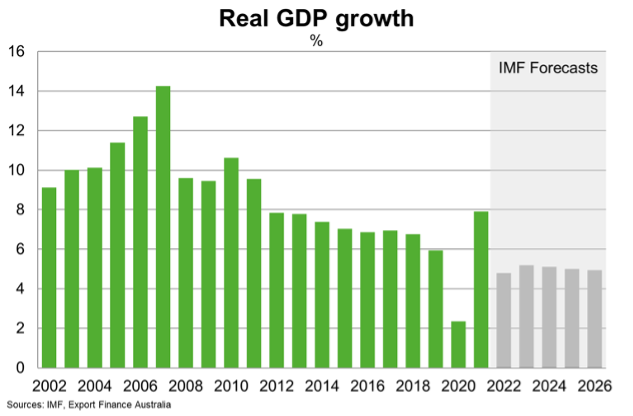 Alongside continued economic growth, per capita income will increase towards US$17,500 in 2026 according to IMF projections, up from an estimated US$11,900 in 2021. The growing push into knowledge-intensive industries should pave the way for stronger growth in incomes over the longer term.
Country risk
Country risk in China is low. China has an investment grade sovereign credit rating from private ratings agencies and an OECD country credit grade of 2. This indicates a relatively low likelihood that it will be unable or unwilling to meet its external debt obligations. That said, individual private debtors can and do default from time to time. The elevated economy-wide debt burden, particularly among state-owned enterprises and corporates, remains a risk to China's country ratings.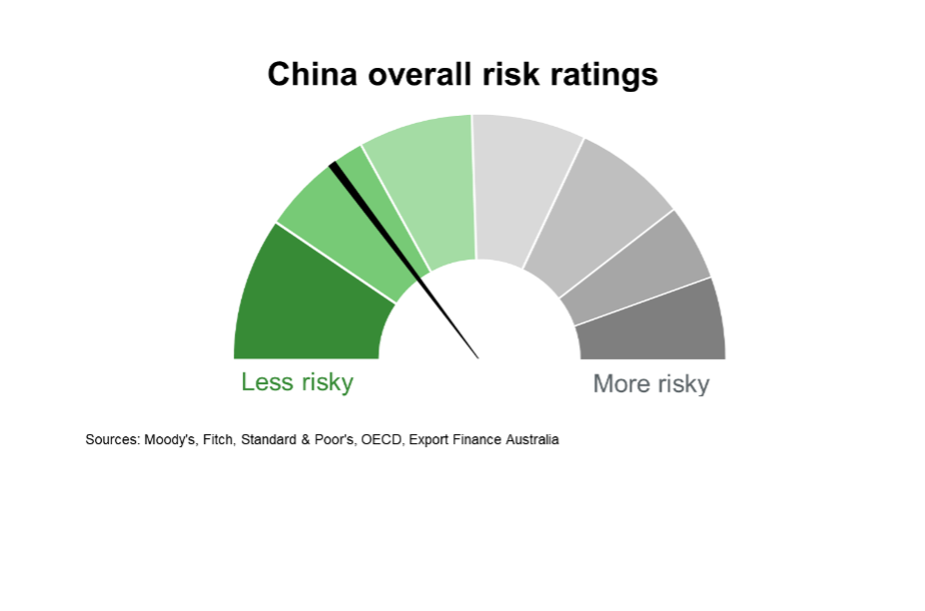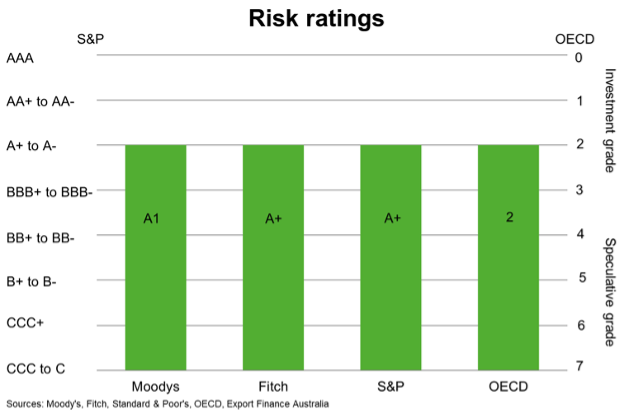 The World Bank's ease of doing business gauge—which attempts to measure regulation and red tape relevant to a domestic small to medium-sized firm—ranks China's business climate 31st out of 190 economies, up 47 places since 2016. China has made significant progress in dealing with construction permits and protecting minority investors.
The risk of expropriation is elevated relative to China's overall rating. According to the US investment climate statements, Chinese law prohibits expropriation of foreign invested firms, except under "special circumstances" where there is a national security or public interest need. Chinese law requires fair compensation for an expropriated foreign investment, but does not detail the method used to calculate the value of the foreign investment. Further, China's many bilateral and multilateral free trade agreements, in general, cover topics like expropriation and investment arbitration mechanisms. The US is not aware of any cases of expropriation of US investments since 1979.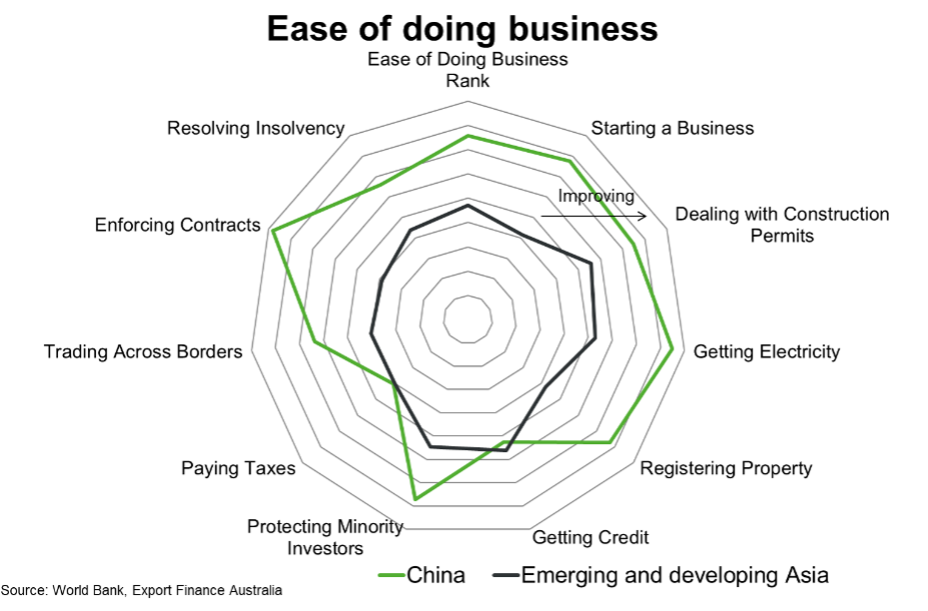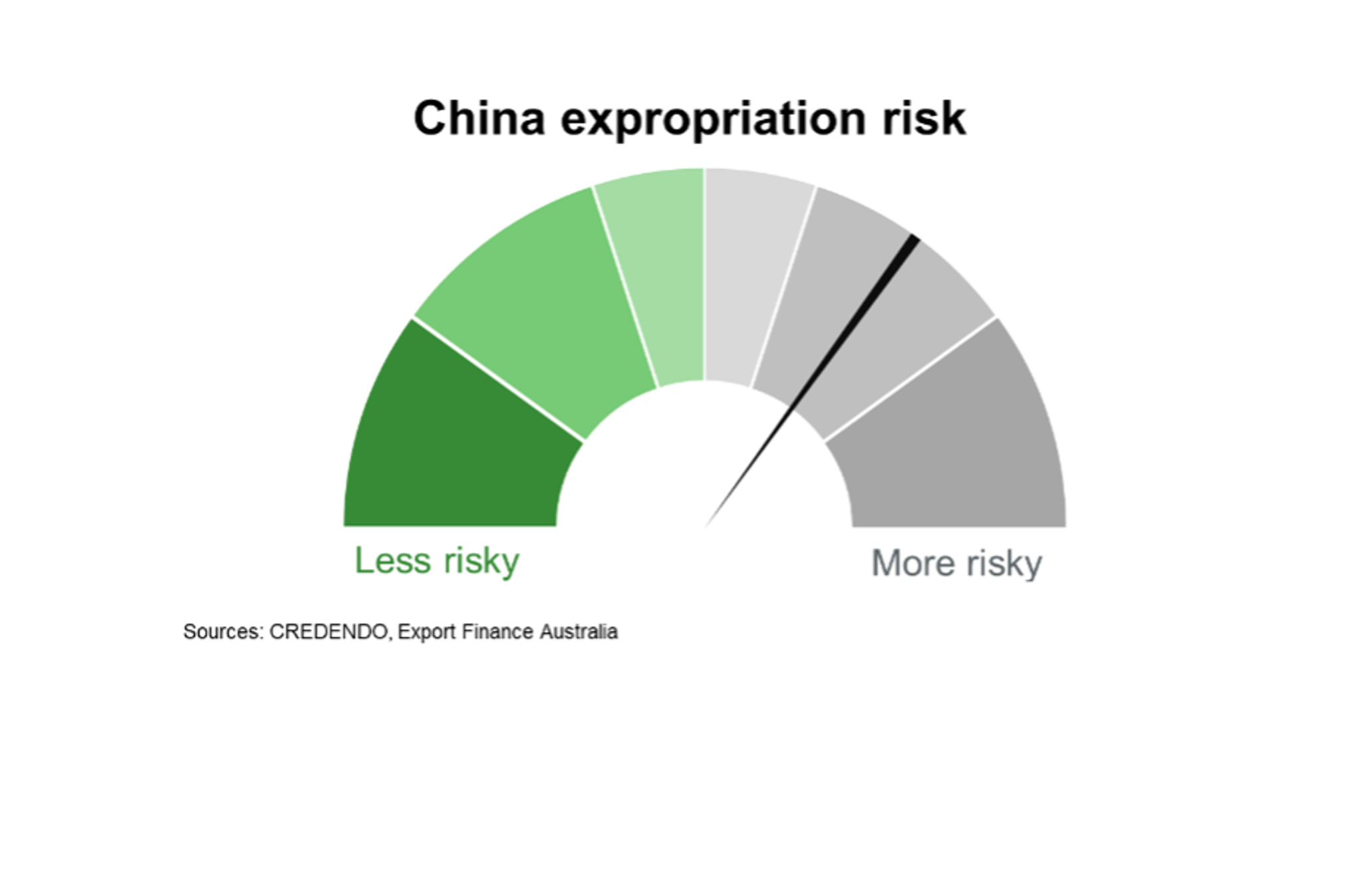 China's political risk is on par with its overall rating. Political risk relates to the potential for further strain in geopolitical relations, including the US-China relationship and other countries, that adds to trade and economic growth risks.
The World Bank ranks China in the second bottom quartile for most dimensions of governance. This reflects in part weak rights for participation in the political process, uneven application of the rule of law and corruption. China scores in the lowest quartile for voice and accountability. Government effectiveness is ranked near the top quartile, in part reflecting the effectiveness of government policies in helping to contain leverage and credit risks while also preserving economic, financial and social stability.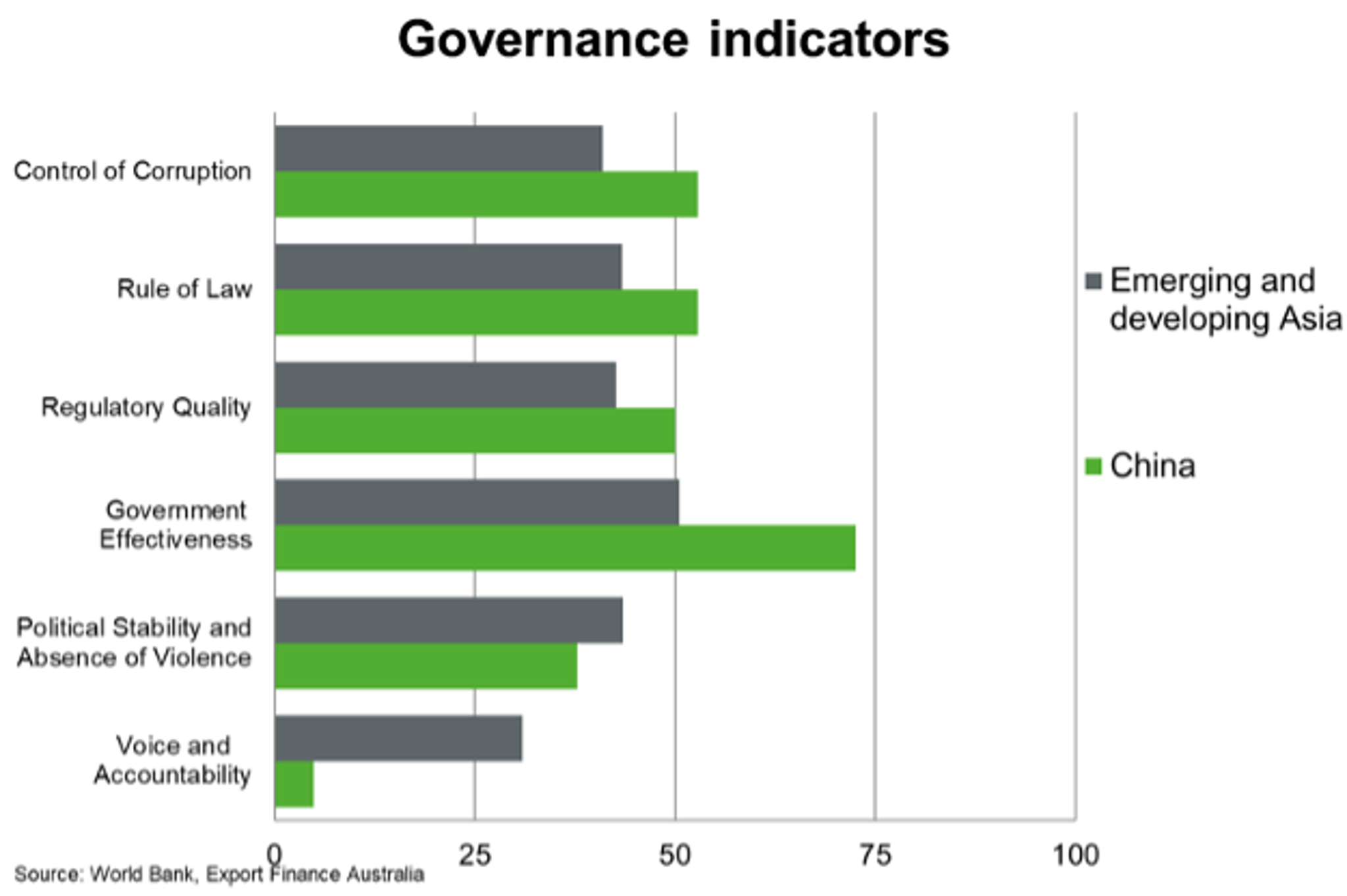 Bilateral relations
China is Australia's largest export and import partner. Total goods and services trade amounted to $246 billion in 2020, about 31% of Australia's trade with the world. Resources—iron ores and concentrates, natural gas, coal, gold and copper—are the chief goods exports. Australian exports of agriculture to China (e.g. beef and wool) and services (e.g. tourism, aged care and education) are significant. Beyond the pandemic, China's rebalancing toward a more consumer-oriented economy and rising middle class should support demand for Australian agriculture and services exports. However, ongoing disruptions in trade with China remains a risk to some Australian resources and agriculture exporters.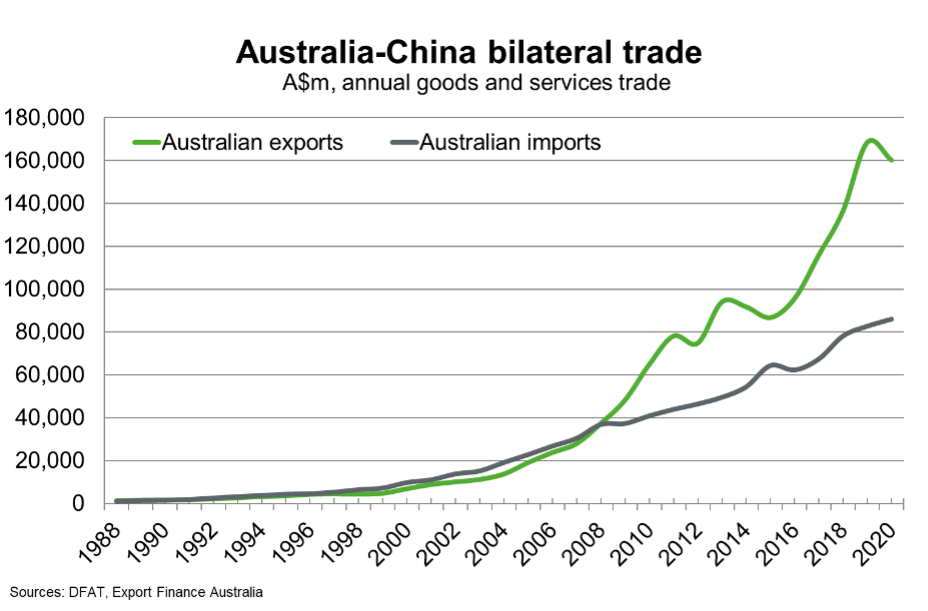 China is Australia's largest source of tourists and student enrolments. Prior to the COVID-19 pandemic, tourist arrivals and student enrolments from China had risen steadily. The pandemic and associated international travel restrictions have hurt services trade over the past couple of years. The ongoing pandemic points to another year of uncertainty for services exports in 2022.
China is a large investor in Australia, owning a portfolio of $79 billion in 2020. This has fallen from as high as $85 billion in 2016, in part reflecting a slowdown in mining investment. In recent years, Chinese investment has broadened from mainly mining to sectors such as infrastructure, services and agriculture. The US ($929 billion) and UK ($738 billion) remained the largest investors in Australia in 2020.
Australian investment stocks in China fell to a $65 billion in 2020 from $85 billion in 2019, likely in part due to a challenging investment environment, exacerbated by the pandemic. Businesses remain attracted to China's growing economy and large domestic consumer market. Australia's expertise in banking and wealth management services has seen financial institutions become some of the largest Australian investors in China. The US ($864 billion) and UK ($615 billion) remained the leading destinations for Australia's foreign investment in 2020.