Japan
Jump to a section of the page
Japan 
Last updated: February 2022
Japan is currently the third largest economy in the world, behind the US and China. Japan's per capita incomes, business climate rank and creditworthiness are broadly in line with other advanced economies but the country lags on GDP growth.
The above chart is a cobweb diagram showing how a country measures up on four important dimensions of economic performance—per capita income, annual GDP growth, business climate rank and creditworthiness. Per capita income is in current US dollars. Annual GDP growth is the five-year average forecast between 2022 and 2026. Business climate is measured by the World Bank's latest Ease of Doing Business ranking of 190 countries. Creditworthiness attempts to measure a country's ability to honour its external debt obligations and is measured by its OECD country credit risk rating. The chart shows not only how a country performs on the four dimensions, but how it measures up against other countries in the region.
Economic outlook
The COVID-19 pandemic hit Japan hard, but the economy is gradually recovering and vaccine uptake is progressing. The IMF expects real GDP to grow 3.3% in 2022, following a 1.7% increase in 2021.
Consumer spending should increase on the back of a release of pent-up consumer demand, as COVID-19 restrictions ease and vaccination coverage improves. Exports have rebounded on the back of increasing global demand and are set to remain firm in 2022, although supply chain disruptions remain a challenge for the key autos and electronics sectors. The recovery in industrial production alongside fiscal support will support investment. That said, ongoing high COVID-19 cases related to the Omicron variant and the potential for more stringent restrictions remain key downside risks to the outlook.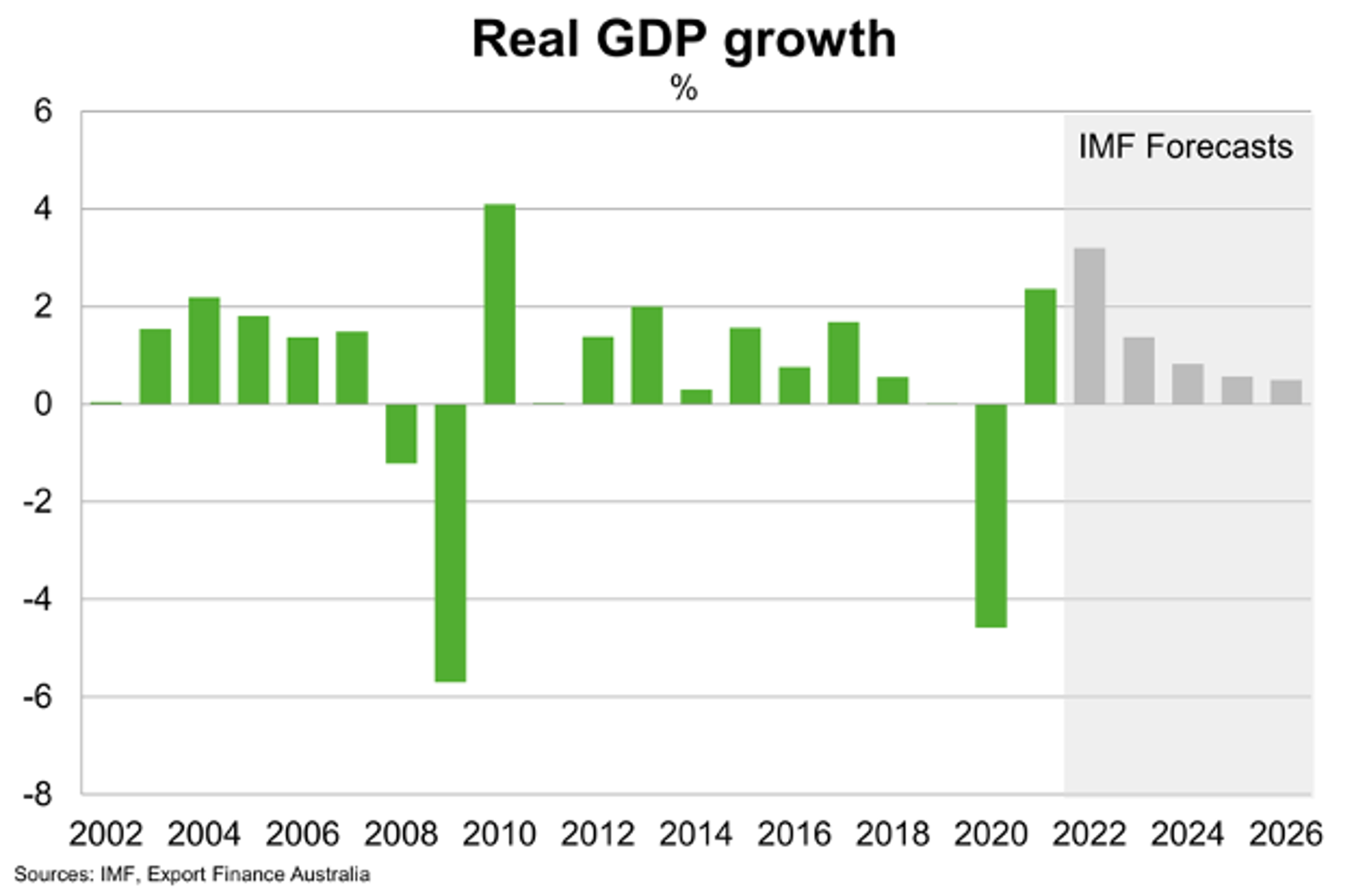 The ruling Liberal Democratic Party elected Fumio Kishida as Japan's new Prime Minister in September 2021 after the incumbent Mr. Yoshihide Suga stepped down after serving just over a year as Prime Minister. Prime Minister Kishida's policies aim to raise wages as part of a broader distribution of wealth, which he sees as key for helping boost household income and the economy's post-pandemic recovery. For example, Kishida is promising tax deductions for companies that increase workers' wages by 3% or more.
Growth has been a long-standing issue for successive Japanese governments and is expected to remain modest in the coming years. The IMF expects long-run growth about 0.5% per annum in 2025 and beyond. Demographic pressures continue to pose the greatest economic and fiscal challenge over the longer term. The working population aged 15 to 64 has been declining for a long period of time, a trend that is expected to continue. A shrinking domestic market in population terms means Japan will likely continue to pursue growth opportunities overseas, including in Australia.
Japan has some of the highest incomes in the world. But a long-period of weak economic growth, exacerbated by the pandemic, means incomes barely grew from 2013 to 2021, remaining at around US$40,000. Income inequality remains an issue, as the wealth gap between elderly generations and the youth widens. The IMF expects per capita incomes to reach US$50,500 by 2026 as the economy recovers and wages rise.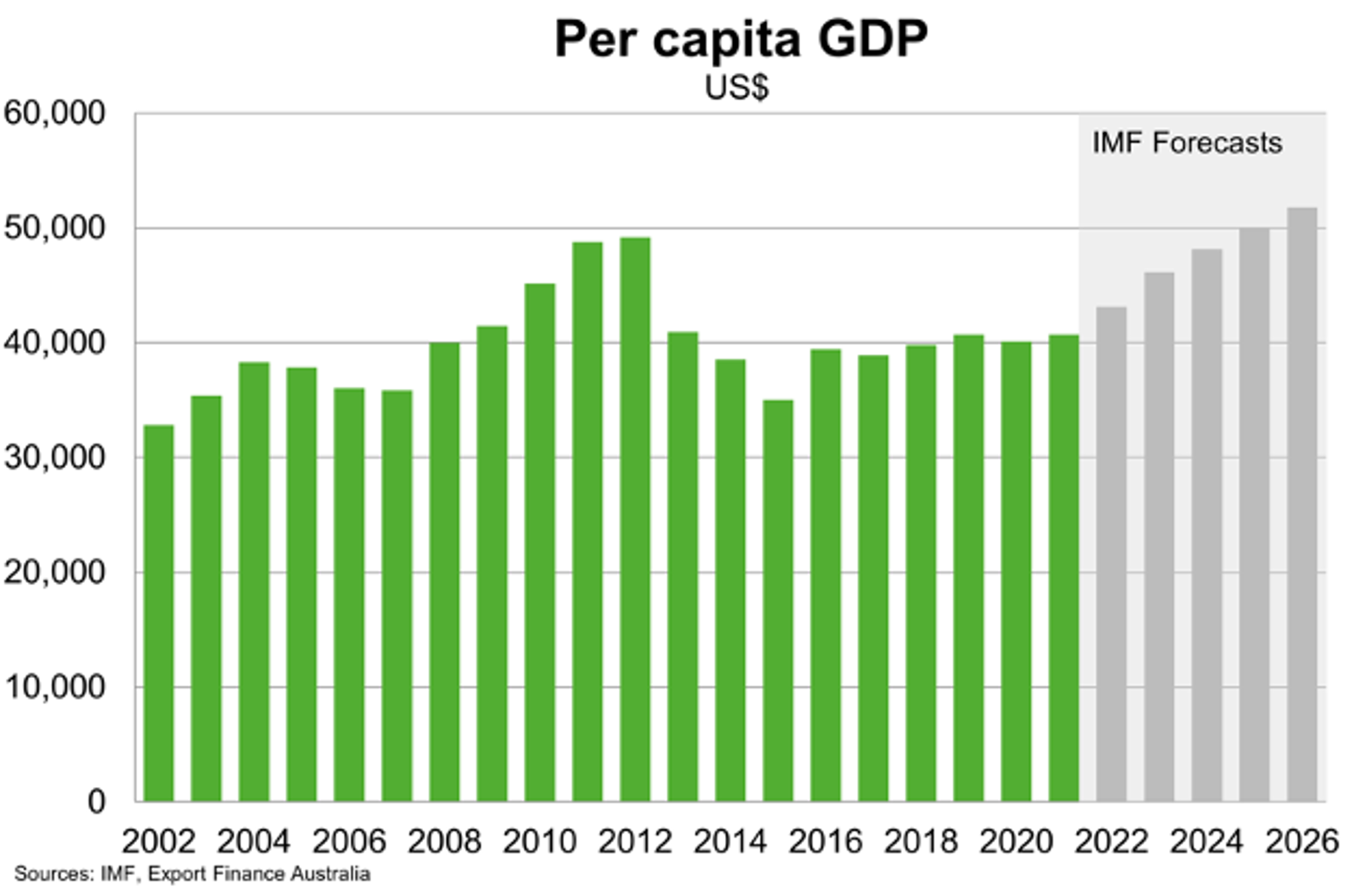 Country Risk
Country risk in Japan is low, suggesting a low likelihood that it will be unable and/or unwilling to meet its external debt obligations. Japan's high government debt ratio, estimated at more than 250% of GDP in 2021, remains a key weight on country risk.
Japan is ranked 29th out of a possible 190 on the World Bank's ease of doing business scorecard, improving 10 places in the latest survey. Paying taxes, protecting minority investors, getting credit and starting a business and trading across borders are relatively easier in Japan compared to other advanced economies.
The risk of expropriation in Japan is low, in line with low political risk. Japan scores in the top quartile in all areas of governance but underperforms on measures of voice and accountability.
Bilateral Relations
Japan was Australia's third largest trading partner in 2020, behind China and the US. Total goods and services trade amounted to $66.3 billion in 2020, down from US$86.7 billion in 2019. The COVID-19 pandemic has disrupted bilateral trade over the past couple of years.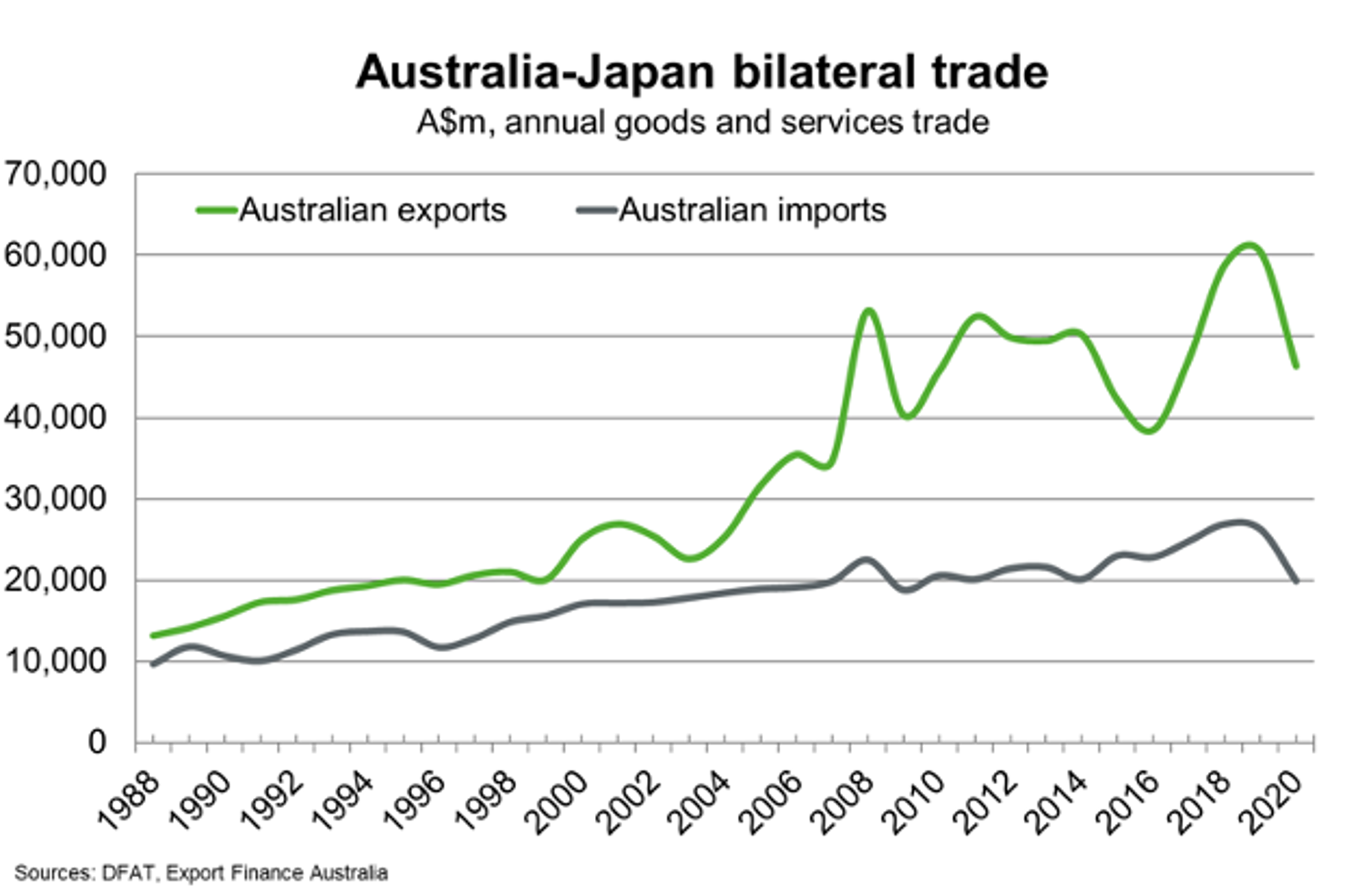 Australia and Japan entered a free trade agreement in April 2014, which grants more than 97% of Australian exports preferential treatment in Japanese markets. Australian goods exports to Japan are dominated by natural gas, coal, iron ore, beef and copper. Woodside, BHP, Whitehaven Coal, and Oil Search are some of the major Australian companies that export commodities to Japan. Teys Australia, JBS Australia and NH Foods export beef to Japan.
Major Japanese goods imports to Australia include motor vehicles, refined petroleum and civil engineering equipment.
Services exports to Japan totalled $1.4 billion in 2020, down from a pre-pandemic level of $2.7 billion in 2019. Before the pandemic, Japanese tourist arrivals had risen from a little over 300,000 in 2011 to about 500,000 in 2019. That increase in large part reflected the addition of many more flights between Japan and Australia. International travel restrictions have cut tourist arrivals over the past couple of years. Similarly, Japanese student enrolments had been gradually rising before the pandemic, before dipping in 2020. The ongoing pandemic points to another year of uncertainty for services exports in 2022.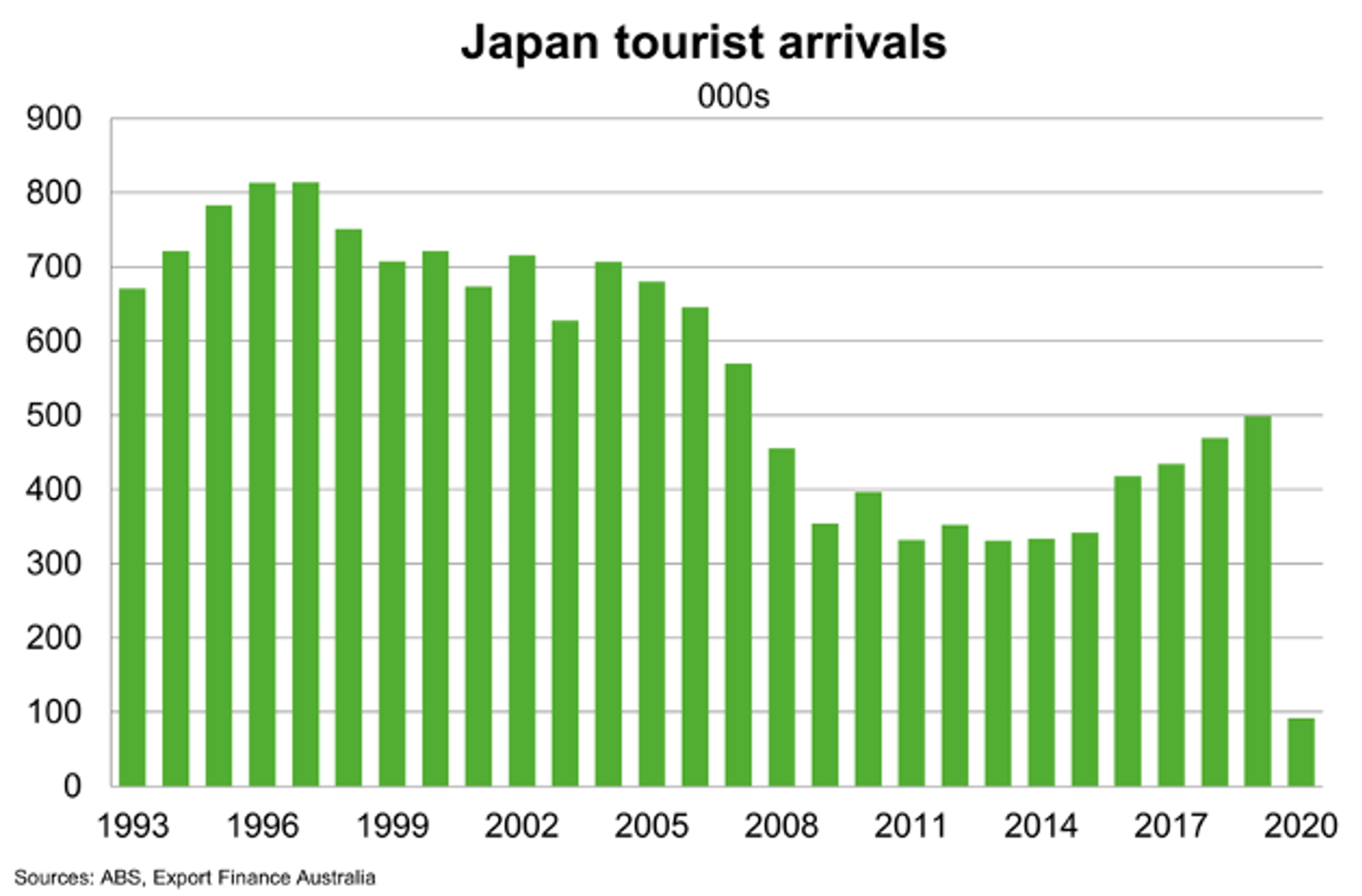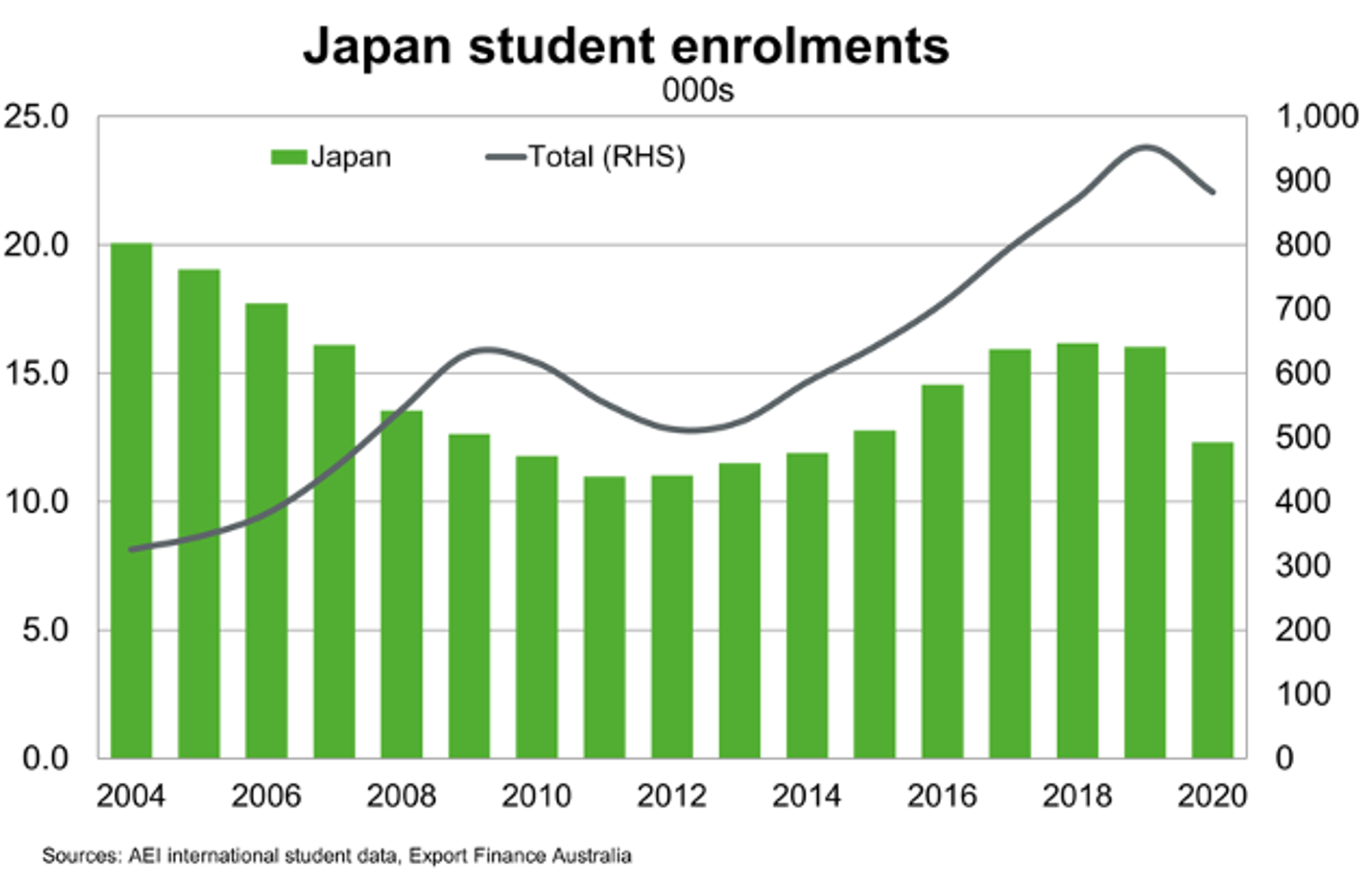 Japan is Australia's fourth largest source of foreign investment behind the US, UK and Belgium. Japan's stock of foreign investment is centred predominantly in the resources and energy sectors. For instance, the INPEX Corporation's US$34 billion Ichthys LNG project in Western Australia was, in 2012, the largest single global investment by any Japanese company. Japanese companies have continued to invest in major iron ore project expansions with their joint venture partners. Japanese investment in financial services, infrastructure, information and communications technology, property, food and agribusiness are also growing.