Malaysia
Jump to a section of the page
Malaysia
Last updated: January 2022
Despite the challenges of the COVID-19 pandemic, Malaysia has maintained a strong economic development record. Since independence in 1957, Malaysia has expanded manufacturing, services and tourism industries to complement the country's competitive resource sector. It is a high middle-income, export-oriented economy. The economy is forecast to expand 5.8% in 2022, according to the World Bank. Relative to emerging and developing Asia, Malaysia has a stronger credit rating, higher per capita incomes and more conducive business environment, while GDP growth is in line with peers.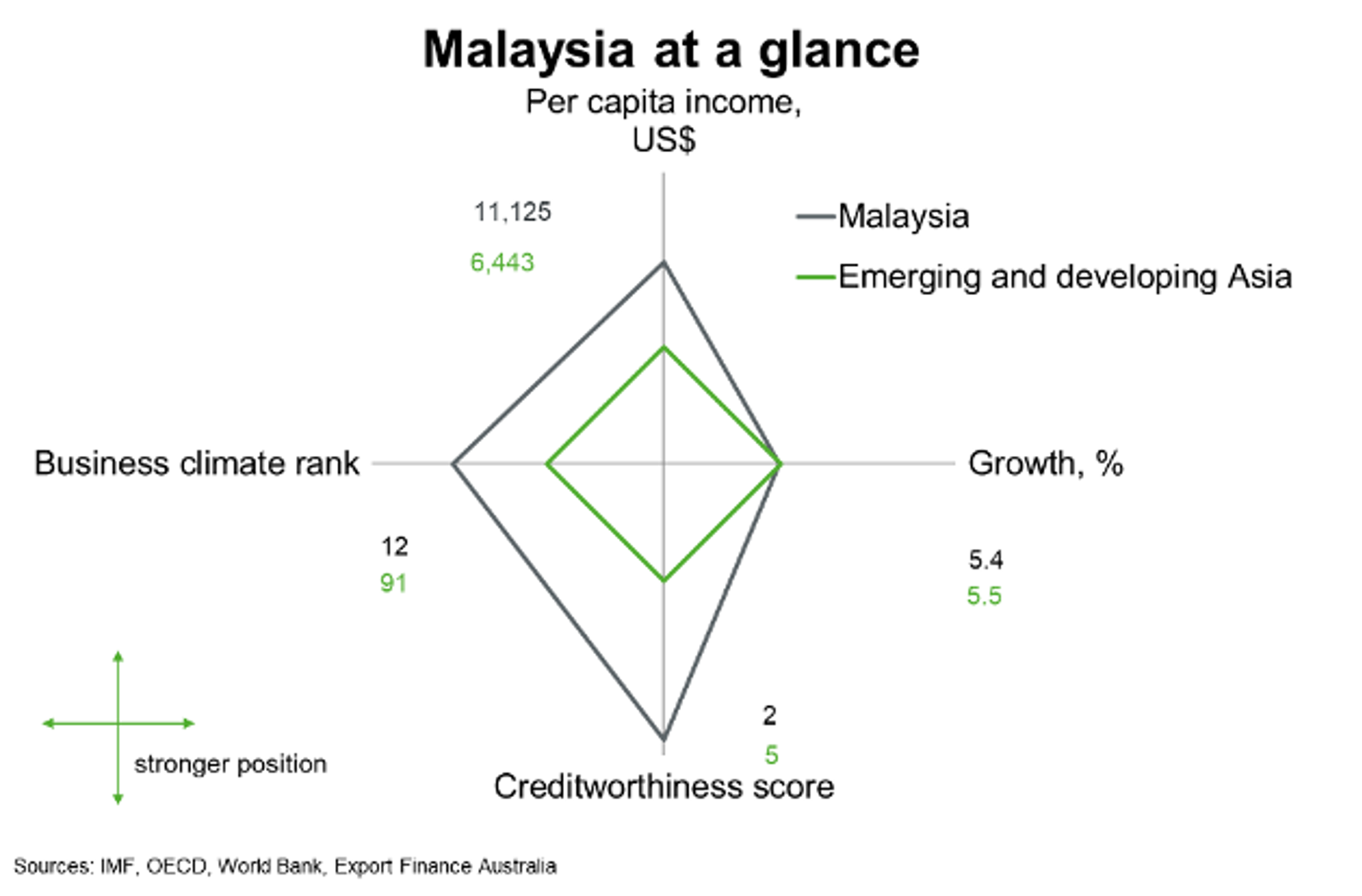 The above chart is a cobweb diagram showing how a country measures up on four important dimensions of economic performance—per capita income, annual GDP growth, business climate rank and creditworthiness. Per capita income is in current US dollars. Annual GDP growth is the five-year average forecast between 2022 and 2026. Business climate is measured by the World Bank's latest Ease of Doing Business ranking of 190 countries. Creditworthiness attempts to measure a country's ability to honour its external debt obligations and is measured by its OECD country credit risk rating. The chart shows not only how a country performs on the four dimensions, but how it measures up against other countries in the region.
Economic outlook
Despite entering the pandemic from a strong position, a mix of high COVID-19 infections and large-scale social restrictions has, at times, curbed business and consumer confidence over the past couple of years. The IMF estimates that real GDP grew at 3.5% in 2021 after a sharp contraction of 5.6% in 2020, the first recession in over two decades. The government's renewed focus on infrastructure development, accommodative monetary policy and growing Chinese demand for commodities will support economic recovery in 2022. The World Bank predicts real GDP growth of 5.8% in 2022. The chief downside risk to the outlook remains the path of the pandemic that could hit both domestic and external demand.
In the longer term, favourable demographics and an expanding middle class bode well for raising consumption growth. The government's long-term development plan called Shared Prosperity Vision 2030, if successfully implemented, will raise labour skills, reduce wealth and income disparities and combat corruption.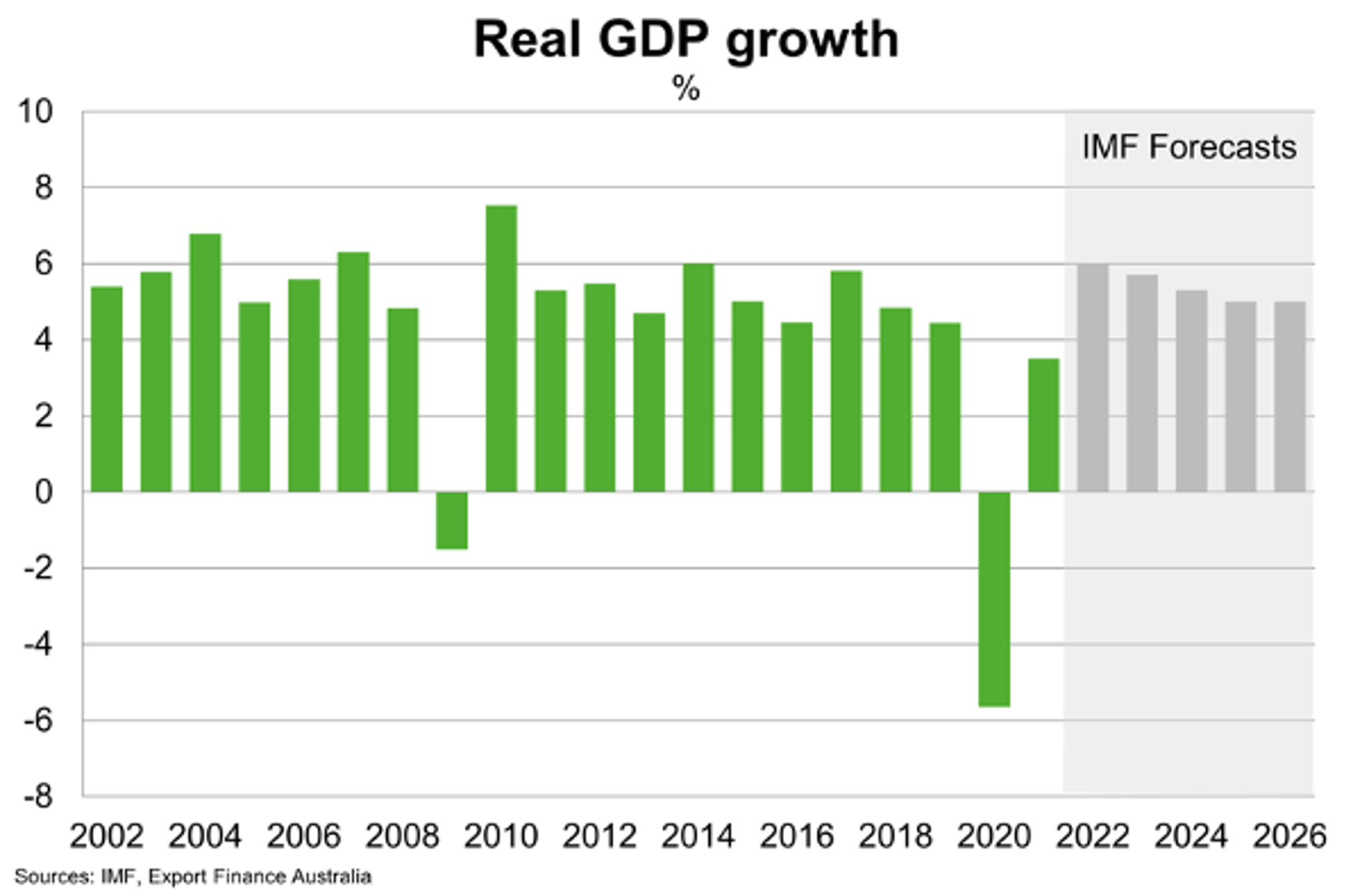 Malaysia is classified as an upper-middle income economy by the World Bank, with GDP per capita estimated at about US$12,000 in 2021. The COVID-19 pandemic has led to some business closures, hurting jobs and incomes. But per capita incomes are forecast to rise in line with the recovery in GDP growth in coming years, reaching US$15,000 by 2026—and approaching the income levels of Uruguay and Hungary today.
Country Risk
Country risk in Malaysia is low. Malaysia has investment grade credit ratings from major private credit rating agencies. Malaysia has an OECD Country Grade of 2, which is higher than many of its peers in Asia. The likelihood of Malaysia's inability to service its debt obligations is low, but individual, private and sub-sovereign defaults are not unheard of.

Malaysia is ranked 12th in the world for business climate on the World Bank's Ease of Doing Business ranking out of 190 countries. Malaysia not only fares better than many of its South-East Asian and Asian peers on almost all measures, but also breaks into the global top ten for getting electricity, protecting investors and dealing with construction permits.
The risk of expropriation in Malaysia is low, in line with low political risk. Government policies indicate that all investors, both foreign and domestic, are entitled to fair compensation in the event that their private property is required for public purposes. The judicial system is generally regarded as free from political interference.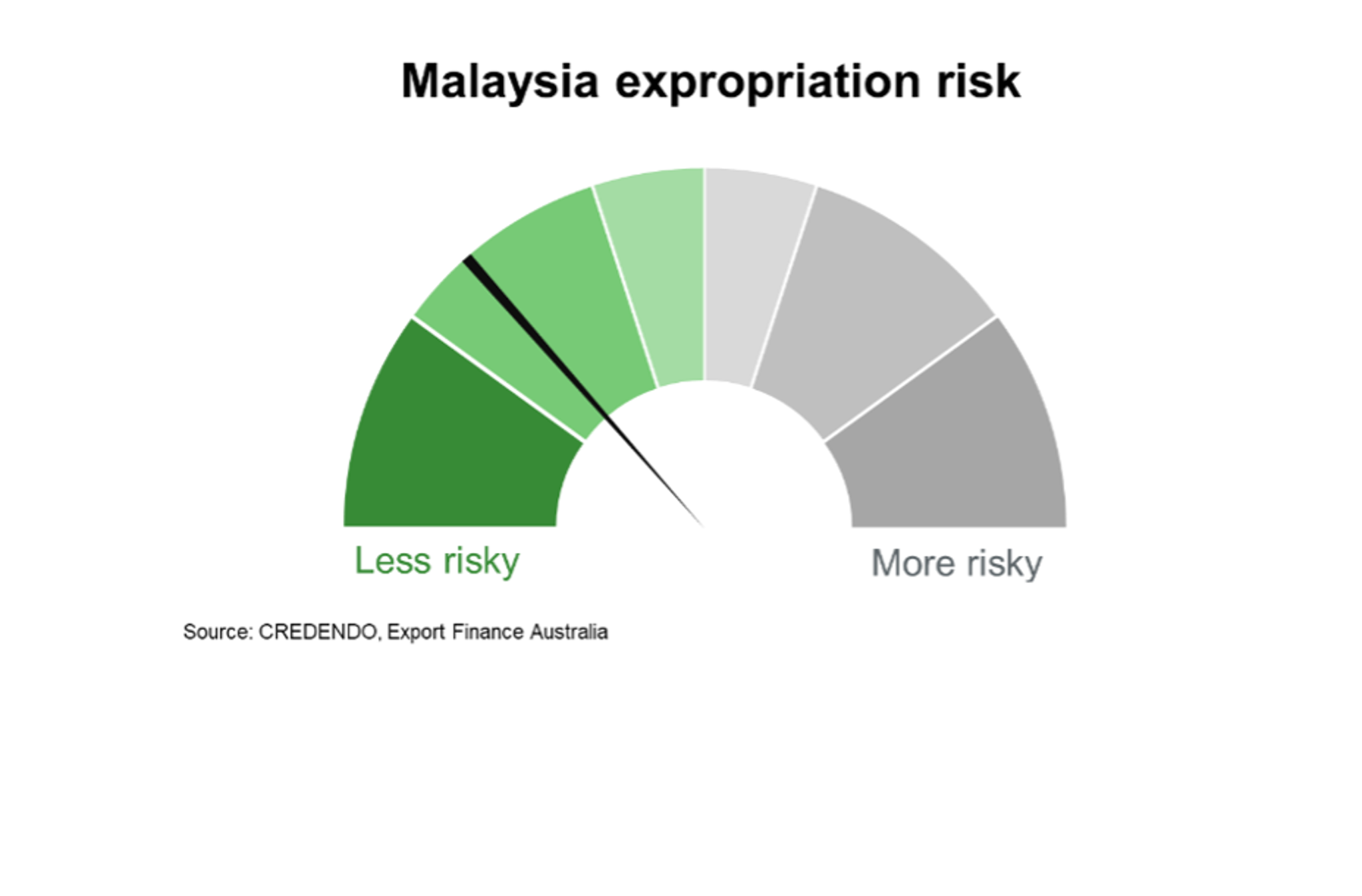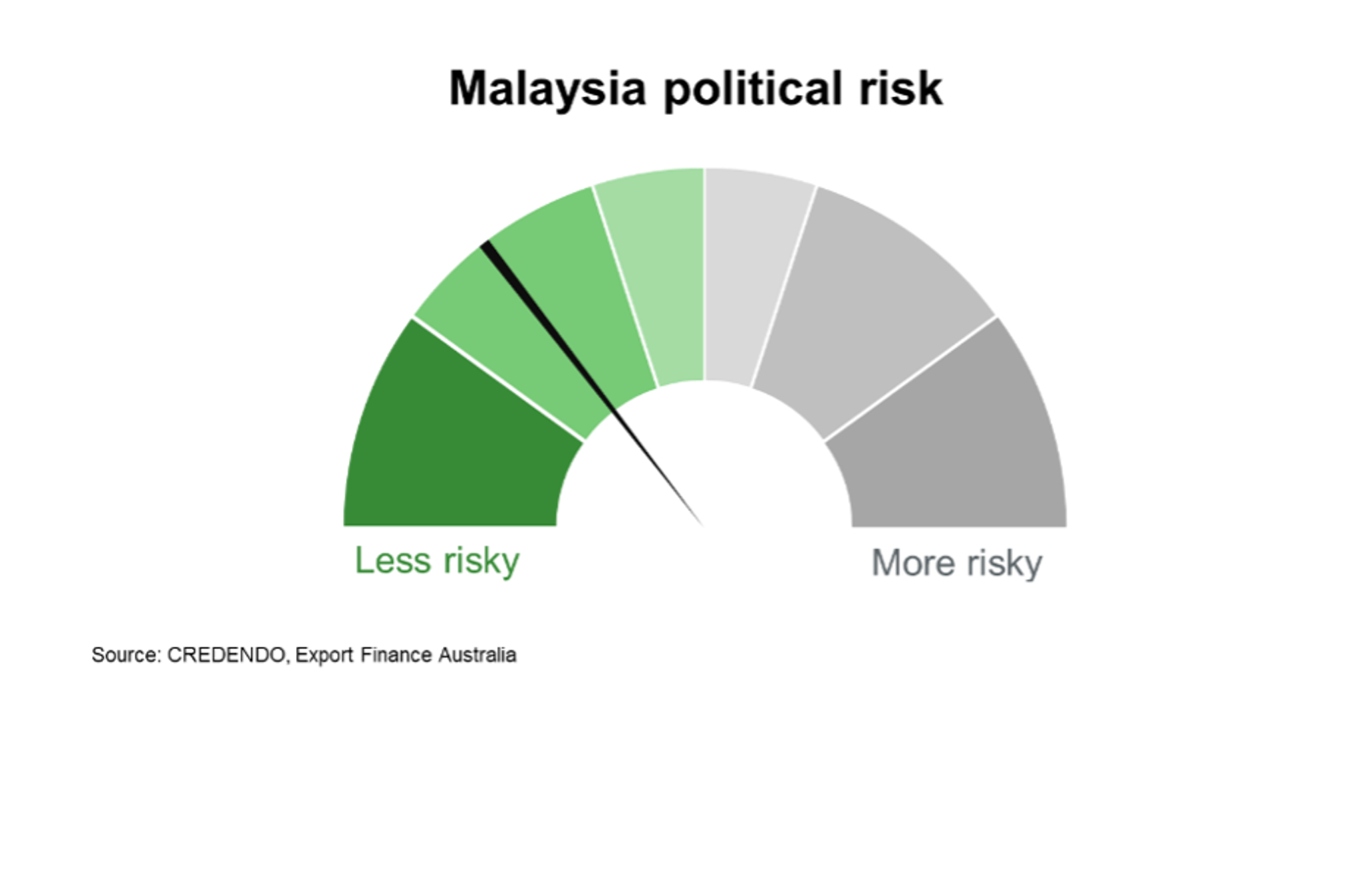 Bilateral Relations
Malaysia was Australia's 11th largest trading partner in 2020, accounting for about $19 billion, or 2.4% of Australia's bilateral trading relationship. The COVID-19 pandemic disrupted bilateral trade over the past couple of years. The bilateral trade relationship showed a strong upward trajectory pre-pandemic and that trend is expected to resume once restrictions ease. Major Australian goods exports to Malaysia predominantly include natural gas, coal, copper and metal ores. Major Australian goods imports include crude and refined petroleum, computers, telecommunications equipment and electronics parts.
More than 3,800 Australian businesses (mostly small and medium enterprises) trade with Malaysia, 300 of which have a physical presence in the country. Beyond the pandemic, Malaysia's growing economy presents export opportunities in sectors such as food and agribusiness (including halal food), education, digital economy (e-commerce and fintech), health care, smart cities, energy and defence.
More broadly, the Australia–Malaysia economic relationship is underpinned by a strong degree of complementarity in both economies, and two free trade agreements (FTAs)—the Malaysia–Australia FTA (MAFTA) and the ASEAN–Australia–New Zealand FTA (AANZFTA). The Comprehensive and Progressive Agreement for Trans-Pacific Partnership (CPTPP) and the Regional Comprehensive Economic Partnership (RCEP) add further potential upside to the bilateral trade relationship.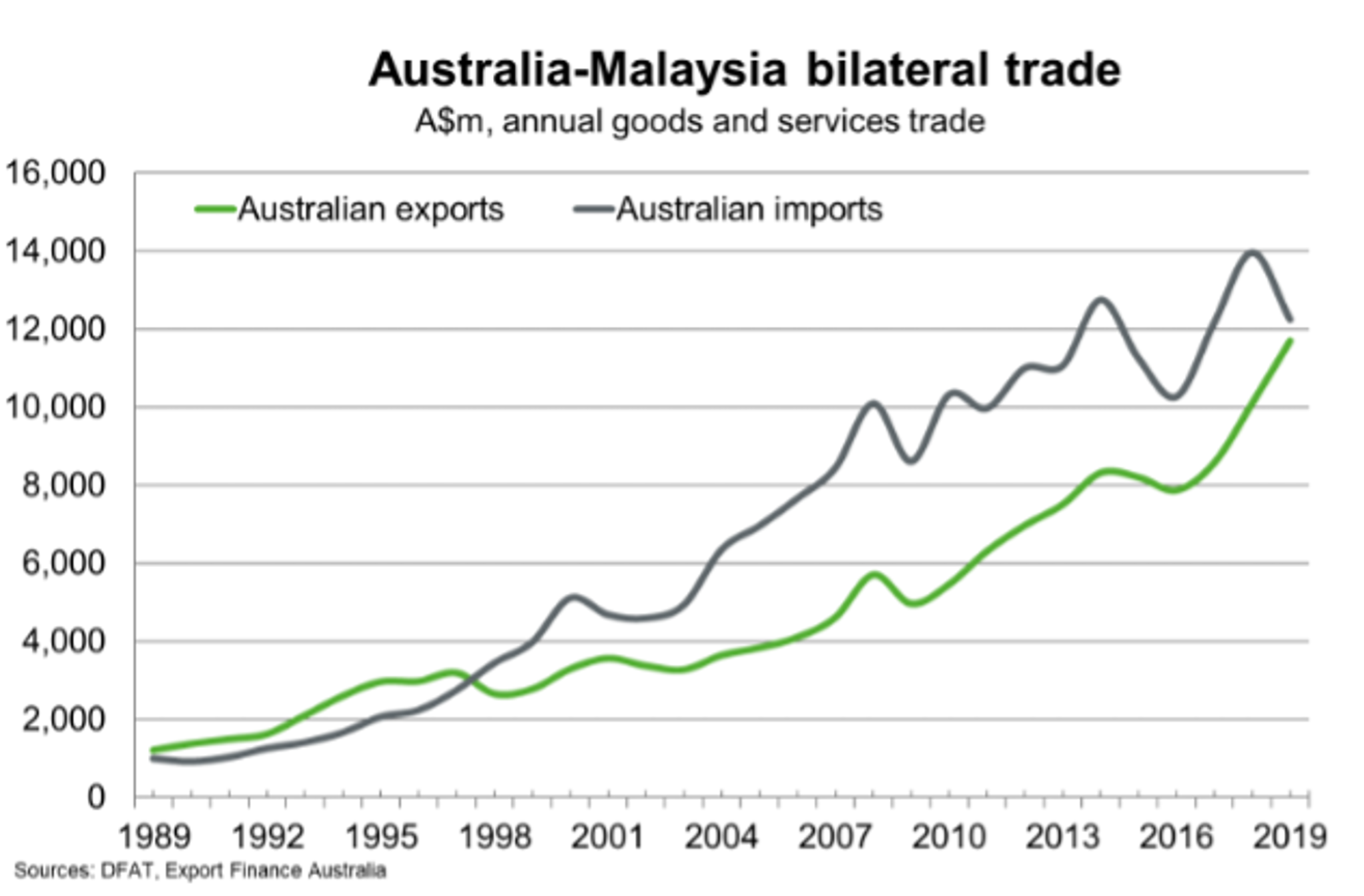 The COVID-19 pandemic and associated international travel restrictions has hurt services trade over the past two years. Malaysian tourist arrivals slumped through 2021 following a sharp fall in 2020. Student enrolments in Australia have fallen steadily in the past few years after peaking near 34,000 in 2018. The ongoing pandemic points to another year of uncertainty for services exports in 2022.
In terms of foreign investment stocks, Malaysia is a modest investor in Australia, owning a portfolio of $19 billion in 2020 (0.5% of the total foreign investment stock). Malaysian investment is focused on Australian property, tourism infrastructure, energy and resources and food and agribusiness. Malaysia constituted a small share of Australia's investment abroad at $11 billion in 2020 or 0.4% of the total stock of outward investment.