Turkey
Jump to a section of the page
Turkey
Last updated: February 2022
Turkey performs broadly in line with emerging European countries on measures of per capita incomes and growth, while the business climate is slightly stronger and creditworthiness is weaker than regional peers. Growth has remained weak in the past few years in the face of political instability, an ongoing currency crisis and external financing pressure exacerbated by the COVID-19 pandemic. A young population underpins robust long-term growth potential.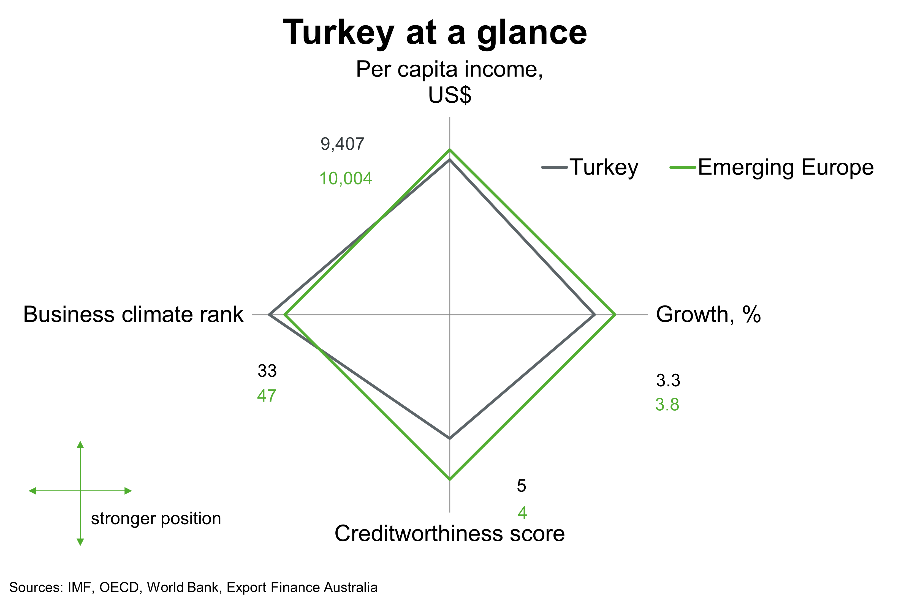 The above chart is a cobweb diagram showing how a country measures up on four important dimensions of economic performance—per capita income, annual GDP growth, business climate rank and creditworthiness. Per capita income is in current US dollars. Annual GDP growth is the five-year average forecast between 2022 and 2026. Business climate is measured by the World Bank's latest Ease of Doing Business ranking of 190 countries. Creditworthiness attempts to measure a country's ability to honour its external debt obligations and is measured by its OECD country credit risk rating. The chart shows not only how a country performs on the four dimensions, but how it measures up against other countries in the region.
Economic outlook
Like most countries, Turkey suffered severe impacts of the pandemic but held up relatively well compared to similarly sized economies because of a swift fiscal and monetary response. After a sharp post-pandemic rebound of 9% growth in 2021, the IMF expects the economy to stabilise at 3.3% in 2022.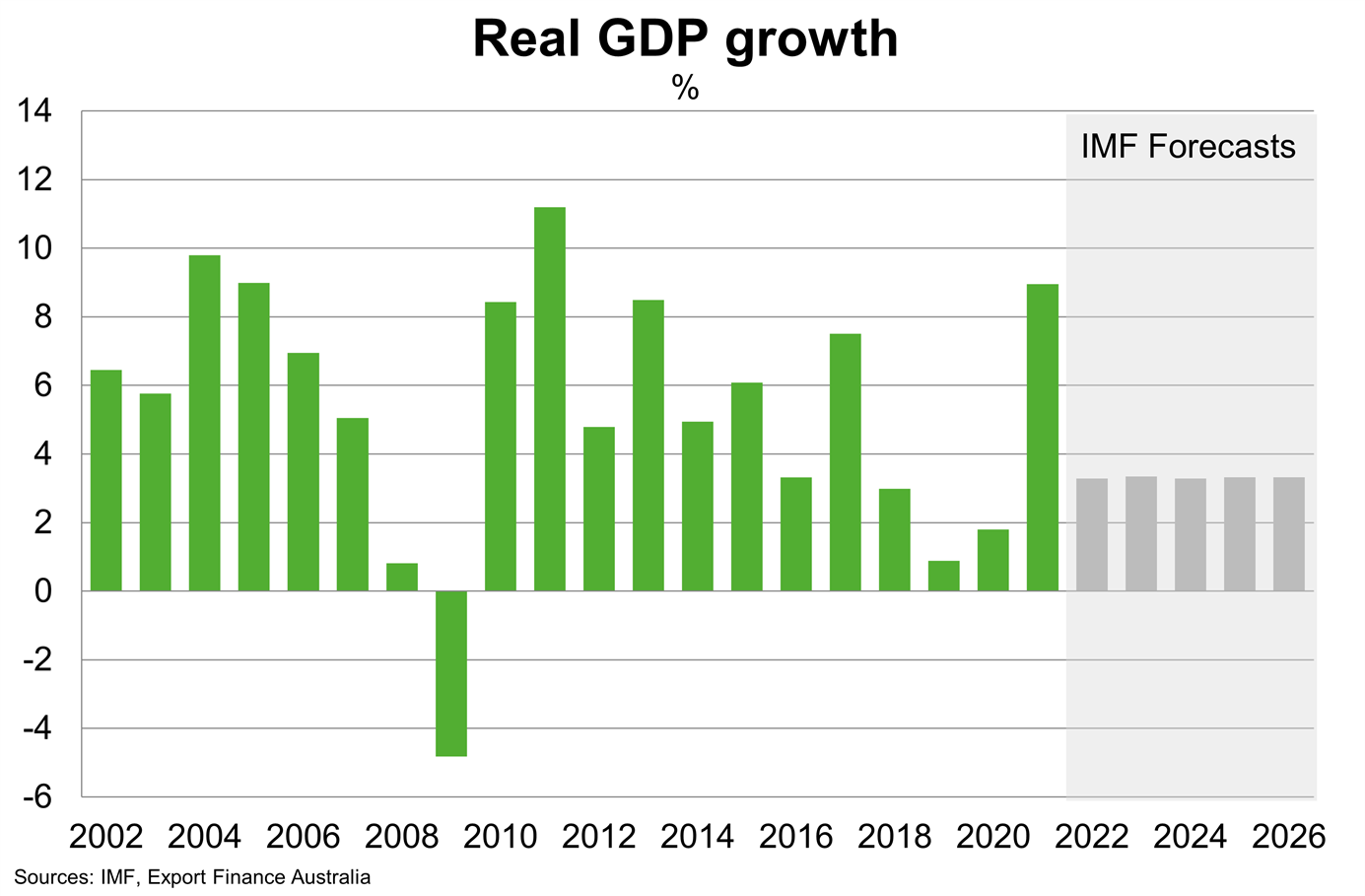 Currency depreciation remains a significant risk the outlook given it adds to Turkey's large external debt burden and debt servicing costs. Sharp depreciation in the Turkish lira has also led to a spike in inflation, which rose almost 55% year-over-year to February 2021. In addition, aggressive post-pandemic stimulus measures have led to rising corporate debt levels, asset price inflation, a large current account deficit and a decline in foreign reserves. A high unemployment rate remains a risk to household incomes and consumption. These factors, alongside a resurgence of COVID-19 infections, cloud the near-term outlook.

Turkey's economic and social development since 2000 has led to increased employment and sharp rise in incomes, making Turkey an upper middle-income country. However, sluggish growth and high economic and political uncertainty has led to a sharp fall in GDP per capita since 2012. GDP per capita is unlikely to reach the highs of 2012 until at least 2024, according to IMF forecasts.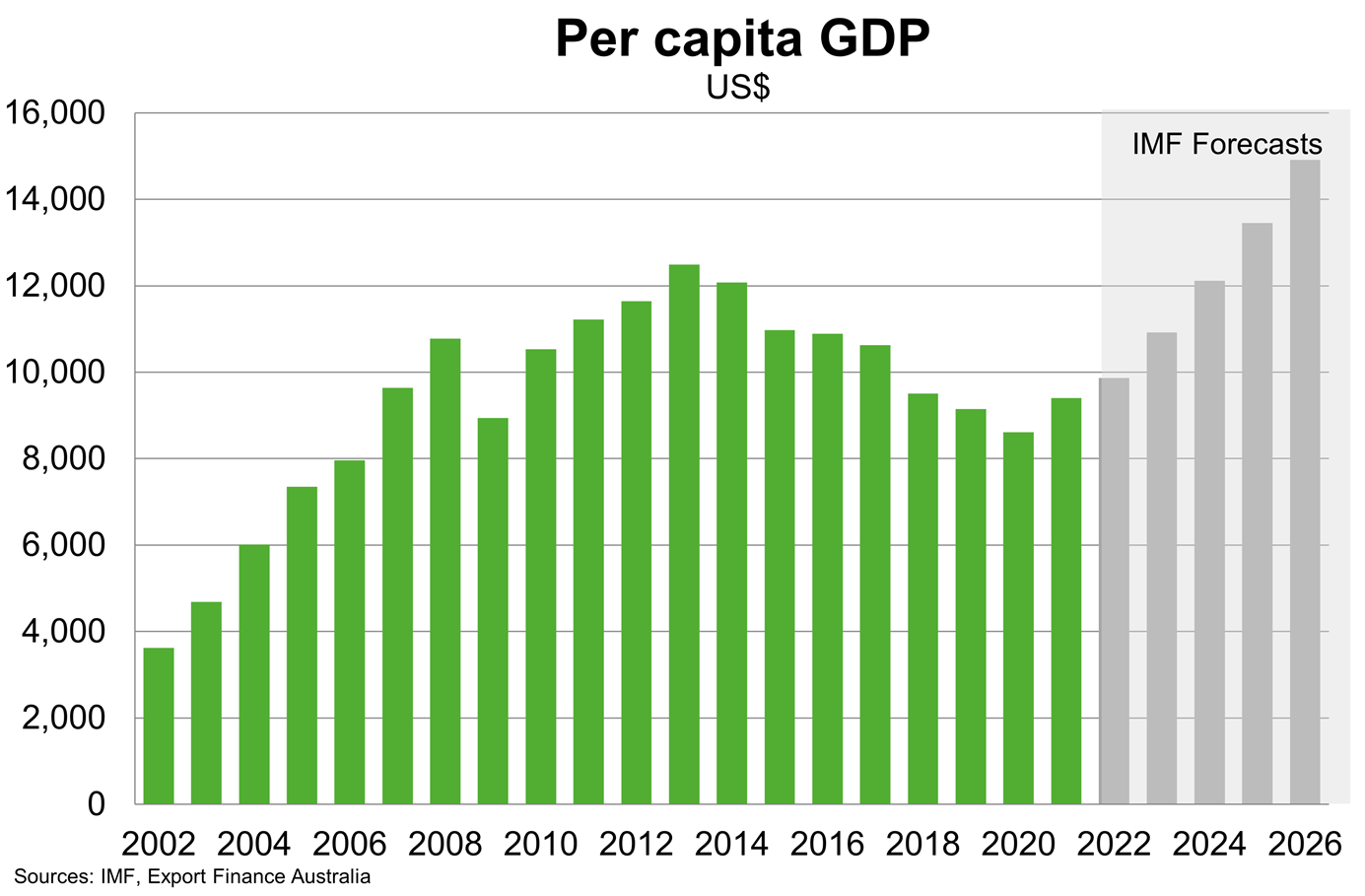 Country risk
Country risk in Turkey is moderate to high. The OECD country grade is 5. The major ratings agencies have sub-investment grade sovereign credit ratings for Turkey. Turkey's credit ratings from the OECD and private rating agencies have been lowered in recent years, reflecting the country's substantial reliance on volatile external financing and ongoing political and policy uncertainty that have raised the risk of a balance of payments crisis and government default.
Turkey is ranked 33rd out of a possible 190 countries on the World Bank's ease of doing business scorecard. Turkey's rank has improved significantly following reforms in numerous areas, including trading across borders, paying taxes, and getting credit. But resolving insolvency remains somewhat more difficult than other emerging European countries. Corporate and financial information is sometimes not available or sufficiently reliable, which can deter private investors.
The risk of expropriation in Turkey is high. Since July 2016, the Turkish government has expropriated more than 1,100 companies worth more than US$11 billion, according to the 2020 US investment climate statements. This is mainly because of companies' alleged links to terrorist organisations.
Turkey's scores on several measures in the World Bank's governance indicators are broadly in line with emerging European countries. But Turkey scores particularly lowly on measures of voice and accountability and political stability and absence of violence. Its low ranking probably reflects power struggles and constitutional crises that have occurred over the past 20 years.
Bilateral relations
Turkey was Australia's 39th largest trading partner in 2020. Total goods and services trade amounted to about $1.7 billion in 2020, $300 million lower than in 2019. Medicaments, coal and fruit and nuts were Australia's chief goods exports to Turkey in 2020. Goods vehicles, lime, cement and construction materials were Australia's primary goods imports from Turkey in 2020. The sharp fall in the Turkish lira and the ongoing foreign exchange crisis in Turkey point to a difficult 2022 for bilateral trade.
Student enrolments from Turkey moderated in 2020. The ongoing pandemic points to another year of uncertainty for education, and services exports, more broadly in 2022.
Bilateral investment between Turkey and Australia is modest. Australian companies have invested in Turkey's infrastructure, mining, construction services, agri-business and digital services. Turkish investment in Australia is very small.
Useful links
Department of Foreign Affairs and Trade
Austrade